Bust of Václav Havel Unveiled at Dáil
The Ceann Comhairle Seán Barrett TD unveiled a bust of former Czech President Václav Havel at Dáil on Thursday 18 June 2015.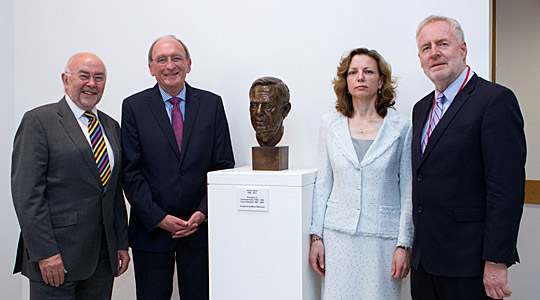 The concept of a gift of a Havel bust for Leinster House was conceived by Bill Shipsey, founder of Art for Amnesty and also one of the initiators of the international Havel's Place series of memorial spots.
Mr. Shipsey commissioned a bust in the Czech Republic which was funded by the Czech community living in Ireland and by friends and supporters of Havel and Amnesty International in the Czech Republic.
This is the first time the Irish Parliament has accepted a bust of a foreign head of state and it will be located on a plinth in the Committee Rooms' reception area at Government Buildings.
Find out more about Václav Havel: https://youtu.be/xFiCy6yOFNE