The Embassy's History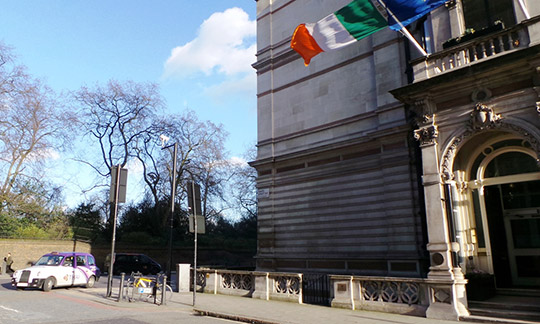 Find out about the Embassy's history, including where we are at 17 Grosvenor Place and some of our former Ambassadors.
History of 17 Grosvenor Place
The Irish Embassy has been situated in 17 Grosvenor Place since Christmas day 1949. Built circa 1867 by Robert John Waller, the building was leased to him by the Duke of Westminster from 29 September 1867 to 29 September 1957, in consideration of the expenses incurred by Waller during its construction. Waller leased the building on 29 July 1889 to Arthur Wilson Esq, a ship-owner from Hull and a friend of King Edward VII while he was Prince of Wales. Upon Waller's death, the trustees of his will assigned the lease to the Hon. Arthur Ernest Guinness, the 2nd son of the 1st Earl of Iveagh. Guinness surrendered the lease to the Duke of Westminster on the 25th November 1948, who in turn leased it to the Commissioners of Public Works in Ireland on 20 September 1950, with the lease beginning on 25 December 1949.
Irish Ambassadors to Britain
James McNeill High Commissioner

1923
1928
Prof. T A Smiddy High Commissioner
February 1929
December 1930

John Whelan Dulanty High Commissioner/

Ambassador

December 1930

1950

1949

July 1950

Frederick Henry Boland
July 1950
October 1956
Cornelius Cremmin
October 1956
January 1958
Hugh McCann
February 1958
January 1963
Cornelius Cremmin
January 1963
April 1964
John G. Molloy
April 1964
February 1970
Donal O'Sullivan
February 1970
February 1977
Paul Keating
February 1977
November 1978
Edward Kennedy
November 1978
August 1983
Noel Dorr
August 1983
March 1987
Andrew O'Rourke
July 1987
September 1991
Joseph Small
September 1991
September 1995
Edward J Barrington
September 1995
September 2001
Dáithí Ó Ceallaigh
September 2001
July 2007
David Cooney
July 2007
January 2009
Bobby McDonagh
April 2009
August 2013
Dan Mulhall
September 2013
August 2017
Adrian O'Neill
September 2017
Present
Our First High Commissioner
James McNeill served as the first High Commissioner to London and was also the second Governor-General of the Irish Free State. Born in Antrim in 1869, McNeill served as a high-ranking member of the Indian Civil Service in Mumbai for 25 years. On leaving the Indian Civil Service, he returned to Dublin to live with his brothers, Eoin and Charles. McNeill became a Sinn Féin supporter following his brother Eoin's involvement in the 1916 rising, and his own arrest and confinement for a short time due to his brother's connections. He was elected to Dublin City Council in 1920, and served as chairman of the council in 1922. McNeill was then offered the position of High Commissioner in December 1922, and he took up the position in London on January 8th 1923. McNeill was High Commissioner for five years, when he left to return to Dublin to take up the position of second Governor General of the Irish Free State, a position he held until 1932. He died in December 1938.
Our First Ambassador
John Whelan Dulanty was born in Manchester in 1883. Whilst working fulltime at a cotton mill, Dulanty continued his education at night school at the Manchester Municipal Evening School of Commerce, and at Manchester University, where he read law. He was later called to the Bar. Appointed honorary director of the United Irish League of Great Britain by John Redmond, in 1908 he supported the Winston Churchill's election campaign to secure the North-West Manchester seat. This connection with Churchill was to prove important in Dulanty's later diplomatic career as Irish high commissioner in London. A civil servant in England for a number of years, Dulanty was principal assistant secretary at the Ministry of Munitions and assistant secretary at the Treasury. He resigned from the civil service in 1920, becoming deputy chairman and managing director of the retailer Peter Jones Ltd. He joined the Irish civil service in 1926, and served as High Commissioner for twenty years, from 1930 until 1950. In July 1950 he was made Ambassador (as Ireland had since left the Commonwealth), becoming the first Irish Ambassador to the court of St James until his retirement in September of that year. He died in 1955.
To find out more about John Dulanty please see blog by former Ambassador of Ireland to the United Kingdom, Dan Mulhall.
Documents on Irish Foreign Policy project
Learn more about the history of the Department of Foreign Affairs and Trade and our collaboration with the Royal Irish Academy's Documents on Irish Foreign Policy project