Bloomsday Creative Writing Competition - Winners Announced!
News
17 July 2020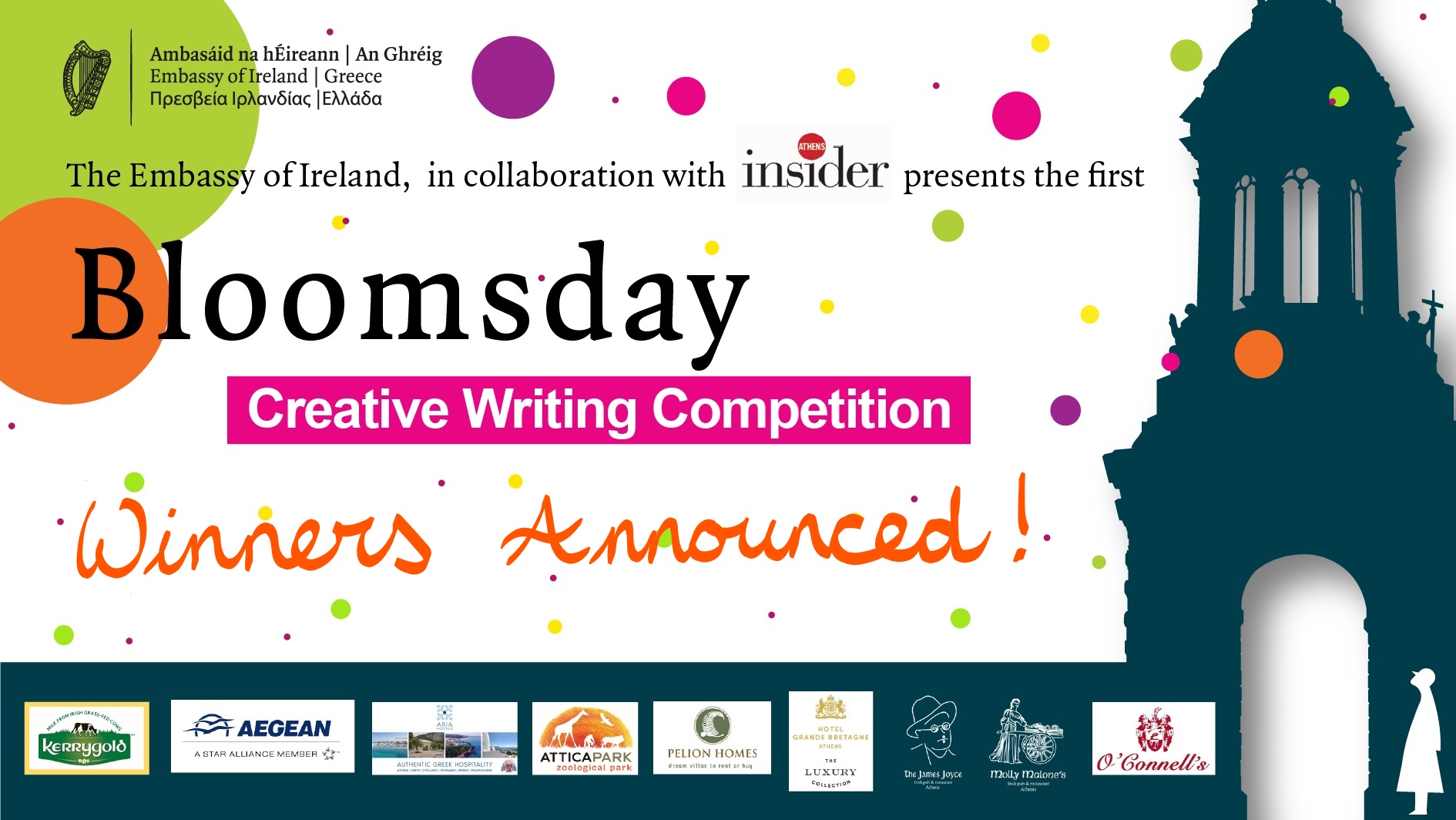 The Embassy was delighted at the level of interest, and talent, that the inaugural writing Bloomsday Competition attracted. We received almost 200 entries in total, from Finland, Hong Kong, Canada, Belgium, France, the UK and Turkey, as well as from Ireland and Greece. We received happy stories, funny stories, scary stories, and even some stories that made us cry. Some tales were deeply personal and some were highly imaginative, some were set in the distant past, and some took place in the future.
In order to ensure fairness and objectivity, each story on receipt was given a number and completely anonymised. Each entry was read, and finally a short list was drawn up in each category. Each of the entrants whose story was shortlisted was contacted and informed that they had made the final cut. The judges then ranked the shortlisted stories, and the winning entries emerged as those with the highest number of points.
The judging panel was made up of three distinguished writers: Theo Dorgan, Haris Vlavianos and Sofka Zinovieff. We profiled each of these on our Facebook page, and you can read more about them here.
The authors of the winning stories were informed on Bloomsday that their stories had been selected by the judging panel for a prize, and an announcement was published in Athens Insider later that week, here. This article also includes feedback from all of the authors on the winning entries.
Prizes were provided by our very generous sponsors. Optima provided the "Kerrygold Cash Prizes"; the Benaki Museum, in collaboration with Aria Hotels, offered a two-night stay for a couple at the Patrick & Joan Leigh Fermor Hotel and Writer's Retreat; Aegean Airlines gifted a pair of return tickets to Greece; Pelion Homes provided a two-night stay for a family; Attica Park gifted an annual family pass; the Grande Bretagne provided an afternoon tea for two; and the James Joyce, O'Connell's and Molly Malone's Irish Pubs all offered vouchers for meals at their establishments.
We would like to express our deep and sincere gratitude to all of our sponsors, who so kindly agreed to support this competition. We know that these excellent prizes were a key factor in the competition's success.
You can read the winning stories by clicking the following links:
Adult Category:
U. 18 Category:
Kaya Ketter: winner of family stay at Pelion Homes
Finn Brannigan: winner of the Kerrygold Cash Prize, U. 18 Category
Leucothea Grigoropoulos: winner of the Attica Park Annual Family Pass
U. 13 Category:
Raphaël Courouble: winner of the Kerrygold Cash Prize, U.13 First Place Category
Luke Barry: winner of the Kerrygold Cash Prize, U.13 Second Place Category
Felix Rafael Wahlström: winner of the Kerrygold Cash Prize, U.13 Third Place Category
The shortlisted writers were as follows:
Adult Category

U. 18 Category

U. 13 Category

Anna Tucket

Finn Brannigan

Ava Gollogley

Caroline Bracken

Kaya Ketter

Felix Rafael Wahlström

Connor O'Hare

Leucothea Grigoropoulos

Luke Barry

David Burtt

Lucianna Cheila

Raphaël Courouble

Duncan Howitt-Marshall

Veronika Tomchani

Sabib Mihran

James Russell

Joan O'Shea Talphezian

Majella Cullinane

Michelle Walshe

Sam Windrim
We would like to particularly thank Athens Insider for their excellent partnership and collaboration. We could not have organised this competition without the hard work and support of Sudha Nair Iliades and her team. For those of you lucky enough to be living in Greece, the summer print edition of the magazine is on sale from 20 July, if you would like to read the stories in hard copy.
Finally, we would like to thank all of our entrants. We know how much effort goes into writing something, and it was a pleasure and an honour to read each story that we received. We really hope that the those who participated enjoyed the whole process, from writing, to entering the competition, to reading the winning stories. Most of all, we also hope that they will keep writing, and consider entering again next year.