Bloomsday Creative Writing Competition
Announcement
25 May 2020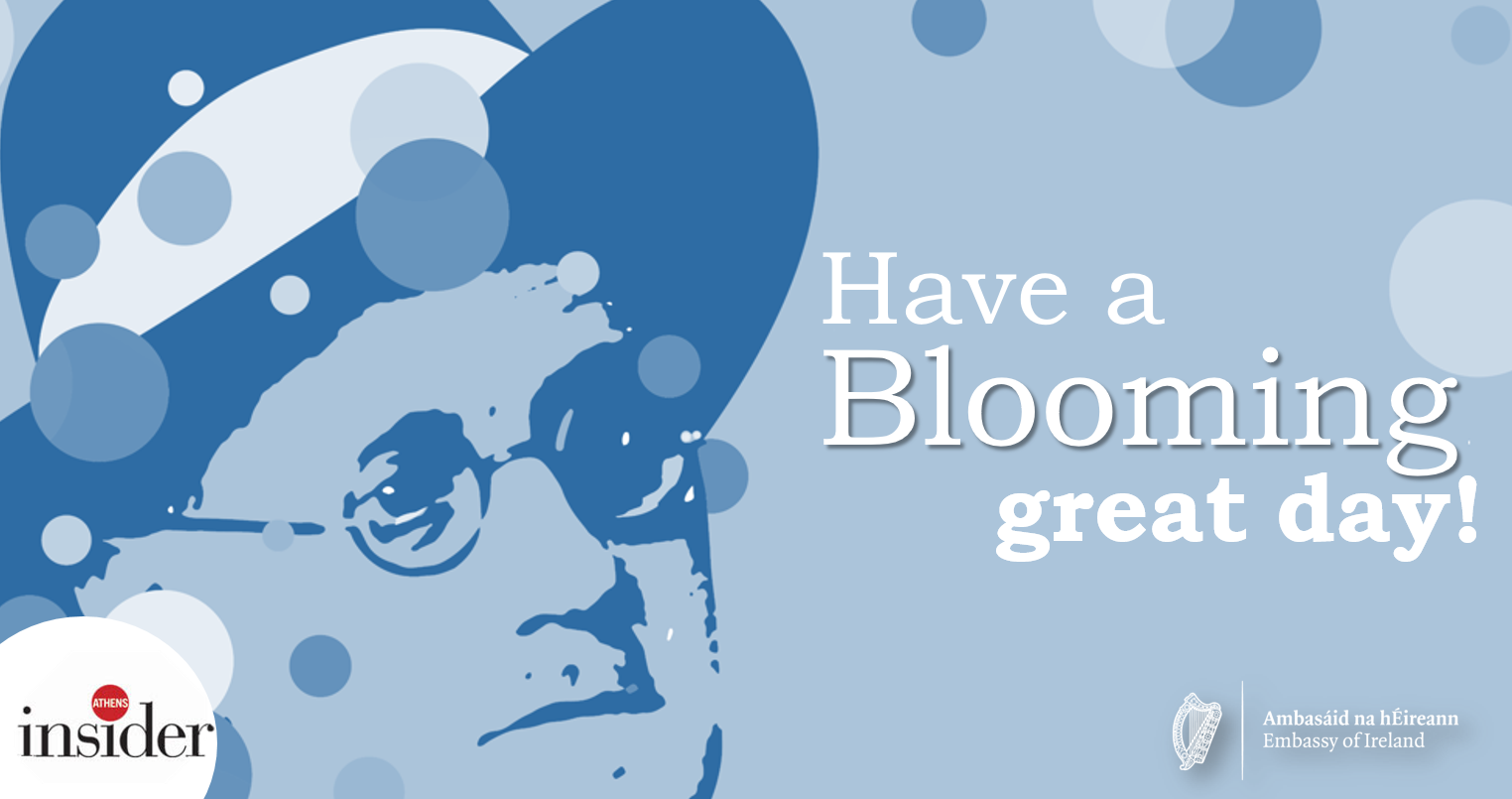 DEADLINE EXTENDED!
In response to several requests, we are extending the deadline of our competition until Wednesday 10 June, 11:00.
June 16th is Bloomsday, a celebration of the life and work of Irish writer James Joyce, one of the most important writers of the 20th Century. Joyce's most famous book is "Ulysses", a seminal work of modernist literature. Although the book is notoriously complex, the story is simple: it is that of one day, 16 June 1904, in the life of the central character, Leopold Bloom. 16 June 1904 was significant for Joyce as it was the day he went on his first date with Nora Barnacle, who later became his wife; nobody knows, when they wake up each morning, how important a day might become… "Ulysses" has a special connection with Greece. The events of the book loosely parallel the major sequences in Homer's "Odyssey".
Bloomsday is marked around the world as a celebration of Joyce, of course, but also as a celebration of Irish literature, modernist writing and creativity. The Embassy of Ireland in Athens, in partnership with the Athens Centre, held its first official Bloomsday celebrations in 2019, with a discussion of "Ulysses" and its history, readings, live music and rare early editions of Joyce's works on display. This year, the festivities will take a different form. It is therefore with great pleasure and excitement that the Embassy, in collaboration with Athens Insider, announces its first ever Bloomsday creative writing competition.
The premise, like that of "Ulysses", is straightforward: all entries must tell a story beginning and ending in one single day.
A panel of distinguished writers and poets will judge the winning entry: Theo Dorgan, the Irish poet, novelist, prose writer, documentary screenwriter, editor, translator and broadcaster with a longstanding connection to and affinity with Greece; Haris Vlavianos, the Greek poet, academic, editor and translator (including of the Irish poet Michael Longley); and Sofka Zinovieff, British author and journalist, who has written memoirs, biographies and novels.
The winning story will be published by Athens Insider online and in its print edition in June. Winners will receive cash prizes sponsored by Kerrygold: €500 for the adult category, €300 for the teen category and €200 for the children's category, return flights to Ireland with Aegean Airlines, or a stay at the exclusive and recently-opened Patrick & Joan Leigh Fermor House in Kardamyli, the Mani, Greece. Other great prizes include an annual family pass to Attica Park, a stay in luxury Pelion Homes, afternoon tea at the Grande Bretagne Hotel, and vouchers for the James Joyce, O'Connell's and Molly Malone's Irish pubs (all of which also do excellent meals).
Competition rules:
Three categories, with the following word counts:

Under 13 Years: 300 words
13-18 Years: 500 words
Over 18 Years: 1,500 words
Entries exceeding the word count may be disqualified.
Stories must be written in English.
Entries must be original and previously unpublished.
Writers may be of any nationality, living anywhere in the world.
Entries must be emailed as Word documents (Calibri font, size 12, double spaced) to AthensEmbassyRSVP@dfa.ie by 11:00 Wednesday 10 June 2020. Please include your full name, date of birth, email address and postal address in your cover email. Your name should not appear in the Word document.
Late entries will not be accepted.
The decision of the judges will be final.