Ireland at the Long Night of LiteratureS
News
30 September 2019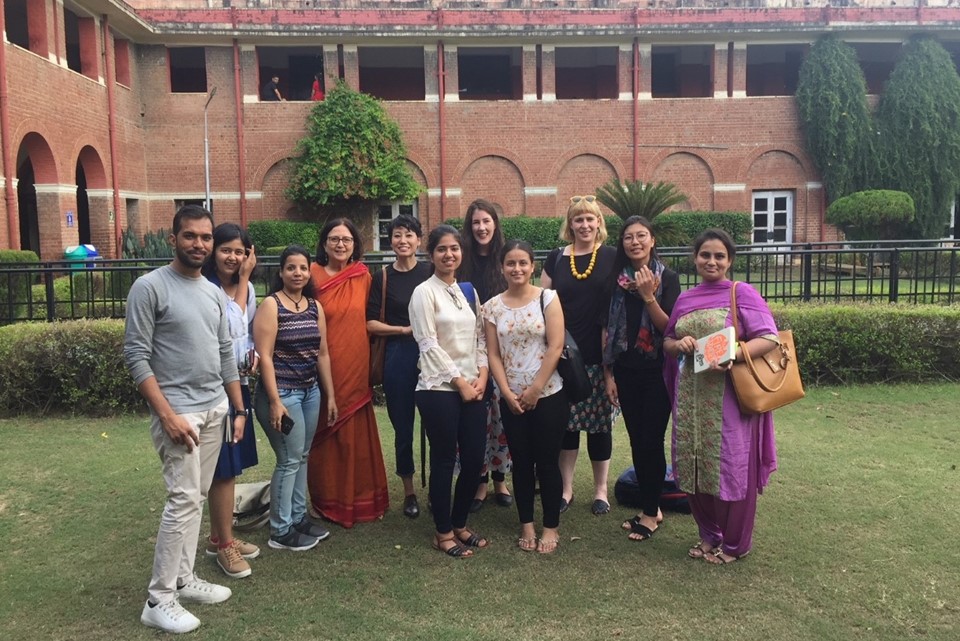 Irish Language Poet Aifric Mac Aodha and Northern Ireland writer Jan Carson at Delhi University Long Night of LiteratureS
Ireland at the Long Night of LiteratureS
Aifric Mac Aodha gave audiences in New Delhi and Varanasi in India a flavour of Gaeilge, the Irish language, at the Long Night of LiteratureS, which took place last week. The event marks the European Day of Languages and has been growing in popularity since its first edition in 2015. This is the first time that an Irish author attended the event and is also the first time that a 'mini Long Night of LiteratureS' was held in Varanasi. The Embassy is also delighted that European Union Prize for Literature winner from Northern Ireland, Jan Carson, also attended the Long Night of LiteratureS in New Delhi and earlier participated in the Pune Literature Festival.

What is the Long Night of LiteratureS?
Intended to introduce the diversity and richness of different European languages and cultures to Indian audiences, the Long Night of LiteratureS is timed to coincide with the European Day of Languages on 26th September. Long Night of LiteratureS has been described as "literary speed-dating", as it proposes a distinct format in which authors read and interact with small audience groups of 20-25 people. The audience rotates regularly to allow them to listen and meet with all the different authors.
This is the 4th edition of the main event and the spin-off version in Varanasi is the first time that Long Night of LiteratureS has expanded beyond the Delhi National Capital Region. A number of Embassies and European cultural institutions are involved in bringing authors from across Europe to India and literary enthusiasts got the chance to meet 13 authors from 13 different European countries, as well as experience a Virtual Reality interpretation of the famous book 'Metamorphosis' by Franz Kafka.

Who is Aifric Mac Aodha?
Aifric Mac Aodha is an Irish-language poet, who was awarded the Oireachtas Prize for Poetry in 2017 and is part of a new wave of contemporary, female voices redefining the Irish poetry scene. Her first Irish-language poetry collection, Gabháil Syrinx, was published in 2010 and her follow-up collection, Foreign News was published in 2017 by Gallery Press as a bilingual Irish-English edition with translations by David Wheatley. Aifric's work has been translated into many languages, including French, German, Italian, Spanish, and Czech. She has taught in St Petersburg, New York and Canada and has lectured in old and modern Irish at UCD. She lives in Dublin where she now works for the Irish-language publisher, An Gúm.
Long Night of LiteratureS in Varanasi
The Alice Boner Institute hosted the Long Night of LiteratureS in Varanasi, where 3 European authors read excerpts from their works and discussed their experiences with a local audience. On the terrace of the refurbished house of Swiss artist, Alice Boner, by the holy river Ganges, with the temple bells ringing, Aifric Mac Aodha read recent works from her recent bilingual publication 'Foreign News' and discussed the role of Irish language in English-language literature in Ireland with the session moderator, Sidartha Menon from the Rajghat Besant School in Varanasi.
Long Night Side Events
Upon her arrival in Delhi Aifric Mac Aodha had the opportunity to attend a number of side events designed to amplify the impact of the Long Night of LiteratureS. On Wednesday, 25th September, the Goethe Institute and the German Book Office hosted a roundtable entitled "Read, watch, listen and experience – A talk on adaptation and translation of literature to various forms of media". The panel discussion explored how literature can be translated into different media and formats, as well as looking at the role of language in translation. In addition to the presence of the European authors, a number of local writers, publishers and translators provided an Indian perspective on how Indian writers have translated literature into different art forms.
Aifric also interacted with literature and language students at Delhi University [DU] and Jawaharlal Nehru University [JNU]. At DU, all 13 European authors participated in a panel discussion on the art of writing, while at JNU Aifric read her poems to a small group of English literature students and discussed contemporary literature in Ireland with them.
ENDS