Ambassador McDonagh
Ambassador McDonagh became Ambassador of Ireland to Italy in September 2013. He presented his credentials to the President of the Republic Giorgio Napolitano on 1st October 2013.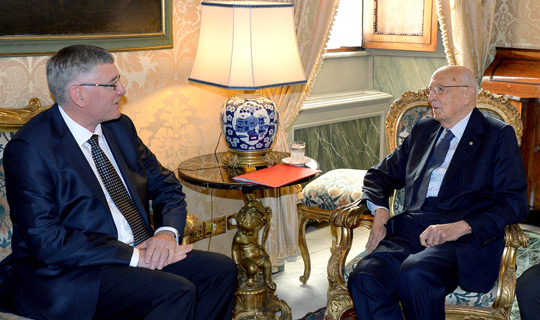 Message from Ambassador McDonagh
Ireland and Italy have enjoyed a deep relationship over the centuries. Today we share a particularly warm and close friendship as enthusiastic and committed members of the European Union.
The Italian-Irish relationship has many dimensions including the pursuit of shared interests in Europe and the promotion of shared values in the wider world; significant and expanding business and trade between our countries with exciting potential for further development; and the mutual enrichment which flows from the exceptional strength and vibrancy of our respective cultures. The human dimension of the relationship is particularly striking – namely the natural affinity and warmth between Irish and Italians whenever and wherever we meet - as business colleagues, as tourists, on the sports field, as members of the many extended Irish-Italian families, or simply as friends.
Whether you wish to visit Ireland, to do business with Ireland, to enjoy Irish culture, or simply to know more about Ireland, I hope that you will find this website helpful. I hope it will also be of assistance to Irish citizens wishing to avail of our consular services. My colleagues at the Irish Embassy and I will be very happy to provide any additional assistance.
Un caro saluto
Bobby McDonagh
Ambassador
Ambassador BOBBY MCDONAGH
| | |
| --- | --- |
| Born | Washington D.C., 29 June 1954 |
| Educated | Gonzaga College, Dublin |
| | Balliol College, Oxford (MA Greats/Classics) |
| | President of the Oxford Union |
| Married, 4 Daughters | |
Career
1977-1980
Third Secretary, Political Division, Department of Foreign Affairs Dublin
1980-1983
Third Secretary, Embassy of Ireland, Luxembourg
1983-1985
General Secretariat of the European Parliament, Political Affairs
1985-1987
First Secretary, Economic Division, Department of Foreign Affairs
1987-1990
First Secretary, Irish Permanent Representation to the EU, Brussels
1990-1994
European Commission Brussels: Member of Commissioner
McSharry's Cabinet and later Deputy Chef de Cabinet of
Commissioner Flynn
1995-2000
Counsellor, EU Division, Department of Foreign Affairs
2000-2001
Ambassador to Malaysia (accredited also to Thailand, Vietnam, Laos)
2001-2005
Director General, EU Division, Department of Foreign Affairs, Dublin
2005-2009
Permanent Representative of Ireland to the EU, Brussels
2009-2013
Ambassador of Ireland to the United Kingdom
2013-
Ambassador of Ireland to Italy, as well as to the UN organisations in
Rome and to San Marino
Publications:
Original Sin in a Brave New World, the Paradox of Europe (IEA 1997) The IGC: How the deal was done - an account of the negotiation of the EU Constitutional Treaty, contained in The Genesis and Destiny of the European Constitution (Bruylant 2007)