The Embassy's History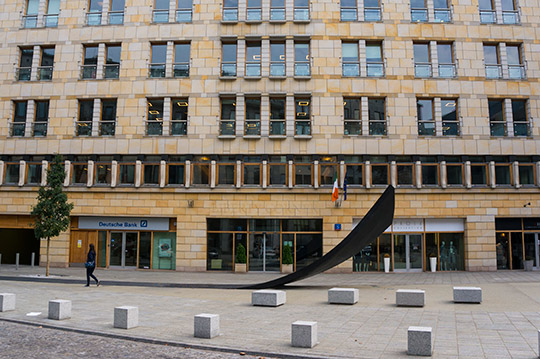 A short history of the Embassy of Ireland in Poland.
Ireland opened its Embassy in Warsaw in 1990, originally in the Marriott Hotel, which was home to a number of Embassies in Poland at the time, following the end of Communism. Prior to 1990 the Embassy of Ireland in Stockholm had been accredited to Poland.
Having previously been at Lenartowicza and then Humańska in Mokotów, the Embassy moved to its current city centre location at Mysia 5 in December 2004. The building in which we are now situated is called Liberty Corner and is home to a number of commercial offices, and the Polish Press Agency (PAP).
Outside, the Memorial to Free Speech (Wolnego Słowa) is a black line running the length of the street and rising in front of no. 5. During Communist times in Poland, the Office of the Censor was based at Mysia 5, and this powerful monument is a constant reminder of the importance of freedom of speech. The monument was unveiled by President Bronisław Komorowski on 5 June 2014, as part of the Polish celebrations of the 25th anniversary of the first partially free elections in Poland post-war.