Bloomsday 2016
Bloomsday is an annual celebration of James Joyce that takes place in Dublin and around the world on 16 June, the date depicted in Joyce's famous 'Ulysses'.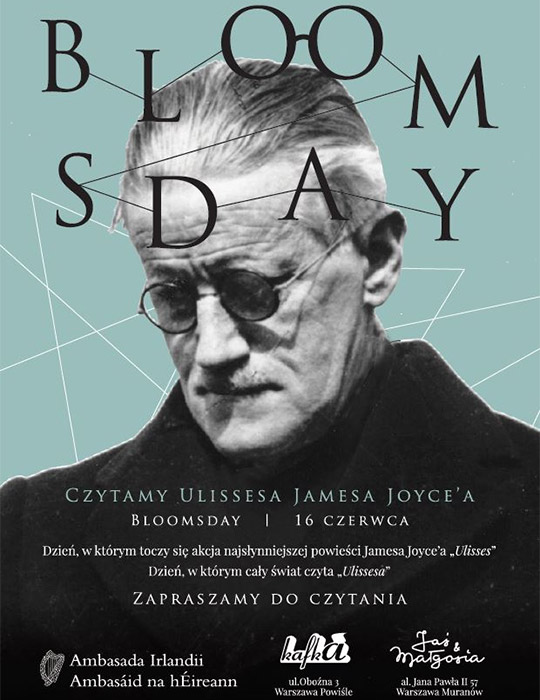 The Embassy is pleased to cooperate with Warsaw's Teatr Polski, Café Kafka and Klubokawiarnia Jaś i Małgosia to mark Bloomsday this year.
'When I die Dublin will be written in my heart'
Join us on Wednesday 15 June at 18.00 in TeatrPolski where Andrzej Seweryn and Ambassador Gerard Keown will read fragments of Joyce's 'Portrait of the Artist as a Young Man' in Polish and English. Joyce experts, Piotr Paziński and Jerzy Jarniewicz, will join Polityka literary critic, Justyna Sobolewska, to discuss Joyce's work under the theme of a quote from Joyce: 'When I did Dublin will be written in my heart'. The discussion will be held in Polish. An exhibition in Polish on Joyce's life and work will be displayed at the event, as well as a screening of Piotr Sadowski's experimental documentary 'Dublin Only' (2011).
Entry to this event is free but places are limited and will be allocated on a first-come, first-served basis. Further information can be found here.
Czytamy 'Ulissesa'
On Thursday 16 June, copies of Joyce's 'Ulysses' will be available in English and Polish to pick up and read over a coffee in Café Kafka, ul. Oboźna 3, Warszawa Powiśle and in Klubokawiarnia Jaś i Małgosia, al. Jana Pawła II 57, Warszawa Muranów.
Bloomsday in Kraków
Both Dublin and Kraków are UNESCO Cities of Literature so it is no surprise that Bloomsday has been celebrated in Kraków for many years. 2016 is no different with a special event taking place in Massolit Bookshop and Café, ul. Felicjanek 4/2. At 17.00 there will be a lecture by Piotr Paziński on James Joyce and from 19.00 there will be a Bloomsday Party with a bilingual reading marathon and Irish music by Vladimirska.