Polish Airmen at Irish Universities after WWII
'I think we should do all in our power to help': The story of Polish airmen at Irish universities after WWII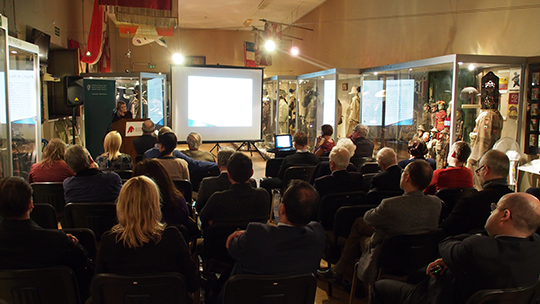 On 8 December 2016, Dr. Bożena Cierlik of University College Cork spoke at the Polish Army Museum about the large numbers of Polish airmen and soldiers who found a temporary home in Ireland after the Second World War. They came to study at Irish universities at the request of the Government-in-Exile, the first group arriving in 1946. For the Irish government, this was a way of showing solidarity with Poland. Most of the Polish soldiers and airmen studied at University College Cork, with others studying in Dublin and Galway.
The story of Polish airmen in Ireland had largely been forgotten, but is now being uncovered by Dr. Cierlik. She explained how the Polish airmen and soldiers came to Irish universities, she recounted their experiences in Ireland, and she outlined the positive impact that the Poles had on their host universities and cities.
Dr. Cierlik is a lecturer in history at University College Cork. A graduate of the John Paul II Catholic University of Lublin, Dr. Cierlik was awarded a PhD in University College Cork for her comparative analysis of Polish and Irish political life from 1918-1939. Dr. Cierlik was awarded an 'Outstanding Pole' award in the field of education in 2016.