Minister of State Pat Breen Visits Poland
Minister of State for Employment and Small Business, Pat Breen T.D., visited Poland on 24-25 November 2016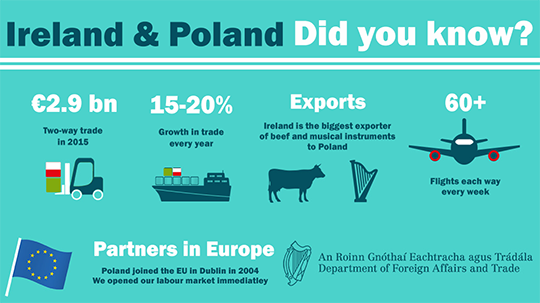 Poland is a top ten export destination for Irish indigenous companies. Trade between Ireland and Poland was worth €2.9 billion in 2015 and is growing by over 20% every year. The trading relationship is enhanced by close people-to-people ties and strong connectivity, with over 60 flights each week between Ireland and Poland.
On 24 November, Minister Breen hosted an Enterprise Ireland trade dinner in Warsaw attended by companies from Poland and Ireland to deliver the message that Ireland is open for business and wants to work with Polish companies.
Minister Breen also visited the Polish manufacturing facility of JFC, an innovative Irish plastic manufacturing company with a factory in Poland since 2004. On 25 November, Minister Breen met with members of the local Irish business community and the Irish Polish Chamber of Commerce.