Poland is going green for St. Patrick's Day!
The first ever Festiwal Świętego Patryka will take place across Poland to celebrate Ireland's national day on 17 March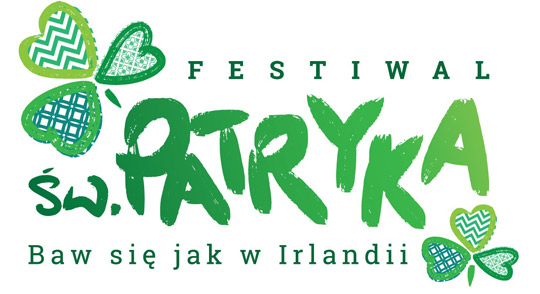 St. Patrick's Day is celebrated around the world every year, with festivals and greenings from Sydney and Tokyo to New York and Chicago. Poland also celebrates St. Patrick's Day and this year, for the first time, Festiwal Świętego Patryka will bring together the many events taking place across Poland. Polish cities will celebrate St. Patrick's Day this year like never before by turning landmark buildings green on 17 March.
Global Greening
Nine Polish cities will turn landmarks green for St. Patrick's Day. Polish landmarks will join the Empire State Building in New York, the Colosseum in Rome, the Sacré-Coeur in Paris, and Christ the Redeemer Statue in Rio de Janeiro, as well as many other landmarks around the world, in the famous Global Greening campaign.
Landmarks in Poland taking part in the Global Greening campaign:
Warsaw

Palace of Culture and Science

Kraków

Tauron Arena

Kladka Bernatka footbridge

Lipska Street bridge

Poznań

City Hall

Gdańsk

Golden Gate

Executioner's House

Bridges at Uczniowska Street, Kosciuszki Street and Jana z Kolna Street

Wrocław

Stadion Miejski

Lublin

Crown Tribunal

Arena Stadium

Rzeszów

City Hall

Bydgoszcz

City Hall

Kielce

Galeria Echo
There are direct flights from Ireland to eight of these cities.
Festiwal Świętego Patryka
70 million people around the world claim Irish descent, including 36 million in the United States. But you do not have to be Irish to celebrate St. Patrick's Day! Poland celebrates St. Patrick's Day every year, and this year there are more events taking place than ever before.
Launching the first every Festiwal Świętego Patryka, Ambassador Gerard Keown, said:
'St Patrick's Day is Ireland's gift to the world. I am delighted that cities across Poland are joining this year's global celebrations. The greening of Poland's best-known landmarks show the strong ties of friendship and partnership between Ireland and Poland. I wish all our Polish friends here and in Ireland a very enjoyable St. Patrick's Day.'
A calendar of events taking place around Poland for St. Patrick's Day can be found on the Embassy's website and on a dedicated Facebook page. You can follow news about Festiwal events on Twitter with #swPatryk.
#GoGreen4PatricksDay
Everybody can get involved in the St. Patrick's Day celebrations by turning homes, offices, or clothes green and posting a picture on Twitter or Facebook using the hashtag #GoGreen4StPatricksDay. This hashtag was the most widely used globally last year on 17 March. Anything can be 'greened' so be as creative as you like and play your part in making 2016 the biggest Global Greening ever.
Ireland-Poland Relations
Irish-Polish relations are dynamic and growing. Trade between Ireland and Poland grew by 23% in 2015 and is now worth almost €2.9 billion annually. Connectivity is excellent. Last year, air traffic increased by 10% to over 800,000 journeys a year, with 55 flights each week from Dublin, Shannon and Cork to eleven Polish cities.
Ireland and Poland are working together as partners in the EU. Irish and Polish Ministers and officials meet regularly to discuss EU and bilateral issues.
People-to-people ties are stronger than ever, with the large Polish community in Ireland playing an important role in bringing Poland and Ireland closer together. About 150,000 Poles live in Ireland, making Polish the most spoken foreign language in Ireland. The Irish Government celebrated the positive contribution of the Polish community to Irish life by launching the Polska Éire Festival in 2015, with the second edition planned for May 2016.
Happy St. Patrick's Day from the Embassy of Ireland!
For news editors: If you would like to arrange an interview with the Ambassador of Ireland or the Embassy's Polish-speaking Consul, please call 22 564 2200 or send us your details.
Ireland's Content Pool at www.irelandscontentpool.com provides images and videos of St. Patrick's Day celebrations in Ireland, and of Irish landscapes, lifestyle, cities and food.