ShamROCK Irish Music Festival, Warsaw, Saturday 27 August
Paddy Hanna, Saint Sister and The Wood Burning Savages will headline the first ShamROCK Irish Music Festival at Niebo Concert Venue, 21 Nowy Swiat, Warsaw, on Saturday 27 August 2016. Entrance is free for everyone.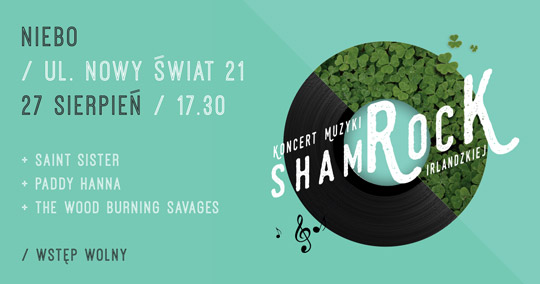 The acts
Saint Sister was formed in November 2014 by Morgan MacIntyre and Gemma Doherty. Their music draws from early Celtic harp traditions, 60s folk and electronic pop to create 'atmosfolk'—a mix of soulful vocal harmonies, dreamy synth and electro-acoustic harp. More on their music can be found here.
Paddy Hanna is a Dublin-born singer-songwriter. He has been described as one of Ireland's best singer-songwriters, who espouses Elvis Costello-style lyrics and rarely fails to inspire. More on their music can be found here.
The Wood Burning Savages are big-sound rock personified. From Derry city, WBS is made up of Paul Connolly (Vocals/Guitar), Daniel Acheson (Bass), Aaron McClelland (Drums) and Shea Tohill (Guitar). Their intellectual lyrics and breezy intensity have taken the Irish music world by storm in recent months. More on their music can be found here.
Mission ShamROCK
This free concert will be the first showcase of contemporary Irish musicians in the Polish capital, and will bring together some of the hottest rising stars of the world-renowned Irish music scene. ShamROCK festival is family friendly and is a free event for all ages on a summer evening in Warsaw.
ShamROCK festival is organised by the Irish Polish Chamber of Commerce with the support of Culture Ireland and the Irish Embassy in Poland.
For updates and further information, see the Facebook event page.
Irish Polish Chamber of Commerce
The Irish Polish Chamber of Commerce exists to foster Irish-Polish business and cultural relations through networking opportunities, market assistance and the direct provision of information, industry events, social outings and Irish cultural activities. Membership of the Chamber is open to all Irish and Polish businesses and professionals with an interest in the Irish market, as well as their employees and families who are invited to get involved in the mix of professional and social benefits that members enjoy. For more on the Chamber, go to the IPCC website on www.irishpolish.pl or check out the Facebook profile.
Culture Ireland
Culture Ireland promotes Irish arts worldwide. The organisation creates and supports opportunities for Irish artists and companies to present and promote their work at strategic international festivals and venues. Additionally, it develops platforms to present outstanding Irish work to international audiences, through showcases at key global arts events.