Paula Meehan's poem on display in Warsaw
Paula Meehan's 'Nomad Heart' is on display in Warsaw for the month of April as part of the Poems in the City project.
Irish poet Paula Meehan has published seven award-winning collections of poetry. She has also written plays for both adults and children. She is a member of Aosdána, the Irish Academy for the Arts, and was Ireland Professor of Poetry, 2013 to 2016.
This year's Poems in the City project focuses on the theme of Freedom. Paula Meehan's 'Nomad Heart' represents Freedom in the eyes of an Irish writer.
'Nomad Heart' was translated into Polish by Magda Heydel, a translator of English literature, member of the Polish Literary Translators Association and professor at the Faculty of Polish Studies at the Jagiellonian University.
In April, 'Nomad Heart' appears in English and Polish at Łazienki Park, at Warsaw bus and tram stops, in cafés, clubs, local shops and service providers across Warsaw. On 23 April the poem will be recited in English and Polish at a public poetry evening at the Royal Theatre in Łazienki Park.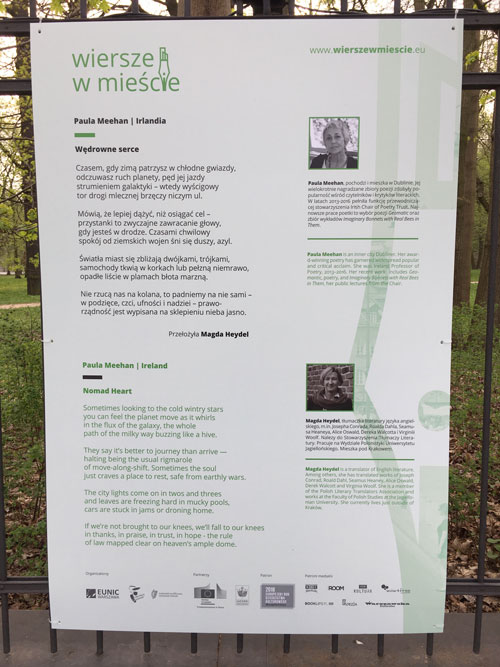 Poems in the City is organised by EUNIC Warszawa and the City of Warsaw, and the main purpose of the project is to promote contemporary European poetry. Works of 18 European poets take part in the project.