New to Poland?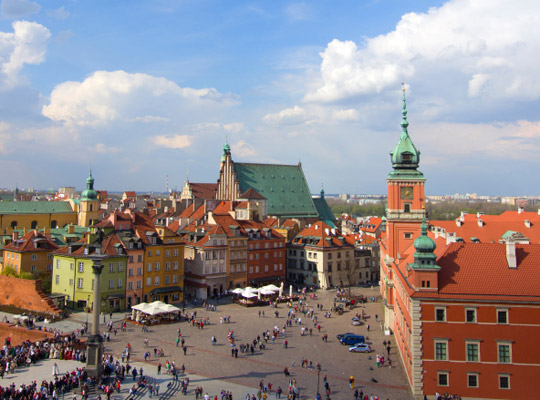 If you have recently moved to Poland, for either a short or long stay, the following information may be useful.
Living and working in Poland
Before leaving Ireland please consult our current travel advice for Poland and check that you have:
Valid passport (we recommend you also keep a copy of your passport close to hand)
European Health Insurance card (EHIC) to regularise your entitlement, in the short term, to health services in EU states (apply to your local health board)
Private comprehensive medical insurance (EHIC does not cover repatriation to Ireland)
Long Form Birth Certificate (with the Hague Apostille stamped on it by the Consular Section of the Department of Foreign Affairs and Trade to prove its authenticity)
Adequate funds to maintain you while you establish yourself
Registration in Poland
Irish citizens, as EU nationals, have the right to live, work and travel in Poland freely for periods of up to three months without having to register with the Polish authorities.
However, Irish citizens who plan to spend an extended period in Poland – more than 90 days – are obliged to register with the local voivode office (Urząd Wojewódzki) and have a Certificate of registration of residence of a European Unioncitizen issued.
When requesting this certificate, you will be asked to present documentation showing evidence that you are working, studying or training in Poland or that you have sufficient economic resources to maintain yourself and any dependants. Contact your local voivode office for further details.
Irish exchange students, with clear intention to leave Poland at a certain date, are not obliged to apply for this certificate.
If you register your residence, you will automatically obtain a PESEL Number [Polish acronym for "Universal Electronic System for Registration of the Population"]. If you cannot register your residence, and any public authority requires a PESEL Number from you – submit an application.
Keep in touch with the Embassy
We recommend that Irish citizens travelling or living abroad register their contact details with the Department of Foreign Affairs and Trade. This information will allow us to contact you and provide assistance if needed should an unforeseen crisis occur, or if you have a family emergency while you are overseas.
We also suggest that you sign up to the Embassy mailing list for networking and cultural events and news on arrival in Poland. This can be a good way of meeting people and making contacts.
Covid-19 developments
The Polish Government has been implementing a range of restrictive measures since March 2020 in response to the outbreak of Covid-19. These concern both travel and day-to-day life in Poland. These restrictions can change rapidly, so please make sure you are aware of the current situation before travelling to Poland.
You will find up-to-date and reliable information on local Covid-19 recommendations on official gov.pl websites in Polish and English.
Additional support
The Cross Care Migrant Project also provides advice to those moving abroad.
The Samaritans in Ireland, in partnership with the Government of Ireland, have made a Freephone number available specifically for Irish people in Poland. Samaritans provides a 24-hour freephone helpline service for people in Ireland who are in distress, struggling to cope and who are in need of emotional support. Full information is available here: News Archive - Freephone Samaritans service available to Irish people living in Poland - Department of Foreign Affairs (dfa.ie)