Development Cooperation
Ireland has been working in Uganda since 1994. In that time, the national poverty rate in Uganda has halved, and successes have been seen in tackling HIV/AIDS, advancing access to quality education and strengthening the economy.
However, challenges remain. Recent reports indicate a rise in the overall number of poor people and significant regional differences persist. Karamoja, where Ireland's programme is focused, is particularly disadvantaged: it is the poorest sub-region in Uganda with a poverty rate of 61%. It also has some of the worst scores across health, education and social protection indicators.
Ireland invests across five sectors in Uganda in response to the country's needs and our expertise. These include programmes in social protection, refugee support, HIV/AIDS, education and governance. We engage with civil society, national and international organisations, UN agencies, and government institutions to deliver our programme.
Supporting Senior Citizens
Ireland works alongside the Governments of Uganda and the UK to deliver a €115 million social protection programme across Uganda. A critical component of this programme is the social welfare payment to senior citizens. The payment has improved the quality of life across many households, through supporting improved diets, access to basic health care, education supports for children of the households and opportunities to engage in small enterprises.
Helping refugees
Home to 1.4 million refugees, the humanitarian needs are great in Uganda. Ireland supports the refugee response by engaging in a coordinated response with donors and supporting the Government of Uganda to implement the Comprehensive Refugee Response Framework (CRRF). We also fund the UN Refugee Agency (UNHCR) and the World Food Programme (WFP) to support health, food, and water and sanitation programmes for refugee communities.
Reducing HIV/AIDS infections
Supporting the HIV/AIDS response has also been a core component of Ireland's work in Uganda for many years. Currently our support is focused on reducing and stabilizing the number of new HIV infections amongst the youth and adults in Uganda. We work with UNAIDS and a consortium of four local partners to fund prevention of HIV and AIDS in communities across Uganda. We have a particular focus on Karamoja.
Improving access to education
Ireland's investments in the education sector improve access and completion of quality education and training in marginalised areas, again with a focus on Karamoja. We work with a range of partners including UNICEF, the Ministry of Education and Sport, and local organisations to address barriers to education, reform vocational education, support skills development and to provide school meals.
Promoting citizens' rights
Ireland engages with and provides financial support to governance partners on citizen's rights awareness and promotion, improving access to justice, and promotion of human rights and gender equality. Our support also to these partners also helps to promote civic space and accountability, improve legal aid service provision and outreach, and protect human rights defenders.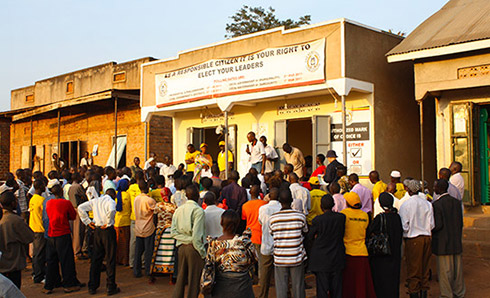 Key Results
154,614 senior citizens 47 districts are benefitting from the $8 per month social welfare payment, resulting in improved resilience and quality of life.
In 2017, 70% of water to refugees was supplied through sustainable water supply systems; 70,000 household latrines; and 3,800 communal latrines constructed in the different settlements.
A reduction in new HIV infections from estimated 162,294 in 2011 to 52,000 in 2016; and a decline in prevalence from 7.3% in 2011 to 6% in 2016.
Since 2016, 1,097 Karamojong (427 males and 670 females) have accessed post primary education through the Irish Aid bursary programme
Over 500,000 Ugandans have been able to access direct legal assistance through Ireland's support to the Democratic Governance Facility.
Read about some of the individuals who have benefitted from our development programme in our Stories of Progress.
More detail on the Irish Aid programme is available in our Country Strategy Paper 2016-2020.