St Brigid's Day in the United States

In Ireland, the first of February marks the beginning of Spring and the celebration of Lá Fhéile Bríde, St Brigid's Day. Like many of Ireland's other Christian feast days, Brigid predates Christianity – her roots lie in the Celtic festival of Imbolc, the feast of the goddess Brigid, celebrated at least five millennia ago. In old Irish, Imbolc means "in the belly", a reference to lambing and the renewal Spring promises.
Brigid was a triple goddess – of healing, fire, and of poetry – and the saint who took her name, born in 450 AD, carried some of those same associations. The patron saint of poets and midwives, by legend, she maintained a sacred fire by the monastery she founded in Kildare. Alongside St Patrick and St Columcille, she is also one of Ireland's three patron saints.
Her name can be translated as "the exalted one". And, over recent years, her festival has come to be a exaltation of Irish women. From Washington to Warsaw, San Francisco to Sydney, Ireland's diplomatic network, in partnership with local communities, host a series of festivals each February celebrating the contribution Irish women have made across the world.
Nowhere is that more evident than the United States. From Annie Moore to Mother Jones, Georgia O'Keefe to Maureen O'Hara, Irish women have blazed a trail across every sphere of American life. Their achievements, and those of the millions of American women who hold Irish ancestry, are deserving of exaltation. And our Embassy and seven Consulates – more than half of which are led by female diplomats – are determined to deliver that, so that, over time, Brigid comes to be as celebrated in America as that of her fellow patron Saint Patrick.
This year, we're hosting more than a dozen events, a festival of Brigid across America. Detailed below, our programme runs from Brigid's eve to the end of February. Across a series of panels and concerts, we're celebrating extraordinary female astronauts and architects, poets and civil rights campaigners, scientists and business leaders. Join us for any and all of these events by registering below and help us light Brigid's fire across America. ‌
---
Event Details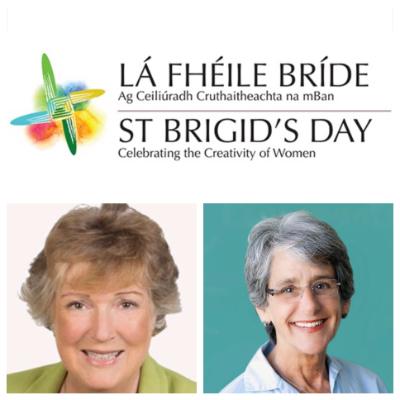 Bringing Equality to the Board Room: Perspectives from California and Ireland
29 January 2021, 09:00 PST/12:00 EST/15:00 GMT
The Consulate General of Ireland San Francisco presents a conversation with two incredible leaders from Ireland and the West Coast: Hannah-Beth Jackson, California State Senator (retired) and Dr. Orlaigh Quinn, Secretary General for Ireland's Department of Entreprise, Trade, and Employment. Register for this webinar here.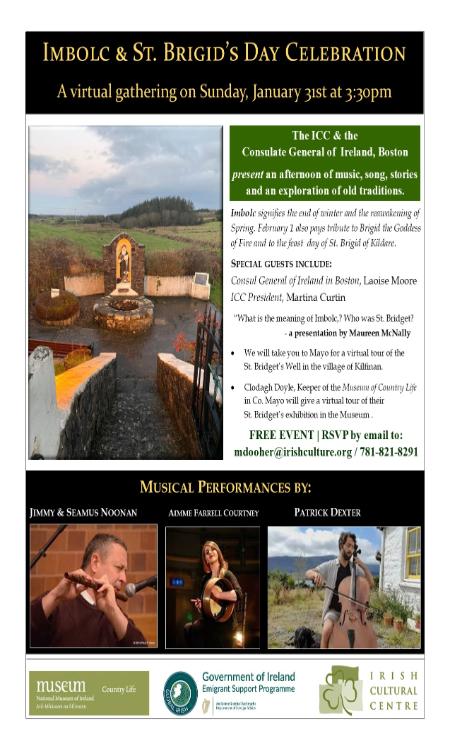 Imbolc & St. Brigid's Day Celebration
31 January 2021, 15:30 EST
The Irish Cultural Centre & the Consulate General of Ireland Boston presents an afternoon of music, song, stories, and an exploration of old traditions. Register for this free event by contacting: mdoohor@irishculture.org / 781.821.8291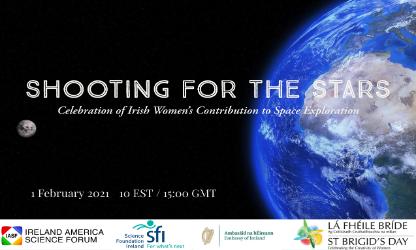 Shooting for the Stars: Celebration of Irish Women's Contributions to Space Exploration

1 February 2021, 10:00 EST / 15:00 GMT
The Embassy of Ireland USA and Science Foundation Ireland, in association with NASA and the Ireland America Science Forum, invite you to Shooting for the Stars: a celebration of Irish and Irish-American women's contribution to our understanding and exploration of the universe. See the full panel and sign up for the conversation here.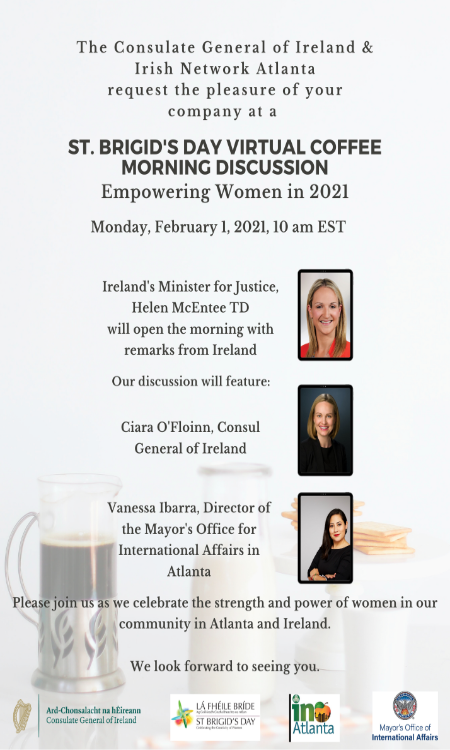 St Brigid's Day Virtual Coffee Morning Discussion: Empowering Women in 2021

1 February 2021, 10:00 EST
The Consulate General of Ireland Atlanta and the Irish Network Atlanta invite you to a virtual coffee morning to celebrate the strength and power of women in both Atlanta and Ireland. The morning will feature remarks from Ireland's Minister for Justice, Helen McEntee TD, and a discussion with Vanessa Ibarra, the Director of the Mayor of Atlanta's Office for International Affairs. Register here.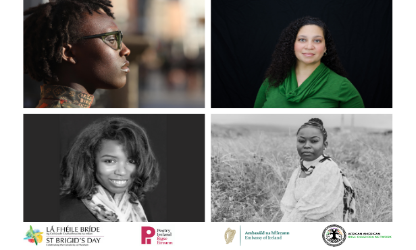 The Fire Gilders: A Celebration of Women Poets marking Brigid's Day & Black History Month
1 February 2021, 13:00 EST/18:00 GMT
Poetry Ireland, the African American Irish Diaspora Network and the Embassy of Ireland invite you to join in our celebration of Brigid's Day and Black History Month with this reading featuring Amanda Johnston, Nithy Kasa, Kimberley Reyes, and Felicia Olusanya and MC'd by Clara Rose Thornton. Learn more and register here


Landless in Conversation with Gemma Tipton
1 February 2021, 18:00 EST
To mark St. Brigid's Day (Lá Fhéile Bríde), Solas Nua - in association with the Embassy of Ireland- has invited Landless, a four-part a capella group to chat with writer and Irish Times journalist Gemma Tipton about their practice, research and inspiration. Sign up for the conversation here.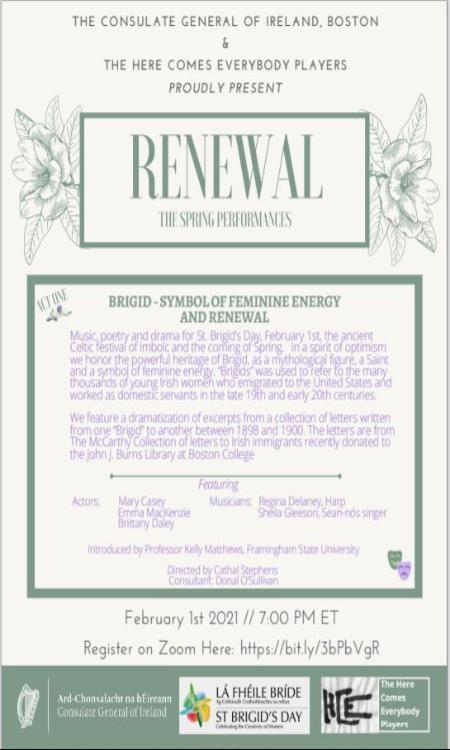 Renewal: The Spring Cultural Series
1 February 2021, 19:00 EST
The Consulate General of Ireland Boston and the Here Comes Everybody Players present Act One of the series Renewal. Music, poetry and drama for St. Brigid's Day, February 1st, the ancient Celtic festival of Imbolc, rebirth, renewal and the coming of Spring. In a spirit of optimism, we honour the powerful heritage of Brigid, as a mythological figure, as a Saint, and a symbol of feminine energy. Register for the event here.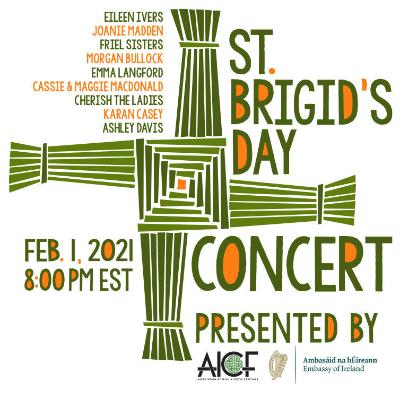 ‌A Celebration of St. Brigid
1 February 2021, 20:00 ET
The Association of Irish and Celtic Festivals (AICF), with support of the Embassy of Ireland, is proud to host A Celebration of St. Brigid, celebrating the saint and Celtic goddess with a music from a mix of celebrate female Irish musicians. The concert will showcase eight acts from around the world, highlighting some of the best female Irish music and dance performers out there. Learn more and see the full line-up here.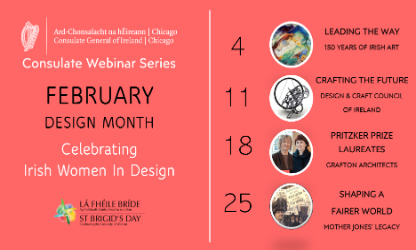 ‌February Design Month: Celebrating Irish Women in Design
The Consulate General of Ireland Chicago presents a month-long series celebrating the role of Irish women in design. Every Thursday, the Consulate will highlight a different element of design and the contributions of Irish women to that field. The series will begin on Thursday 4 February with the curator of the O'Brien Collection along with special musical performances. Learn more about the entire series and sign up here.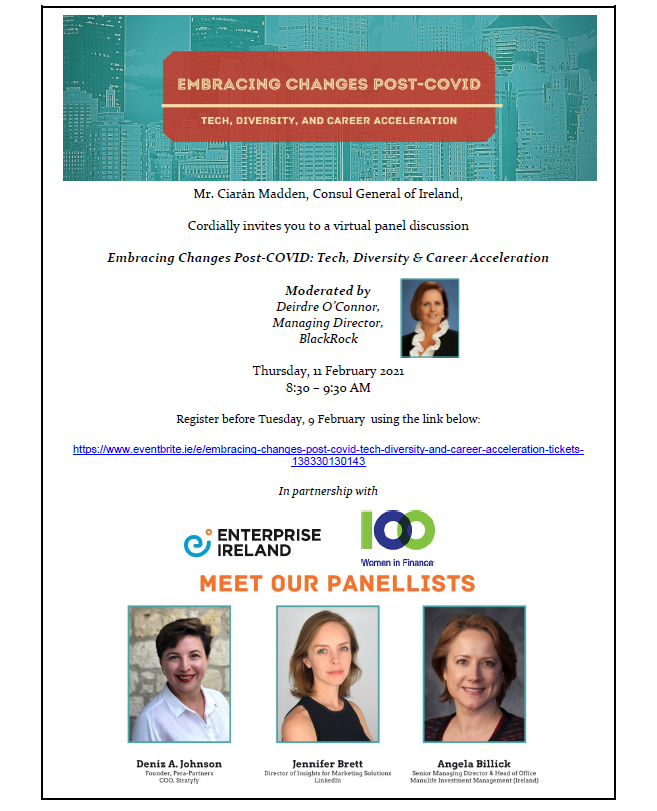 Embracing Changes Post-Covid: Tech, Diversity, and Career Acceleration
11 February 2021, 08:30 EST
The Consulate General of Ireland in New York, in partnership with Enterprise Ireland and 100 Women in Finance, will host a panel discussion event which this year will examine the theme of "Embracing changes post-COVID: Tech, diversity and career acceleration". Moderated by Deirdre O'Connor, Managing Director at Blackrock, the conversation will explore the challenges and opportunities facing women as the world continues to change as a consequence of the COVID pandemic.‌ Register here.

In the Frame – Women & the Director's Chair
26 February 2021, 12:00 EST/09:00 PST
The Consulate General of Ireland in Los Angeles
invites you to a special panel discussion featuring three accomplished Irish directors - Dearbhla Walsh, Lisa Mulcahy and Neasa Hardiman.
Register here
.