St Brigid's Day in the United States

In Ireland, the first of February marks the beginning of Spring and the celebration of Lá Fhéile Bríde, St Brigid's Day. Like many of Ireland's other Christian feast days, Brigid predates Christianity – her roots lie in the Celtic festival of Imbolc, the feast of the goddess Brigid, celebrated at least five millennia ago. In old Irish, Imbolc means "in the belly", a reference to lambing and the renewal Spring promises.
Brigid was a triple goddess – of healing, fire, and of poetry – and the saint who took her name, born in 450 AD, carried some of those same associations. The patron saint of poets and midwives, by legend, she maintained a sacred fire by the monastery she founded in Kildare. Alongside St Patrick and St Columcille, she is also one of Ireland's three patron saints.
Her name can be translated as "the exalted one". And, over recent years, her festival has come to be a exaltation of Irish women. From Washington to Warsaw, San Francisco to Sydney, Ireland's diplomatic network, in partnership with local communities, host a series of festivals each February celebrating the contribution Irish women have made across the world.
Nowhere is that more evident than the United States. From Annie Moore to Mother Jones, Georgia O'Keefe to Maureen O'Hara, Irish women have blazed a trail across every sphere of American life. Their achievements, and those of the millions of American women who hold Irish ancestry, are deserving of exaltation. And our Embassy and seven Consulates are determined to deliver that, so that, over time, Brigid comes to be as celebrated in America as that of her fellow patron Saint Patrick.
We are thrilled to present our 2022 St. Brigid's Day programme. From concerts to author talks, there is something for everyone to enjoy. See the US programme below and find out what is happening across the globe at www.tobeirish.ie .
‌
---
Event Details

‌A Celebration of Brigid: Pagan Goddess & Saint
30 January, 14:00 EST
Join the Amherst Irish Association for a virtual discussion on St. Brigid. Register via email to amherstirishassociation@gmail.com.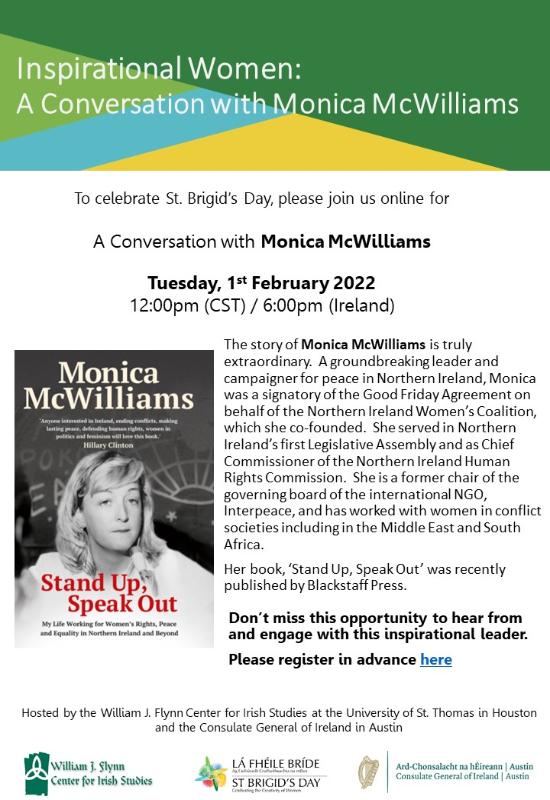 A‌ Conversation with Monica McWilliams
1 February, 13:00 EST/12:00 CST
The story of Monica McWilliams is truly extraordinary. A groundbreaking leader and campaigner for peace in Northern Ireland, Monica was a signatory of the Good Friday Agreement on behalf of the Northern Ireland Women's Coalition, which she co-founded. She served in Northern Ireland's first Legislative Assembly and as Chief Commissioner of the Northern Ireland Human Rights Commission. She is a former chair of the governing board of the international NGO, Interpeace, and has worked with women in conflict societies including in the Middle East and South Africa. Don't miss this opportunity to hear from and engage with this inspirational leader. Register here.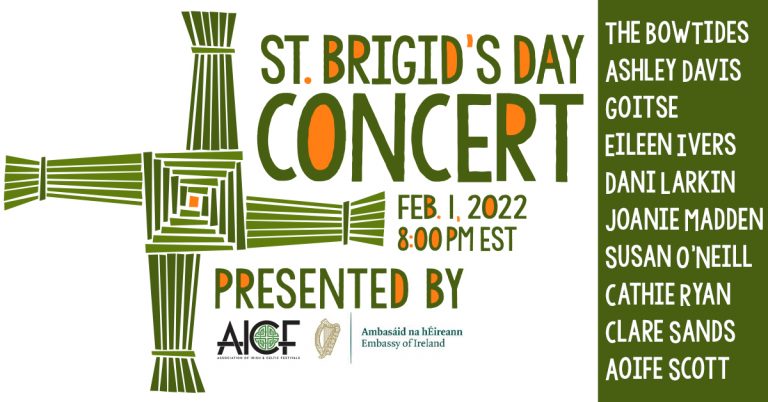 S‌t. Brigid's Day Concert
1 February at 20:00 EST
The Association of Irish and Celtic Festivals (AICF) is proud to host its second annual St. Brigid's Day Concert, with generous support from the Embassy of Ireland, celebrating an Irish saint and Celtic goddess, with music from a mix of celebrated female Irish musicians.
Taking place on February 1 at 8:00 p.m. EST, the AICF will be showcasing 10 acts from all over the world, highlighting some of the best female Irish music and dance performers out there. From established acts to up and coming groups, this all-female celebration highlights an important piece of Celtic culture. Live-stream the concert on YouTube here.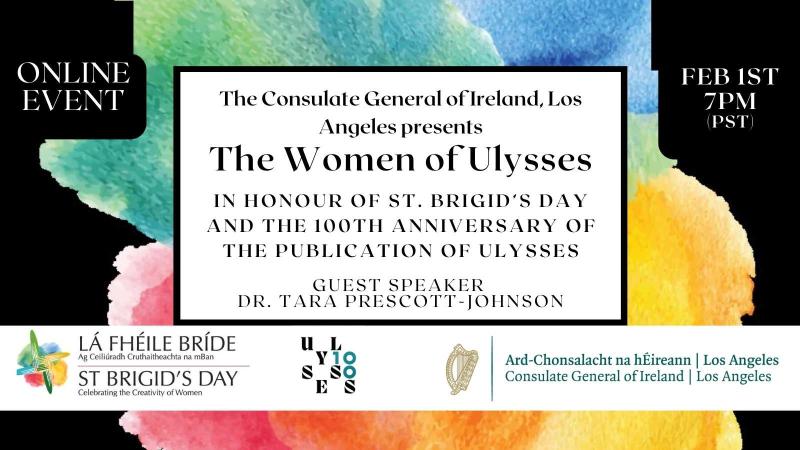 The Women of Ulysses
1 February, 22:00 EST/19:00 PST

To celebrate St Brigid's Day, and to mark the 100th anniversary of the publication of James Joyce's Ulysses, the Consulate General of Ireland in Los Angeles is excited to invite you to attend a very special event. Dr. Tara Prescott-Johnson, a continuing lecturer at University of California, Los Angeles, including on "Ulysses", will join Consul General Marcella Smyth to examine the importance and variety of women's experiences in "Ulysses" – a work that can appear to be dominated by men.
This promises to be an illuminating and fresh take on the work that will open up new ways of thinking of this extraordinary novel-even for those who have yet to finish it! Register via Eventbrite here.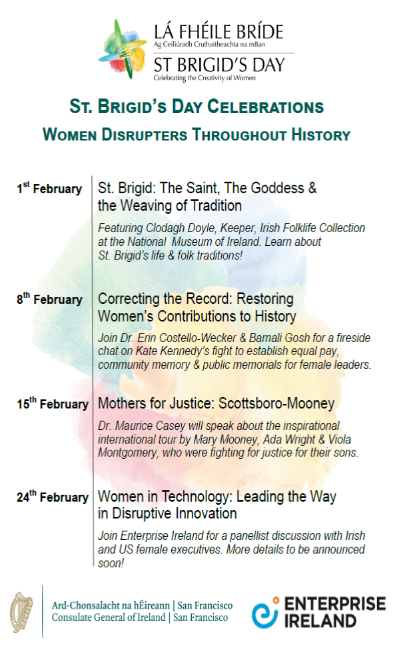 Women Disrupters Throughout History: A St. Brigid's Day Series
The Consulate General of Ireland in San Francisco invites you to celebrate St. Brigid's Day all month long with their series: 'Women Disrupters Throughout History". The first three events will be poste on YouTube here. Registration for the Women in Technology event will be added soon.
‌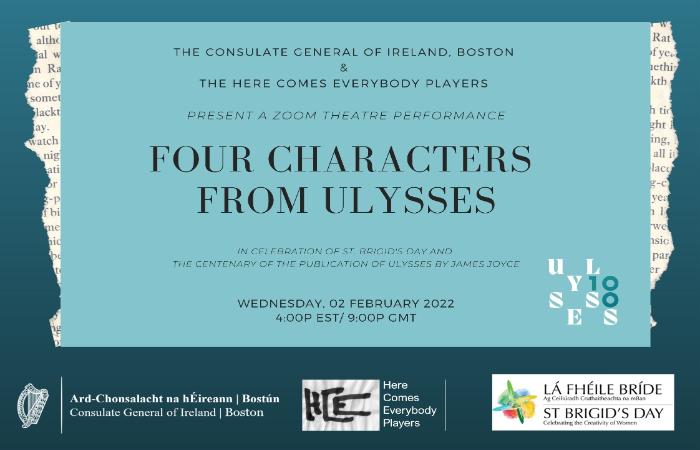 Four Characters from Ulysses
2 February, 16:00 EST
On February 2nd, the day after St Brigid's Day and the ancient Celtic festival of Imbolc, we celebrate the 100th anniversary of the publication of James Joyce's celebrated ground-breaking novel Ulysses on February 2nd 1922 in Paris. Set in Dublin on a single day, June 16th, 1904, the book features many residents of that city, some based on real historical characters. However, three fictional characters – the young man Stephen Dedalus, the older Leopold Bloom, and his wife Molly Bloom – dominate the book, as does the ever-present geography, language and character of the City of Dublin. With brief performed excerpts from the book, The Here Comes Everybody Players will bring to life each of these characters and their connections with one another.
The programme will be introduced by Joyce Scholar, Katherine O'Callaghan of University of Massachusetts Amherst, and will be punctuated with live music. Register for the event here.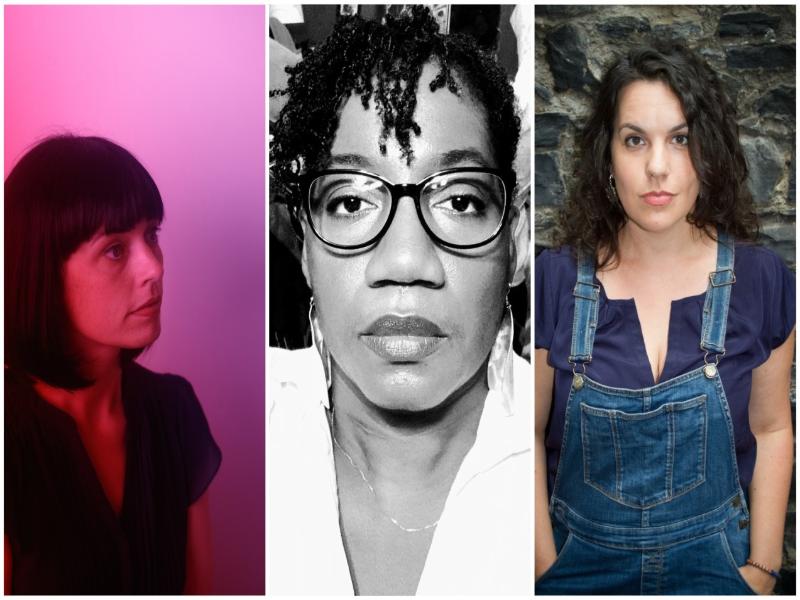 ‌
COMMONground: A Collaboration with Poetry Ireland
5 February 2022, 14:00 EST/13:00 CST
Poetry Foundation and Poetry Ireland present the first in a series of transatlantic events, a reading and conversation with acclaimed Irish poet Doireann Ní Ghríofa and award-winning American poet Teri Ellen Cross Davis, moderated by Erin Fornoff.
This inaugural online event will probe topics of struggle, motherhood, and the complexities of honouring the past while raising the future. Teri and Doireann will discuss the impact these themes have had on their recent work and, with readings from their highly praised collections, will illuminate those places where their approaches and experiences converge and diverge. Register here.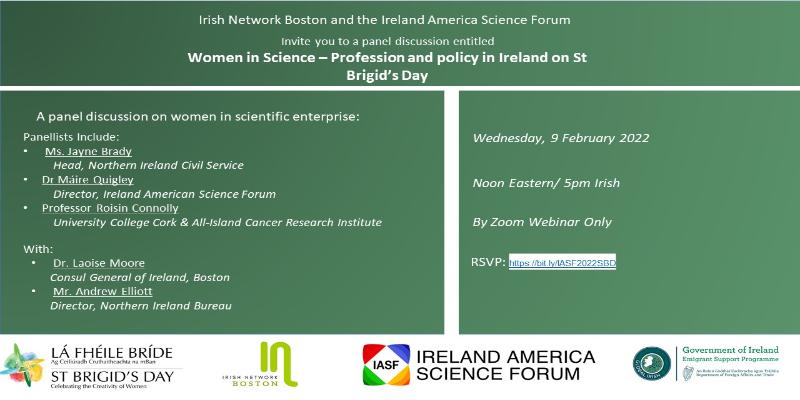 W‌omen in Science - Profession and Policy in Ireland on St. Brigid's Day
9 February, 12:00 EST
Society needs scientists from all backgrounds to come together and solve complex problems. Women in scientific fields can face extraordinary challenges in developing and growing their careers. Whether as researchers within large institutions or organizations or as entrepreneurs and leaders in applied science, Ireland, North and South, is committed to increasing the participation of women in scientific endeavors. This panel, hosted by the Ireland America Science Forum and Irish Network Boston, of successful scientific and policy leaders explores Irish professional and policy developments that promote women in science. Register here.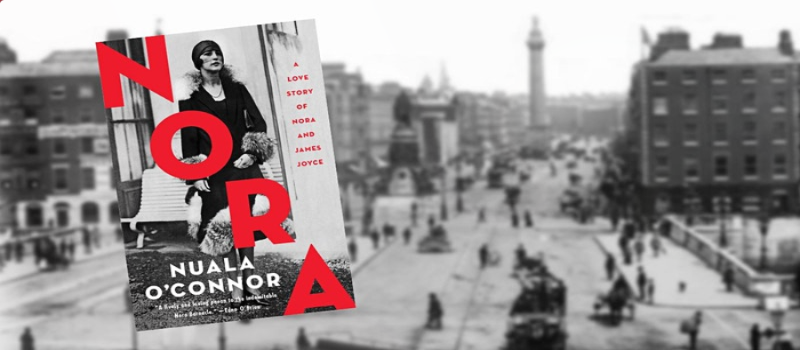 ‌February Boston Book Club: Nora
9 February, 18:00 EST
Join the Consulate General of Ireland in Boston for their February Book Club. In celebration of St. Brigid's Day, they will be discussing ''Nora'' by Nuala O'Connor. Register via Eventbrite here.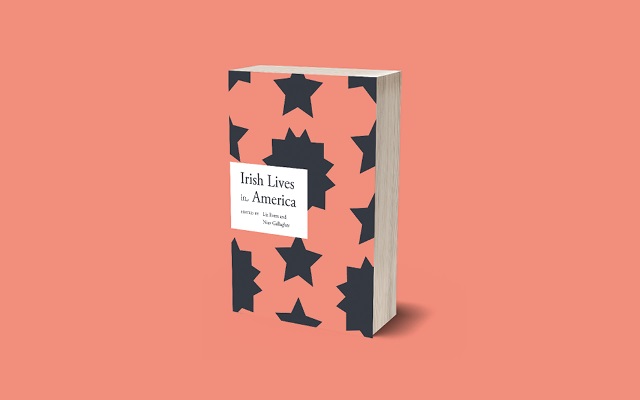 ‌
From 'Bridgets' to business magnates: a celebration of 300 years of Irish women in America‌
10 February, 13:00 EST
The Embassy of Ireland USA and the Royal Irish Academy invite you to the American launch of the new book 'Irish Lives in America' (Royal Irish Academy, 2021), a St Brigid's Day celebration of the lives and achievements of Irish women who made America their home over the last 300 years.
Ireland's Ambassador to the United States, Daniel Mulhall, will lead a conversation about the book with Liz Evers and Niav Gallagher, editors of 'Irish Lives in America'. Register here.