Irish Aid in Vietnam
Ireland's Development Cooperation in Vietnam and the Mekong sub-Region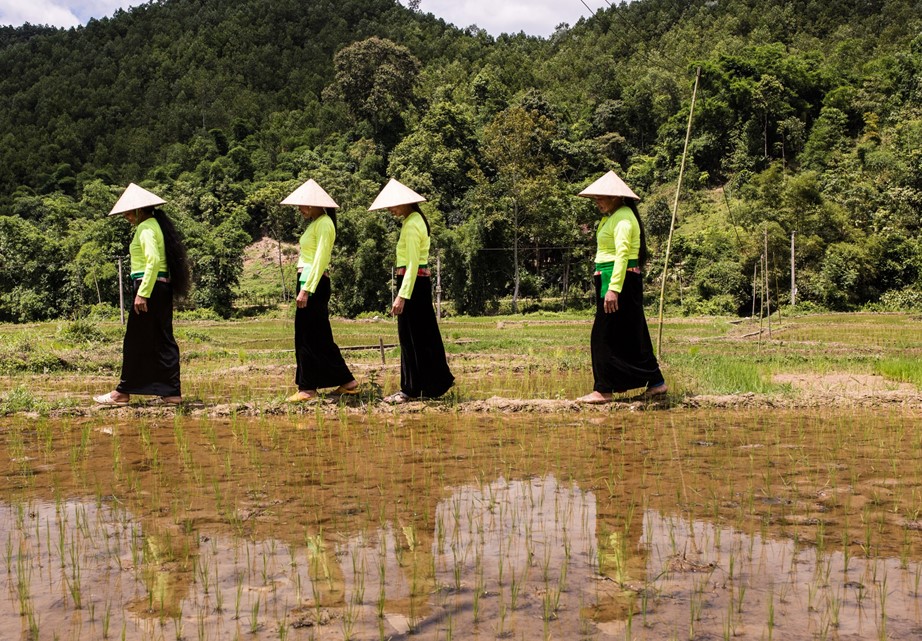 ‌
D‌evelopment Context
Ireland's Development Cooperation in Vietnam and the Mekong sub-Region
Vietnam, Cambodia, Lao PDR and Myanmar have all experienced significant economic growth and social change in recent years, however, they remain among the poorest member countries of the Association of Southeast Asian Nations (ASEAN). Vietnam, Cambodia and Laos are rebuilding from prolonged conflict, and mine and unexploded ordnance contamination remains a significant problem. Myanmar still face multiple distinct humanitarian crises, some from protracted conflict, others the result of periodic natural disasters.
Across all four countries, growing inequality pose ongoing challenges, with marginalised people such as ethnic minorities, people with disabilities and migrants being increasingly left behind. The four countries are some of the world's most vulnerable countries to climate change and environmental degradation, with poor and marginalised communities being worst affected and least able to cope.
What is Ireland doing in Vietnam and the Region?
Ireland's bilateral development programme Vietnam, Cambodia, Lao PDR, and Myanmar is managed by Embassy Hanoi, with additional funds provided by headquarters based units of the Department of Foreign Affairs and Trade. Under the Embassy's Strategy 2017-2020, development funding stands at €10 million per annum. In Vietnam, the programme's key areas of focus are development of ethnic minorities and support to institutional exchanges and skills development within Vietnamese institutions. Regional priorities focus on reducing malnutrition and risks presented by unexploded ordnance, as well as support to build the capacity and impact of civil society and state agencies. The Myanmar programme also has a specific dimension aiming at protecting vulnerable communities from the worst effects of the ongoing conflict. The Embassy supports countries to learn lessons from each other, as well as exchange at sub-national level and between government and civil society partners, in order to maximise innovation and impact.
People
Embassy Hanoi's development programme aims to support the most vulnerable people in Vietnam, Cambodia, Lao PDR and Myanmar to build their own capacity and drive their own development. Poverty rate are slowly declining in all countries but the gap between the most vulnerable people and the general population is increasing, and those who left behind are also the hardest to reach.

In Vietnam, ethnic minority communities make up only 14% of the population but more than 70% of its poor. They face a range of development challenges including lack of access to markets and essential services due to remote locations, malnutrition, climate change risk, gender inequality and societal discrimination. In order to address this, the Embassy has for 10 years supported the Government's Programme for Socio Economic Development in Especially Difficult Communes in Mountainous and Remote Areas (Programme 135). Ireland's support is focused on small-scale infrastructure development (local roads, irrigation canals, schools, etc.) in five provinces.

The Embassy provides technical assistance to the central ministry responsible for Programme 135, the Committee for Ethnic Minority Affairs, to support its coordination, policy formulation and capacity building mandate. This funding is supporting the Government to formulate the first ever Master Plan for ethnic minority development, which will set the framework for policies impacting on ethnic minority communities across all line Ministries. This highly strategic development promises to recast ethnic minorities as development partners who have important responsibilities such as forest and upstream environmental protection and border security. This also brings an opportunity to move from top down one size fits all approaches to tailored interventions based on a real understanding of communities' needs.

To complement and strengthen support to Programme 135, Ireland funds a small number of civil society and multilateral organisations, working in the targeted provinces, to scale up innovative models. These projects have a strong emphasis on community empowerment and participation; improved accessibility to services; gender equality; food and nutrition security; and resilience to environmental damage and climate change. The Embassy adopted this integrated approach by bringing these different government and civil society partners together, to learn from each other and to act collectively to address the range of vulnerabilities that ethnic minority communities face. This approach, called the "Ethnic Minority Partnership for Resilience and Opportunity" (EMPRO) has seen some notable successes, with civil society models of community ownership being adopted by government agencies and replicated in other provinces.

To address vulnerability and reach those left behind, the Embassy provides also support to a number of national and international civil society organisations across Vietnam, Lao PDR and Myanmar with a strong thematic focus on disability, gender equality, women empowerment, governance and transparency. Support to civil society organisation is a core element of the Mission Strategy 2017-2020. Civil society is not just a channel for delivering services to the poor and hard to reach, but that it can also make a strategic contribution to development processes, promoting human rights, strengthening accountability of government, piloting innovative approaches to inform policies. The Embassy prioritised support to civil society to influence policy response and service delivery in favour of groups that are marginalised on the basis of gender, migrant status, age, sexual orientation, ethnicity or disability.

While, Vietnam, Laos and Cambodia have achieved remarkable development gains and are experiencing strong economic growth, significant capacity deficit remains that hinder the attainment of long term sustainable development. The Embassy through the Irish Development Experience and Sharing Programme (IDEAS) programme support the training of key individuals from the public services, industry, and civil society and the building of technical, governance and policy development capacity amongst institutions responsible for economic decision making in Vietnam. The learning process involves both formal education and training and peer and institutional dialogue and interaction. One area the Embassy has provided support is on academic exchanges between Vietnamese and Irish Universities in the area of food safety, agribusiness, nutrition and climate change adaptation.

Recognising that ethical and responsible business sector is a key driver of economic growth, the Embassy provides support to the Myanmar Centre for Responsible Business to look at the potential and actual human rights impacts of specific industry sectors (i.e. mining). Through the Sector-Wide Impact Assessment Programme, the Myanmar Centre for Responsible Business has taken the initiative to rank local companies on their performance. The Embassy also support the new World Bank Trade and Competiveness Fund to improve the environment for private sector economic growth in a response to the Lao Government's Eighth National Socio Economic Development Plan.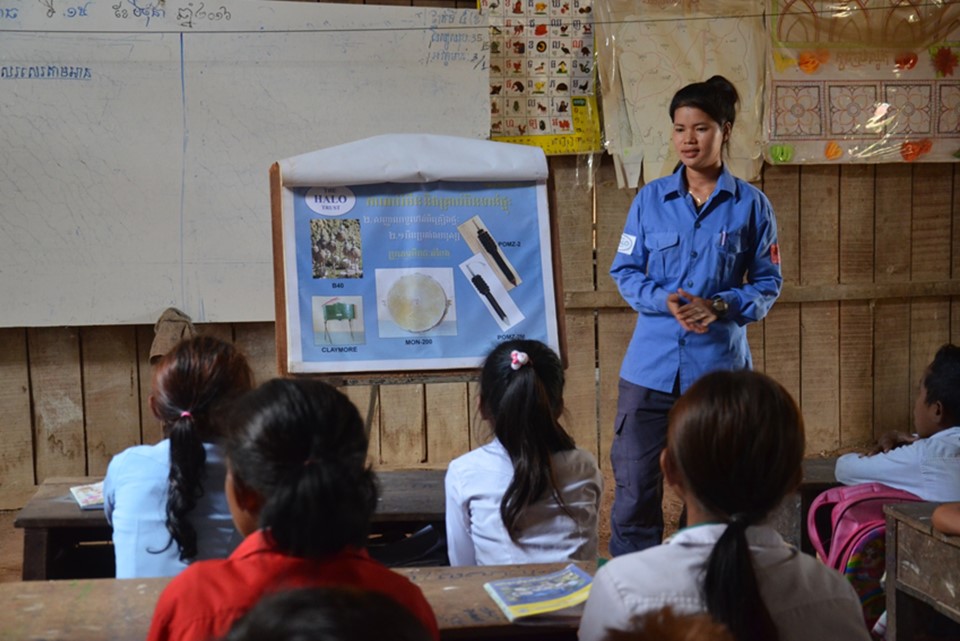 Protection
The legacy of war has left Vietnam, Cambodia and Lao PDR all heavily contaminated with unexploded ordnance and mines. Cambodia has the densest minefields in the world. Lao PDR has the densest contamination globally of Unexploded Ordnance. Vietnam has more people affected by mines and unexploded ordnance than any other country. In Myanmar, mines continue to be laid and mine accident rates are amongst the highest in the world. Ongoing impacts in all countries include death and injury and restriction of social and economic activity leading to food insecurity.
Across all countries of engagement, the presence of UXO continue to pose the long-term humanitarian and development challenges. This contamination continues to place communities at risk, restrict access to land required for housing, agriculture and infrastructure and constitute a barrier to equitable community development and poverty alleviation.
Ireland has been supporting landmine and unexploded ordnance (UXO) clearance in South East Asia since 1998, with an ongoing programme in Cambodia, Lao PDR, Vietnam and Myanmar. The support from the Embassy funds mine across clearance of unexploded ordnance in Vietnam and in Lao PDR and mine risk education across the four countries to raise the awareness particularly of vulnerable children and adults to the dangers of unexploded ordnance and mines.
The Embassy also support vulnerable people affected by long term humanitarian disaster like in Myanmar through a programme in Rakine State to support humanitarian/recovery needs to the crisis. The project specifically supports the much needed provision of water, sanitation and hygiene education in the schools and safe spaces for children. The Embassy also provided support to respond to sudden disaster as the one generated by the collapse of the Attapeu Dam in Laos in July 2018 and causing the displacement of over 50,000.
Food
Ireland's global focus on hunger and malnutrition, with a link to the need for nutrition sensitive agriculture, remains relevant across Vietnam, Cambodia, Lao PDR and Myanmar, where high rates of malnutrition are often masked by impressive economic development. In Vietnam, stunting still affects almost 1 in 4 children, and among ethnic minority groups this reaches almost 40%. A similar situation pertains in Myanmar, and in Lao PDR and Cambodia, more than 1 in 3 children suffer from stunting, with alarmingly high rates in the poorest provinces. One of the most effective ways to improve nutrition sustainably is to ensure universal and exclusive breastfeeding for the first six months of a child's life. However, although South East Asian governments have strengthened regulations around the marketing of infant formula and have legislated for maternity protection, the delivery of essential breastfeeding services has lagged, and rates of early and exclusive breastfeeding are below optimal.

Since 2017, Embassy Hanoi has supported Alive & Thrive to strengthen health systems and improve nutrition in Vietnam, Lao PDR, Cambodia, and Myanmar. The programme supports breastfeeding around the time of birth, through healthcare provider behaviour change and development of breastfeeding friendly health facilities, as well as advocacy for policy change and campaigns aiming at behaviour change among mothers and caregivers. Importantly, the project supports cross learning among South East Asian countries, with lessons from legislation on maternity protection and advertising restrictions in Vietnam being successfully transferred to other countries. The project has seen important successes such as the support to hospitals to meet key international standards leading to four Vietnamese facilities being designated "centres of breastfeeding excellence". Vietnam's second human milk bank to support premature and sick babies was opened in Ho Chi Minh City in 2019.

Under the Embassy's ethnic minority development programme in Vietnam, support is provided to an integrated project focused on improving the household food security and nutrition of vulnerable ethnic minority communities. The project is implemented by Helen Keller International. It has produced excellent results and is being expanded to two additional provinces, as well as generating significant interest from government authorities.

The Embassy also support a programme in Myanmar that aims to increase food availability and incomes of 2 million poor rural people in Myanmar. The approaches include farmer training; seed multiplication; value chain development; agricultural credit; research and international technical assistance. This project has successfully met the food and nutrition needs of poor and marginalised communities, including in conflict affected areas. It has contributed to Ireland's footprint and visibility in Myanmar and Ireland's involvement in the broader donor forum.
Embassy Hanoi, June 2019