May Newsletter
10 May 2023

Welcome to the Consulate General's May newsletter. Did you know that in Ireland 1 May traditionally marked the beginning of the festival of Bealtaine with bonfires being lit to celebrate the first day of summer? In this issue, you can read about our events in April and learn more about our upcoming plans.
Throughout the month of May we are looking forward to participating in several Europe-themed events. Europe Day on 9 May 2023 will be extra special for us as Ireland celebrates 50 years membership of the European Union. Europe Day marks the anniversary of the signing of the Schuman declaration in 1950 and is an opportunity to reflect on the co-operation, prosperity and peace that has come about through the European project. You can check out further details in the events section below.
Follow us on our social media channels to keep up with our latest news, events and travel advice. If you know anyone with an interest in Ireland, please encourage them to sign up for our monthly newsletter, by sending us an email here.
Kind regards,
Anne-Marie, Patrick, Martina and Rebecca
Consulate General of Ireland, Frankfurt
German Hurling and Camogie Cup in Darmstadt, 22 April
Consul General Anne-Marie Flynn travelled to Darmstadt to attend the German Hurling and Camogie Cup on 22 April.
It was fantastic to see such a great display of our national sports Hurling and Camogie on display and we were thrilled to see coverage of the tournament on Hessenschau news – check it out here.
Well done to all the German teams who took part and congratulations to the winners Hamburg GAA and Munich GAA.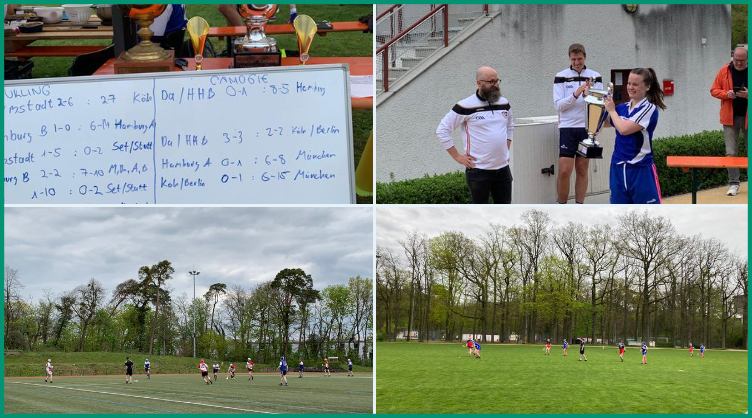 Ireland EU50 Presentation Ingelheim am Rhein, 2 May
The Consulate partnered with the Rheinland-Pfalz Staatskanzlei, Stadt Ingelheim am Rhein, Europa Union Mainz-Bingen and Europe Direct Ingelheim to host an event on 50 years of Ireland's membership of the European Union at the wonderful Winzerkeller in Mainz Ingelheim.
This event kicked off a series of Europe-themed events that the Consulate will be participating in throughout May.
A huge thanks to everyone who joined on the night and to the Irish folk group Gallant Ramblers for the musical entertainment.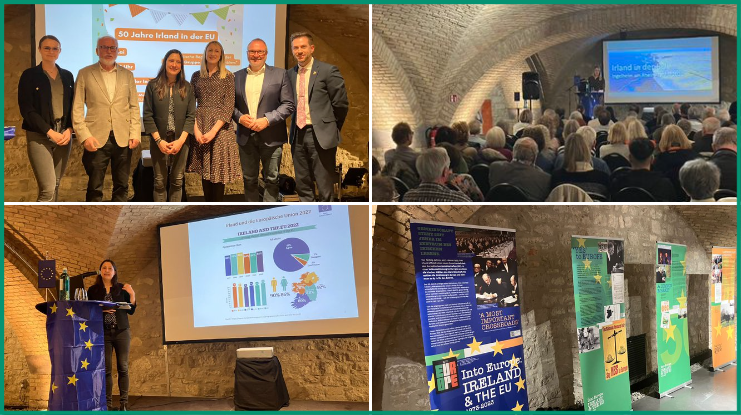 Europe Week Quiz at Carroll's Pub Wetzlar, 5 May
Deputy Consul General Patrick McDonagh travelled to Wetzlar on 5 May to participate in a Europe-themed quiz organised by the Europa-Union Lahn-Dill e.V. and the Cultural Office of Wetzlar.
Many thanks to all involved on a very enjoyable evening and congratulations to the quiz winners!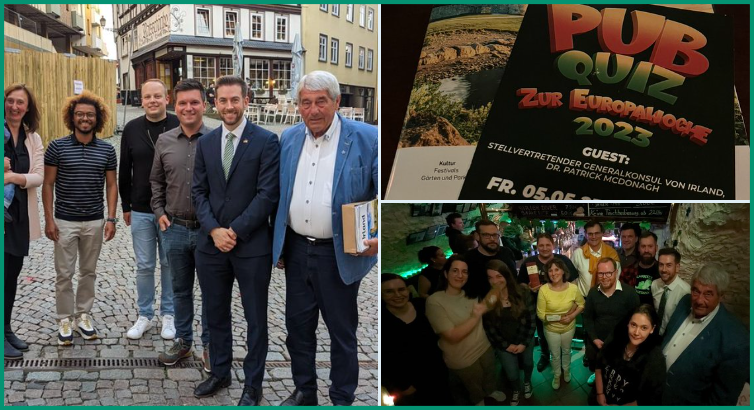 Performance of Hercules at Frankfurt Opera, 6 May
We were delighted to see Irish mezzo-soprano Paula Murrihy return to the Frankfurt Opera stage as Dejanira in Handel's Hercules.
Congratulations to Paula and the rest of the cast on a fantastic performance – a well-deserved standing ovation.
If you would like to go along to a performance in May, check out further information on dates and tickets here.

Upcoming Events
Book Club, 17 May
Our Book Club is back after the Easter break!
We will meet on Wednesday 17 May to discuss Donal Ryan's "The Queen of Dirt Island".
If you would like to join us, register to attend in-person or online via Eventbrite – newcomers are always welcome!
Also, stay tuned for a special announcement soon on our June Book Club!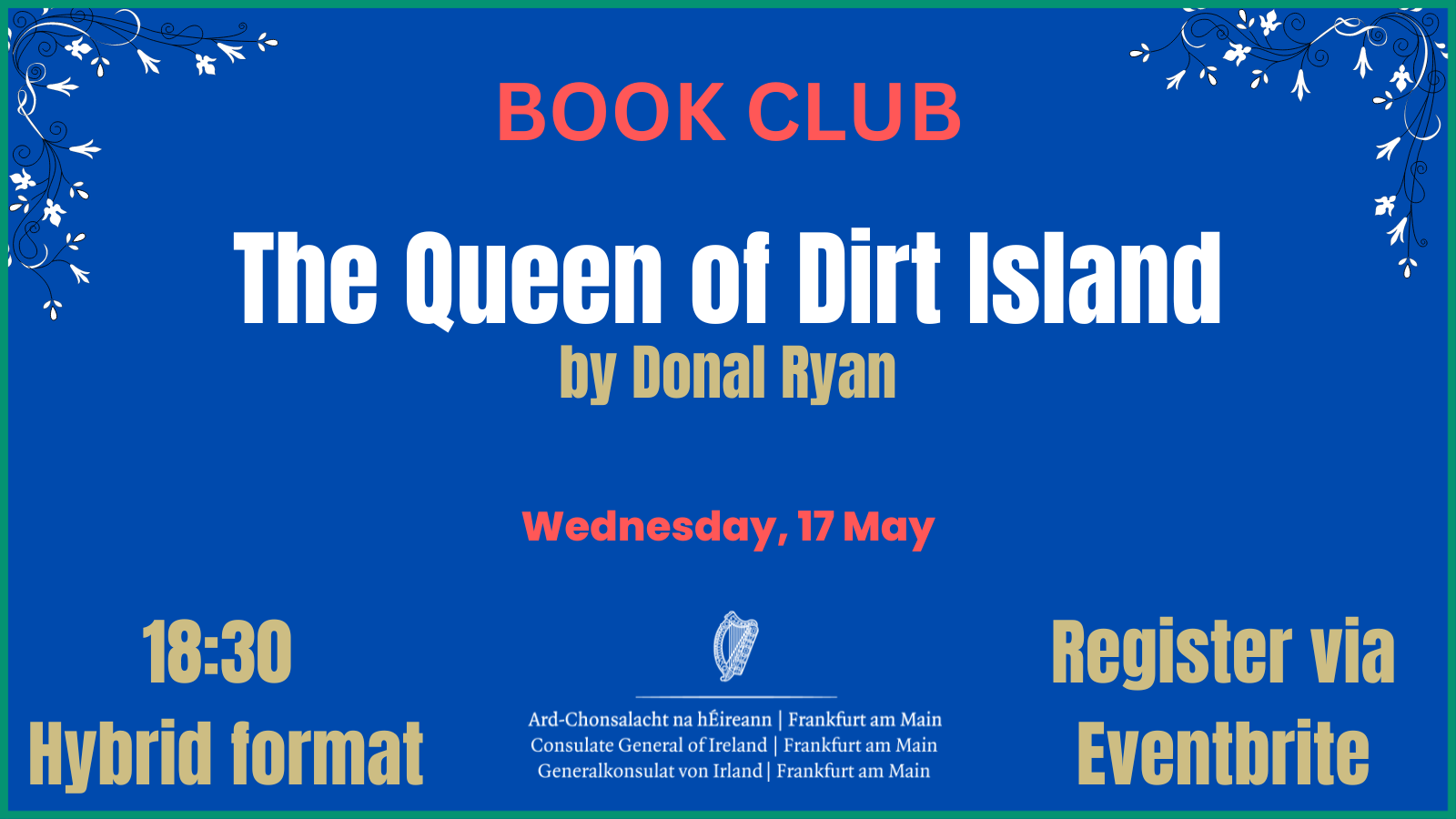 Paulskirchenfest Frankfurt, 18 -21 May
The Consulate is looking forward to taking part in the 2023 Paulskirchenfest.
Come along to the Infomeile at the EisenerSteg on 19 May from 13:30-14:30 to meet us and we will be happy to answer your questions about the work of the Irish Consulate in Frankfurt. We will also be displaying our EU50 exhibition 'Into Europe: Ireland the EU'. There will also be a performance by Irish music group Enbarr's Flight on the main stage at the Römerberg!
The Paulskirchenfest in Frankfurt will run between 18 – 21 May. If you would like further information about the event, click here.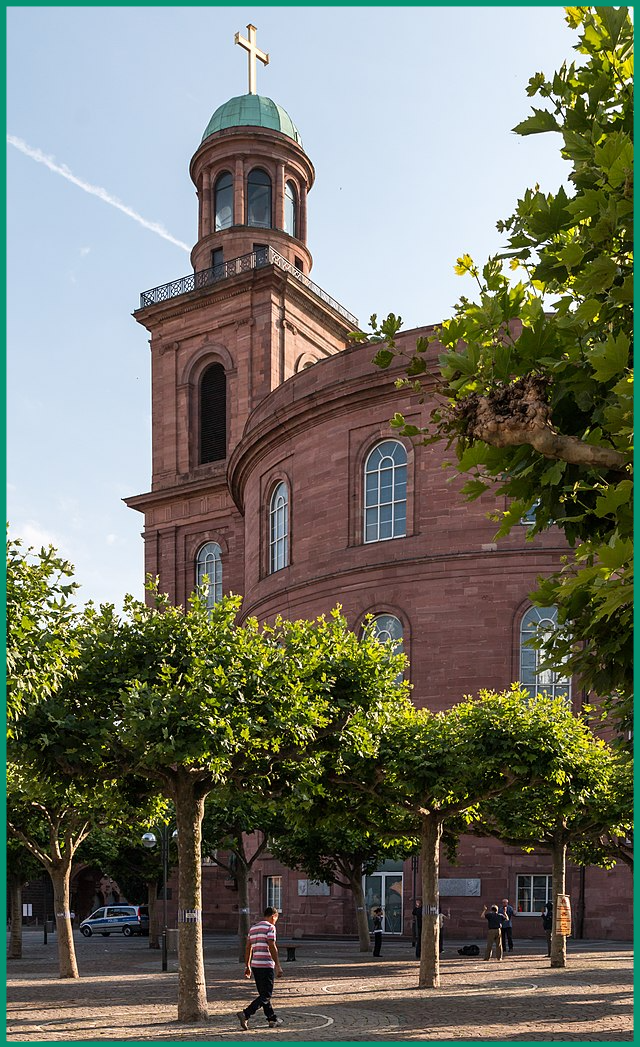 Annual Irish Business Network Golf Tournament and Beginners Course, 26 May
The Irish Business Network is pleased to announce that the 12th Annual IBN Golf Tournament and Beginners Course will take place this year on Friday 26th May 2023.
Come along for what promises to be a great day out and there are some fantastic prizes to be won! There will be a post tournament BBQ.
If you would like to join, please register with Golfpark Winnerod directly by phone +49 640895130 or email info@golfpark.de. Please note registration closes Thursday 25 May at 12:00. If you have any questions or would like to try the Beginners Course, please contact mark.snell@capgemini.com.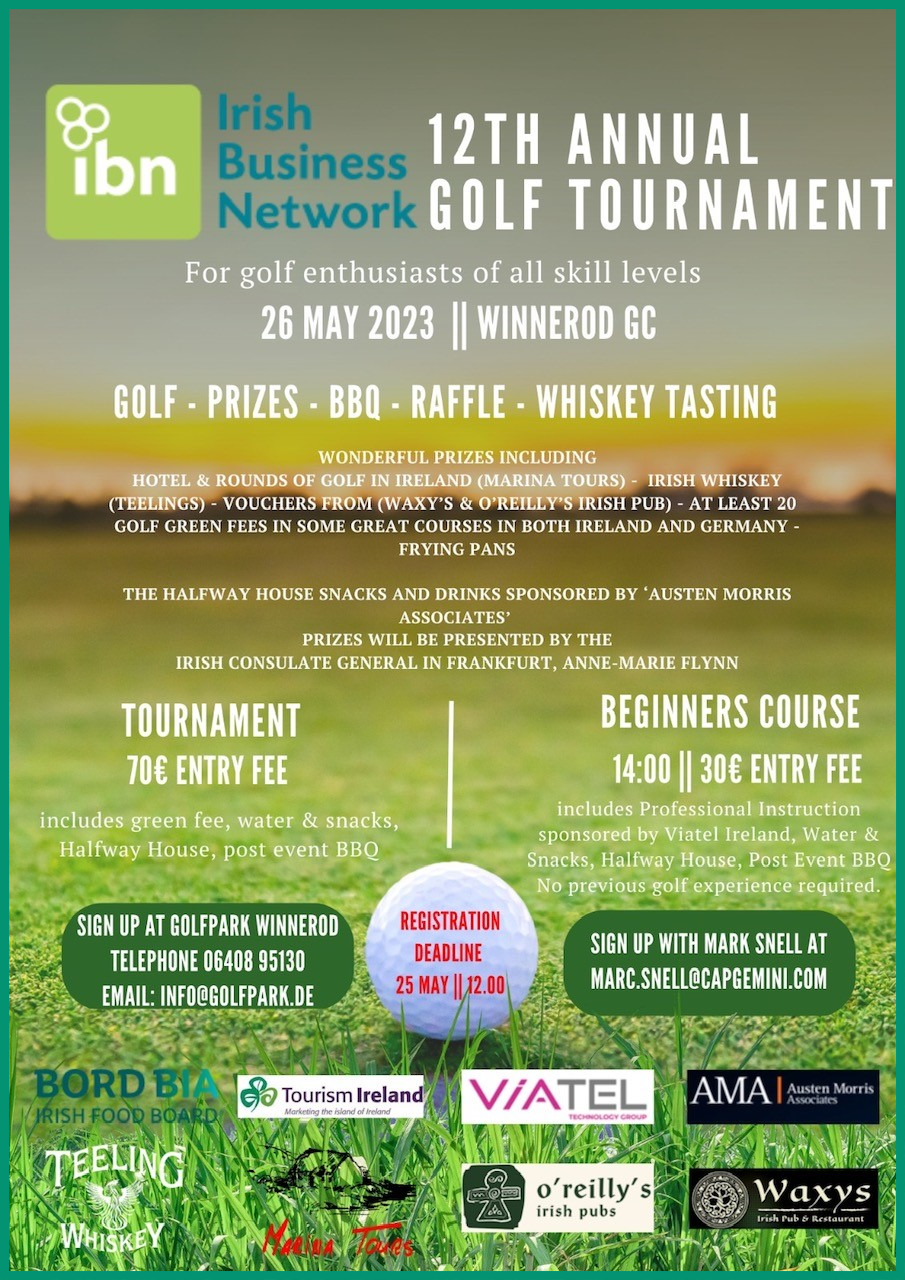 Festival of European Anglophone Theatrical Societies (FEATS) 2023, 26 – 29 May
Our friends at the Frankfurt English Speaking Theatre e.V. are organising this year's Festival of European Anglophone Theatrical Societies at the Kurtheater in Bad Homburg.
Check out the full programme here: https://festfrankfurt.org/main-stage/
More information on FEATS and the FEATS Fringe can be found here: https://festfrankfurt.org/feats-2023.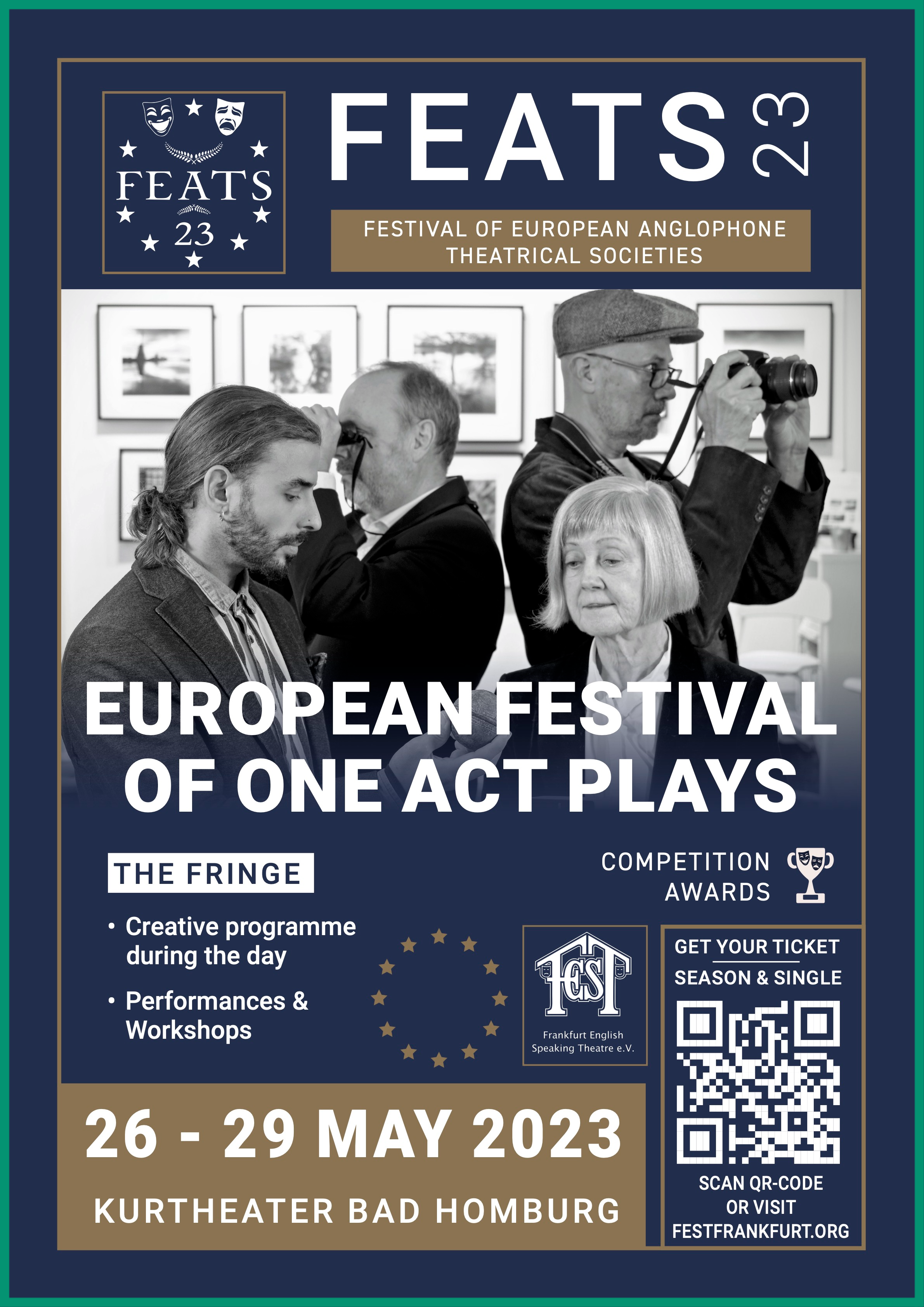 Benelux Youth GAA Tournament 2023, 28 May
Our friends at Eintracht Frankfurt GAA are hosting a European Gaelic Football Youth Tournament (ages from 6 to 15) for the first time at the Eintracht Rugby & GAA ground in Nied.
Nine clubs from around Europe have been invited in what promises to be an action packed event on Sunday 28th May from 11:00 - 17:00.
If you would like any further information, please contact youthofficer.frankfurt.europe@gaa.ie or check out Frankfurt GAA for future updates.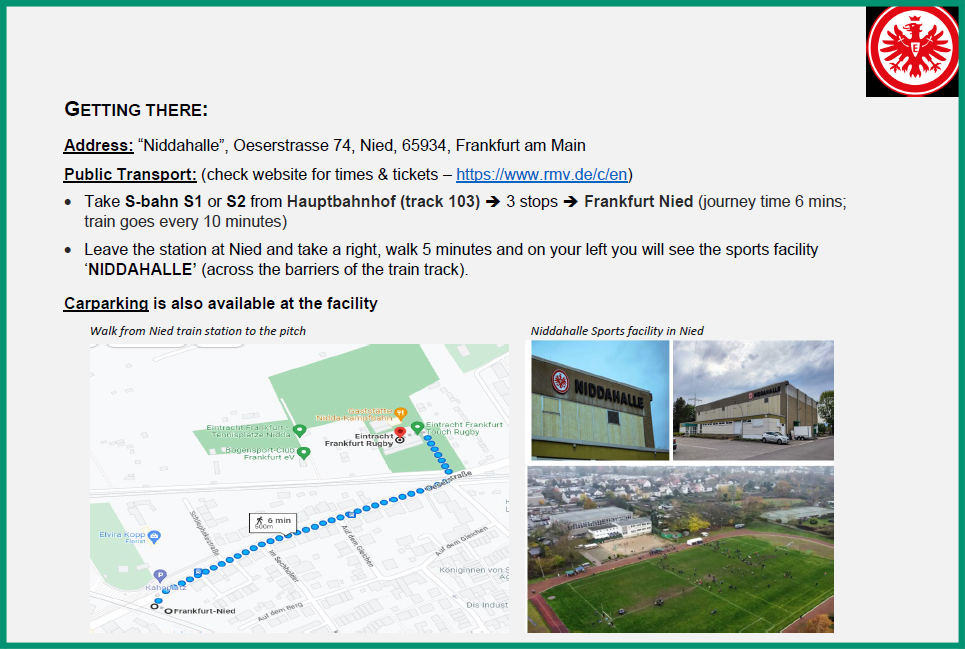 Irish Set Dancers Frankfurt Dance Performances May and June
On the 3 June, the Irish Set Dancers Frankfurt will be stepping it out at the Grüne Soße Festival in Oberrad. Everyone is welcome to come along, watch, take part and even join in!
The Irish Set Dancers Frankfurt meet regularly every Monday at 8pm at the Jugenhaus Heideplatz, Schleiermacher Str. 7.
They will also be at the monthly Frankfurt Art Bar session on 7 June. All are very welcome!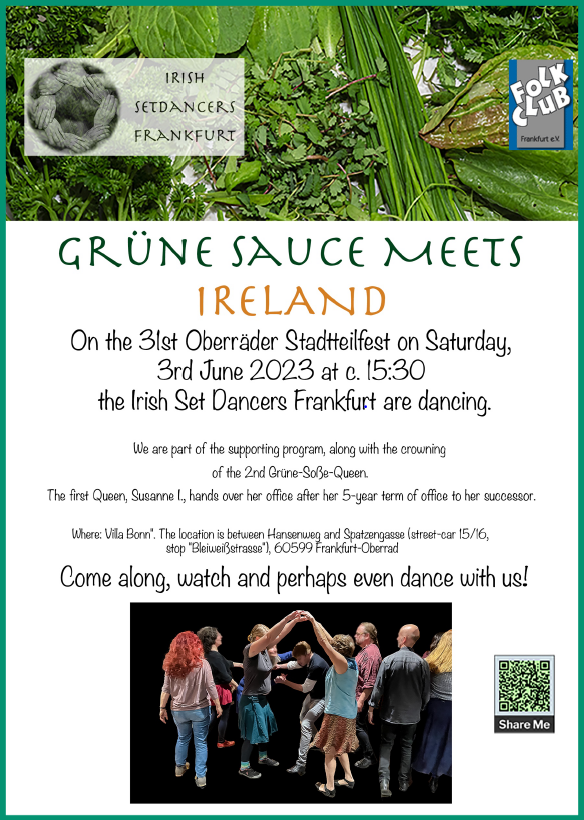 Consulate General of Ireland, Frankfurt
Signature OpernTurm
Bockenheimer Landstr. 2-4
60306 Frankfurt am Main
Click here to unsubscribe or to change your Subscription Preferences.