Ambassador Nolan's Friday Letter
Blog
26 March 2020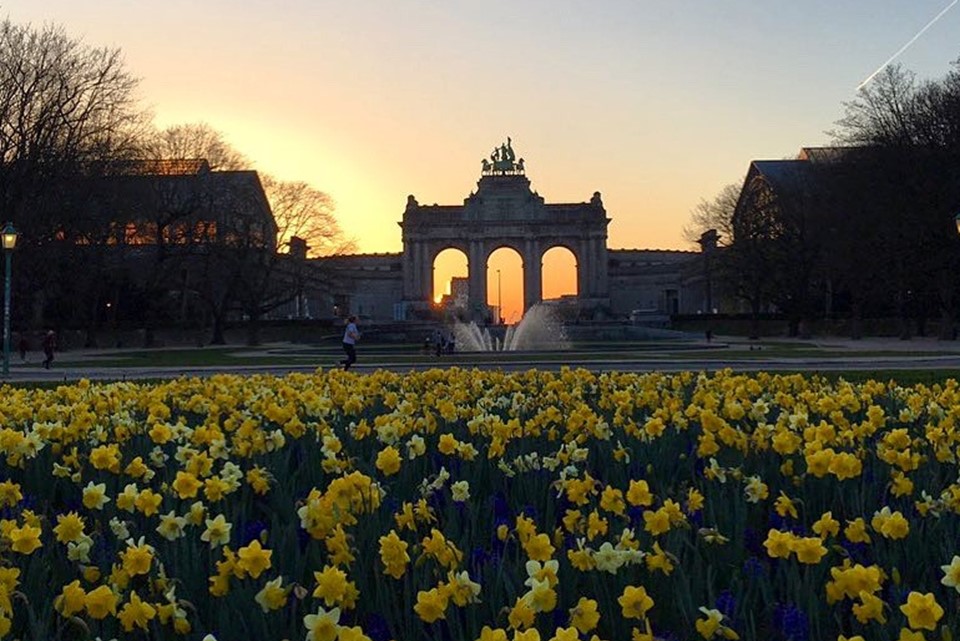 Dear Friends,

How are we all doing? There is no doubt that these are challenging and surreal times. I hope that you are all keeping well and getting the supports and information that you need. The embassy is operating remotely, in accordance with local guidelines and best practice and we remain contactable. You can also follow regular updates on our embassy twitter account @IrishEmbBelgium and by downloading the Travelwise App. We have some useful resources below and I am going to maintain this regular letter as a forum for a more general chat and reflections, about well-being and minding our mental health in these unprecedented times.
All of us of course are different and we are going to be impacted in different ways – some will be anxious about loved ones in other countries; this is how many of us live now and some of us will have particular concerns about friends and family who are vulnerable or unwell, some of us indeed may ourselves be in the so-called category with underlying conditions, which of course means people who are more valuable and more precious and not less. Many of us will find that we have had to adjust to new ways of working, and perhaps also taking on more work, or different kinds of work, certainly new modes of working, all of which can be stressful and confusing. We miss our colleagues and we may find it difficult to step away from the news cycle if part of our job is reporting on it or working as a part of it – which it is for many in Brussels. Those of us with children may find ourselves at home with very young ones all the way to teenagers or young adults, each age presenting its own challenge and lots of uncertainty. So, none of this is easy.
The good news is that everyone recognises this and is, I think, being frank and honest about it. There is a refreshing lack of judgement for anyone who says they are having a rotten or a sad day or are finding it hard to cope with loneliness, or having trouble sleeping or have increased anxiety. I have a sense that, after what seemed like a period of non-stop judgement and scrutiny, especially on social media but also in some TV and print media, we have entered a welcome era of kindness, generosity and enhanced volunteerism – something which has always been very strong here among our wonderful Irish diaspora. It is also lovely to see a renewed sense of gratitude for the little things and genuine support and warmth for our everyday heroes, not just in the remarkable health services but also in supermarkets and in supply chains, those stocking shelves, driving lorries, and delivering essential supplies or meals. It is heartening to see our defence forces coming once again to the support of the state as they always do in an emergency, assisting the civil authorities. It is lovely to see renewed appreciation for the dedication of teachers as some grapple with home-schooling for the first time. It is very good to see real medical and health experts being listened to and accorded respect. When I wake up in the morning and try to remember to do my daily gratitudes, before looking at my phone, these are the good things that I try to call to mind.
Of course it's not all roses, not by any measure, but it is healthy for us to count our blessings, especially the ones that are close to home and close to our hearts. This is much better for us than worrying or being overwhelmed by developments that are outside our control. I wrote to you last time a bit about the importance of the Circle of Control, focusing on the things where we can actually act and make a difference. Much of this relates to our own well-being and that of those closest physically to us and following the very sensible and clear advice that is being shared by multiple reputable agencies. Beyond that is the wider Circle of Concern and this always threatens to dominate our thinking, never more so than now. We really need to guard against this. Of course it is natural to be concerned and to have empathy with others outside our immediate circle but unless we can help, then this will soon leave us feeling emotionally and mentally frustrated, exhausted and drained.

The good news is that we can all help and we are already doing so by respecting physical distancing and observing good hygiene, that way we protect ourselves, those close to us and our wider communities. The idea of Community is now a very important one and one which has come to the fore in Belgium and in Ireland. Everyone seems to be pulling together like never before at all levels, and this is something that is very positive and encouraging to see. There is excellent collaboration, for example, between Ireland and Belgium in helping to bring home our worried citizens from far flung destinations overseas and I can see that, in both of our countries, large numbers of volunteers with necessary skills are coming forward to help the public system to address the current challenges.
We have a way to go yet, so this is a marathon and not a sprint. We need to pace ourselves. We need to find moments of calm, take opportunities for fun (including a few real belly laughs) and to plan nice things for the future, beyond the current situation. A focus on the future is important in helping many people before through these deeply challenging times. As you know, we have had to postpone all embassy events for the months of March, April and May but we are already thinking about how we revitalise these plans, once it is safe and permitted to do so. And we are looking into what, in the meantime, we can start to do in a virtual way-for example, my good friend the Ambassador of Hungary recently launched an art exhibition online. So, perhaps we will be able to have some Embassy Book Club gatherings on Zoom or some other platform – I am currently checking this out. If you or your organisation are planning any online events, such as lectures, exhibitions, musical or dance events, book launches or other cultural activities, then please do share the details with us if you would like us to mention them on twitter or in our newsletter, as we would have done in the past.
Apart from work, which goes on, what else have I been doing myself? Well, trying to stick to a regular routine has been good advice, so that the hours and days don't blur into one another. Use what would have been normal commuting time to do some morning exercise or meditation. At night, listen to a soothing audiobook – I love Hugh Fraser reading Agatha Christie, though I do keep falling asleep and having to rewind! Get in at least two quick walks per day, close to home, or a have a potter in the garden. Take happy photos. Open the windows every day and listen to the birds. I can even hear the bees! There's another thing to be grateful for, the lack of pollution including sound pollution. Have you ever seen the skies so blue? I am reading, though I will admit in the beginning it was harder than usual to concentrate, so I started going back to short stories and novellas. Maeve Brennan's writings hooked me in and helped me to get my brain back in gear for reading. I also try to read some poetry every day – there is lots being shared online. As you may have noticed, while keeping the embassy twitter account free for key messaging, I am using my personal twitter account to share any good examples of positivity, culture, best practice and sheer nonsense and fun, just as my small contribution to supporting well-being and good mental health. We all need to smile and we all need to laugh. I check in with the team here of course and I check in with friends and family, using email and text but also video chat. It's always really good to see one another and even my parents are online now! Friends send me on the most hilarious things they find on the internet and that usually guarantees a few of those belly laughs I was recommending – nothing like it. I am also re-watching the series "Mad Men" on Netflix…but that will have to be the subject of a whole new Blog…next time!
Please do feel free to share with us your own examples of positivity and good ideas for getting through this – we would love to hear from you and you can email the embassy if you would like these to appear in a future Blog or Newsletter or you can tweet them at me @helenajuly.
Stay well and keep safe, be kind to yourselves and be kind to one another, as you always are here. I am proud of Ireland and proud of Belgium as we work our way through these challenging times and demonstrate our mutual commitment to community, to public service and to the values of friendship, kindness and generosity.
Helena and the team #Working4IRL