Irish Tenor Gavan Ring Performs at La Monnaie
News
10 March 2021
Irish tenor Dr. Gavan Ring is currently in Brussels to perform as the King's advisor Don Gasparo in Donizetti's La Favorita at La Monnaie in Brussels, which will be live-streamed for a week from 12 March.
Tickets & more information on the performance is available here.
We are delighted that Gavan agreed to contribute an article for our newsletter and website about his career to date and his upcoming performance here in Belgium.
---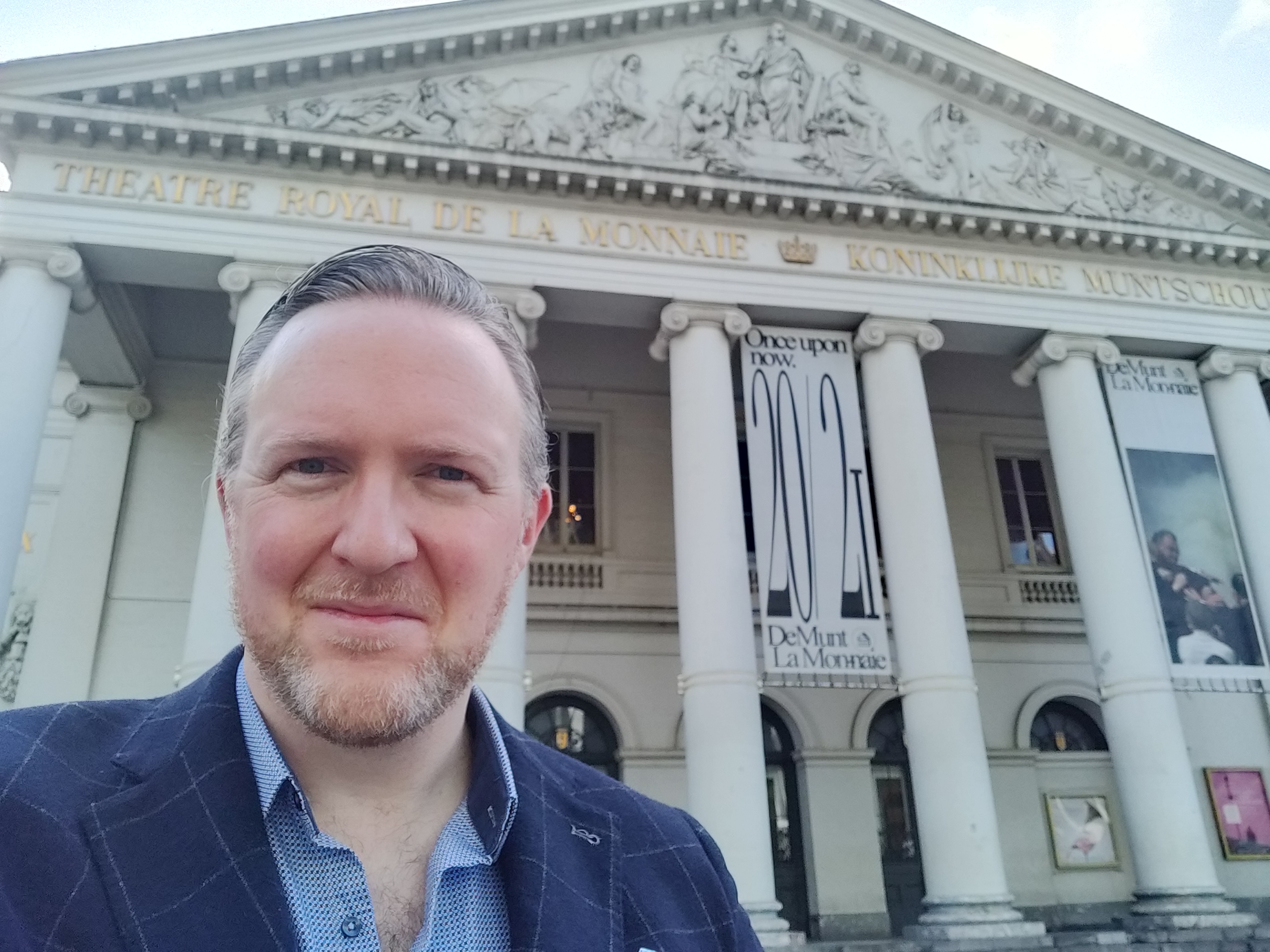 My name is Gavan Ring and I am a tenor, an opera singer, from Cahersiveen in County Kerry! I have the great fortune of being currently employed by the Theatre Royal de la Monnaie in Brussels where I am performing in Donizetti's famous opera La Favorita – a brilliant work of the Italian 'bel canto' era; the opera's plot involves a complex love triangle between the King of Castile, his mistress and her lover. I play the King's advisor, Don Gasparo.
So, where did it all begin for me? After a childhood immersed in Irish traditional music (and Gaelic football!) in my native South Kerry, it was when I won a music scholarship to the Schola Cantorum at St Finian's College in Mullingar when I was 12 years old that signalled the beginning of my journey to becoming an opera singer. Here, I studied piano, organ, flute, musicianship and when I was 14, I began formal singing lessons. I always had an avid interest in all things operatic – my grandmother was a singer herself (she was a member of the Radio Éireann Singers in the 1950s) and so opera was always a firm feature in our household. When I got the opportunity to have my voice trained in Mullingar, I fell head over heels in love with the artform – so much so that all my other musical responsibilities began to suffer – I just couldn't get enough of it!
Following the completion of my Leaving Cetificate, I was accepted to St Patrick's College Drumcondra to train as a primary school teacher. I figured that teaching would allow me the time to continue my training and that, in time, it would provide me with a stable foundation from which to transition to a full-time opera singer. Well, I didn't waste any time! As soon as I finished my degree, I was accepted to study at the Royal Irish Academy of Music (RIAM) with my teacher at the time Professor Mary Brennan. After completing a masters and PhD at RIAM, I won a place at the National Opera Studio in London in 2013 and since then I have been working as an opera singer all over the world! However, the onset of the COVID-19 pandemic has put a spanner in the works with artists and arts organisations alike experiencing some the worst times imaginable. After nearly a full year in the wilderness, as it were, coming to Brussels to sing at La Monnaie is my first opera contract since the advent of the pandemic and I cannot begin to describe how grateful I am to be in this position whereby I am back to work; I think I'm one of the only Irish-based artists currently working abroad!
It goes without saying that I am hugely enjoying my time in Brussels – it is a city I have always wanted to visit; around nearly every corner are hidden gems and surprises – I must say though I think I have grown a little too fond of the wonders of Belgian beer, gaufres and moules-frites! Rehearsals have been going very well and we are nearing full-preparation for what will be an exciting week of live-streamed performances beginning on 12 March. If you would like to join us for one of the livestreams, you can check out www.lamonnaie.be – tickets are only €10!
When I return to Ireland, I begin rehearsals with Irish National Opera as I will be taking the lead tenor role in the making of a film of Gerald Barry's new opera Alice's Adventures under Ground. After that, I will travel to the United Kingdom to make my Glyndebourne début as Jaquino in Beethoven's Fidelio. Thankfully, I am contracted to come back to Brussels in 2023 for another Donizetti project at La Monnaie but hopefully, with the rollout of the vaccine, I can make a swift return before then! For more see www.gavanring.com