Webinar: Women in Science and Medicine - Saint Brigid's Day 2021
Event
04 February 2021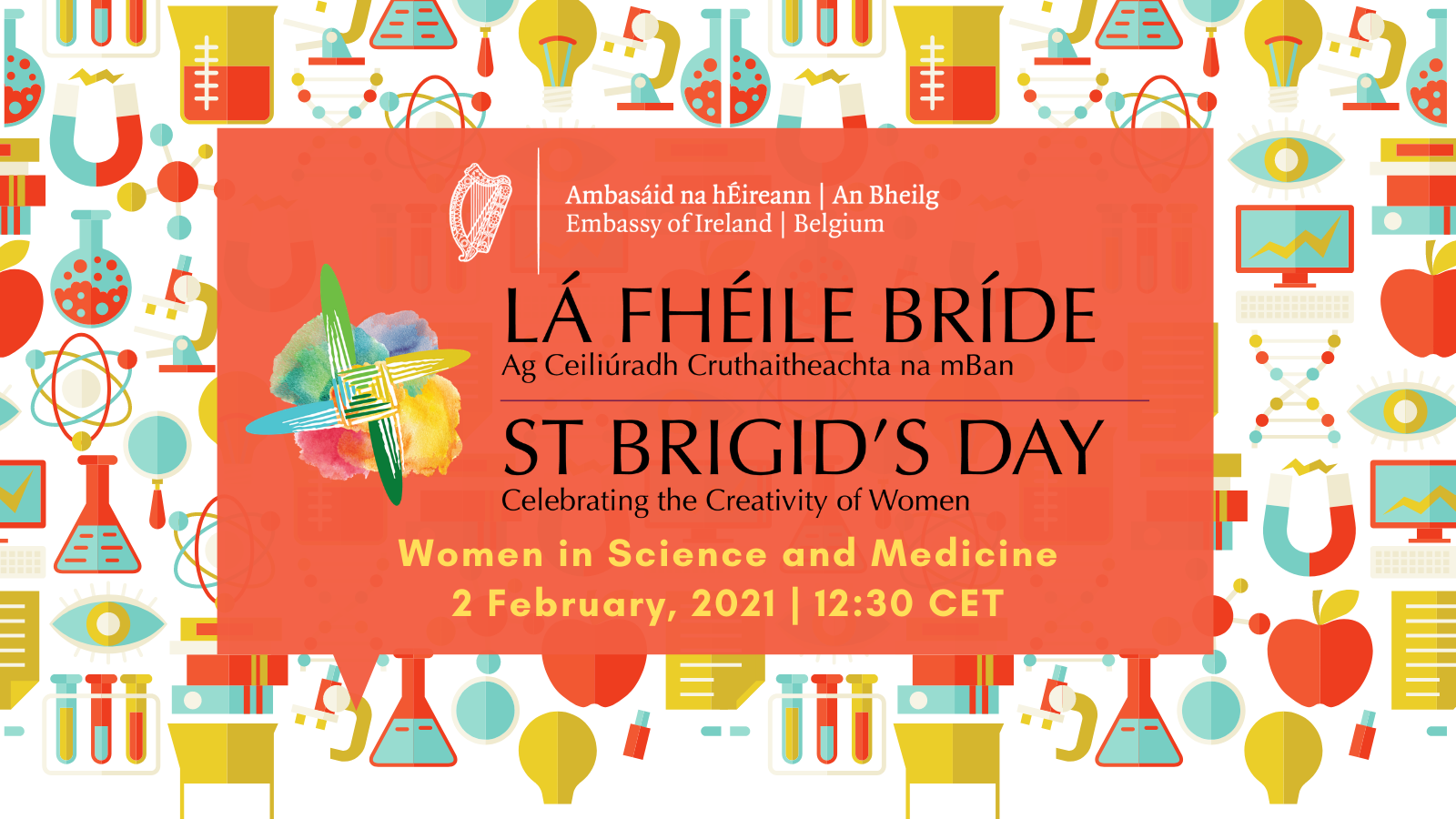 If the webinar does not display below, please click here
On 2 February 2021, the Embassy of Ireland to Belgium hosted a special St Brigid's Day Webinar celebrating Irish and Belgian #VisibleWomen​ in science and medicine.
Dr Antonia Hart led an open and engaging panel discussion on Irish and Belgian women in science, medicine and leadership, both past and present, with particular focus on hidden narratives and lesser-known figures. The esteemed panel shared their personal experiences as women in varying fields of science and their thoughts on inclusion, accessibility and participation in the sciences.
The webinar was book-ended by performances of poetry by Jessica Traynor and original music commissioned for the event by singer-songwriter Katie Maye.
Meet the Panel
Dr Antonia Hart completed her PhD, Irish Women in Business, 1850-1922: navigating the credit economy, in 2020. She researched and wrote it in the Department of History, Trinity College Dublin, as an Irish Research Council Government of Ireland Postgraduate Scholar, and as a Graduate Fellow at the Trinity Long Room Hub Arts and Humanities Institute. Her previous work includes Ghost Signs of Dublin (2014), as well as numerous magazine and newspaper features. She has taken part in each of the St Brigid's Day celebrations hosted by the Embassy of Ireland to Belgium.
Dr Ena Prosser is a Partner at Fountain Healthcare Partners, a lifescience venture capital firm based in Dublin, Ireland and NYC, USA. FHP have more than €300m in capital under management and have invested in more than 20 companies in the US, Ireland and Europe in pharma, biotech and medical devices. Ena is a PhD biotechnologist by training and a member of the Institute of Director (C.Dip). Prior to helping establish FHP in 2008, Ena led Enterprise Ireland's biotechnology group where she assisted a number of Irish starts ups and academics. Ena invests across all lifescience sectors and manages a number of external relationships for the fund. Ena's interests include Fighting Blindness, an international retinal research charity, Women in Technology Ireland where she is an honorary member and has a 30-year commitment to promoting women's leadership and access in science and technology.
Dr Norah Patten Ph.D is an award-winning STEM (science, technology, engineering and maths) advocate and author and is a popular communicator with radio, television and public speaking experience. Norah is a faculty member at the International Space University and is a citizen scientist-astronaut candidate at the IIAS (International Institute of Astronautical Sciences). Norah has participated in several citizen science campaigns including microgravity research flights, spacesuit testing and evaluation, high-g flights and spacecraft egress. In 2019 she published her children's book 'Shooting for the Stars' with The O'Brien Press and won the An Post Children's Book of the Year, senior.
Dr Ann Van der Jeugd is the Program Manager of the Leuven Brain Institute at the University of Leuven (KU Leuven), where she unites all neuroscience research at KU Leuven. More info can be found here. Ann was a postdoctoral fellow of the Fund Scientific Research – Flanders (FWO), and obtained several prestigious awards including the Science Communication Prize from the Royal Flemish Academy of Sciences in Belgium (KVAB) in 2020 and multiple grants including a Brain Awareness Week grant (2019) from the Federation of European Neuroscience Societies (FENS) and a Marie-Curie COFUND travel grant (2017) and two FWO grants to undertake research stays in Australia (2015), Portugal (2017), and the USA (2018). Her research aims to understand what makes the brain more susceptible to develop memory problems. At the intersection of psychology and biology, she uses sophisticated methods such as behavioural readouts and neuroimaging techniques in order to unravel what makes the brain vulnerable for neurodegenerative diseases like Alzheimer's. Ann is the President of BeWiSe - Belgian Women in Science, an NPO that supports the position of women in science. More info on BeWiSe is available here.
Jessica Traynor is a poet, dramaturg, librettist and creative writing teacher. Her debut collection, Liffey Swim (Dedalus Press, 2014), was shortlisted for the Strong/Shine Award. Her second collection, The Quick, was a 2019 Irish Times poetry choice. In 2019, she co-edited Correspondences: an anthology to call for an end to direct provision with actor Stephen Rea, bringing together asylum seekers in Ireland's direct provision system with Irish writers. The book was a best-seller, with all proceeds going to MASI (Movement of Asylum Seekers in Ireland). She was also commissioned by Music for Galway to write an opera with composer Elaine Agnew for Galway 2020 European Capital of Culture. The resulting opera Paper Boat, will be performed in 2021. 'A Demonstration' by Jessica Traynor was commissioned by the Irish Writers' Centre as part of 'A Poet's Rising'.
About St Brigid's Day
St. Brigid's Day is marked in Ireland on 1 February. Saint Brigid of Kildare is one of Ireland's three patron saints and is Ireland's most important female saint. An important relic, the Saint Brigid's mantle is kept in the Holy Saviour Cathedral, Bruges. Since 2018, Irish Embassies all around the world, starting with London and Brussels in 2018, have begun to share the empowering story of Brigid, creating a platform to celebrate the creativity of women and encouraging our participants to share their stories about the women who inspire them".