Emigrant Support Programme 2023-24 is now open!
Announcement
18 January 2023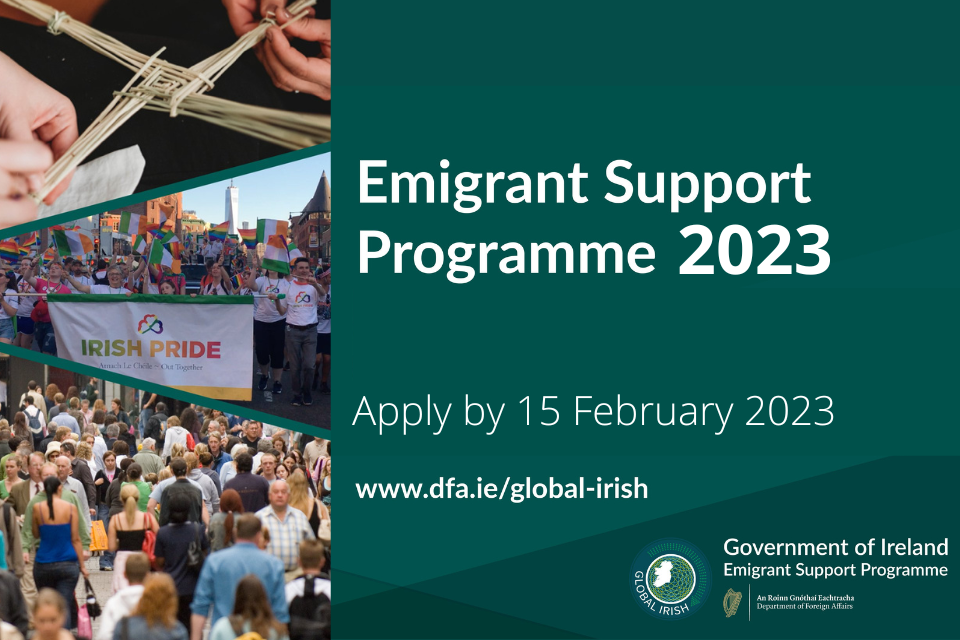 Emigrant Support Programme 2023-24 is now open!
The Emigrant Support Programme is a tangible expression of the Government's support of, commitment to, and interest in the global Irish community. It aims to strengthen the international Irish community and its bond with Ireland. Through this programme, the Government wants to fund projects that will have a clear and identifiable impact on supporting and building global Irish communities. The Irish Abroad Unit in the Department of Foreign Affairs manages and coordinates the programme in partnership with Ireland's Embassies and Consulates abroad.
Since its inception in 2004, the Emigrant Support Programme has assisted over 530 organisations in some 37 countries with grants totalling over €220 million. Grants have ranged from small amounts for grass-roots groups to major allocations awarded to voluntary and community organisations operating on a large scale.
The Emigrant Support Programme will reopen for applications on Wednesday, 18th January 2023.
The closing time and date for applications is 5.30pm (Irish time) on Wednesday, 15th February 2023. The closing date and time will be strictly applied and under no circumstances can applications be accepted after 5.30pm. Any attempt to influence the outcome of the decision-making process in relation to grant applications will result in disqualification.
For more information: Emigrant Support Programme - Department of Foreign Affairs (dfa.ie)
You should apply to the Emigrant Support Programme using the online application form only.
We do not accept any hard copy applications.
If you wish to complete your Emigrant Support Programme application form in Irish, please contact us by email.