Nicosia in Global Greening for St Patrick's Day
Press release
13 March 2018
In recent years buildings and monuments all around the globe have been floodlit in Green to celebrate Ireland's National Day (St. Patrick's Day) on 17th March. Ireland is known as the "Emerald Isle" because of its "Forty Shades of Green" (song written by Johnny Cash).
This year, Nicosia is again joining the global Irish family festivities. At 18:00 on Thursday 15 March 2018, the lights will be turned on in the presence of Irish Ambassador, Deirdre Ní Fhallúin and Ms. Isabella Tymviou, member of the City Council, launching the "Greening" of Nicosia Town Hall.
Everyone is welcome to come along!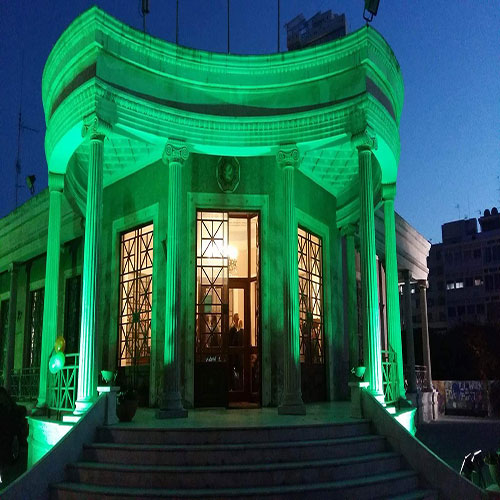 Remarks by Irish Ambassador, Deirdre Ní Fhallúin on the occasion of "Greening" Nicosia Town Hall
Kalispera sas! Welcome to the fourth year of "Greening" the Nicosia Municipality.
This Saturday – 17 March – is the Irish National Day, named in honour of St. Patrick, who led the conversion of the Irish to Christianity in the 5th Century. The son of a Roman administrator in Britain, Patrick was captured by Irish raiders and spent many years as a slave minding sheep in Ireland. He managed to escape and later became a priest. The Irish people appeared to him in a dream, asking him to return and save their souls.
Nowadays the colour Green is associated with St. Patrick and with Ireland, the "Emerald Isle". In recent years, to celebrate this linkage, landmarks and monuments throughout the world have been floodlit in Green. From the Eiffel Tower to the Colosseum, from the Pyramids to The Great Wall of China, from the Empire State Building New York to the Sydney Opera House – the whole world is "Greened" and Irish for a while.
I am delighted that Nicosia is part of this happy family. My thanks go to Mayor Constantinos Yiorkadjis, Member of Municipal Council Isabella Tymviou, and all the support services for their enthusiastic response to this initiative that we mark St. Patrick's Day by "Greening" the Town Hall. Next year, all of Platea Eleftherias may be green!
I encourage everyone to visit Ireland, sample the famous Irish Welcome and experience our 40 Shades of Green, kopiaste sto spiti mou.