Visit by Tánaiste Simon Coveney to Cyprus
Press release
08 June 2018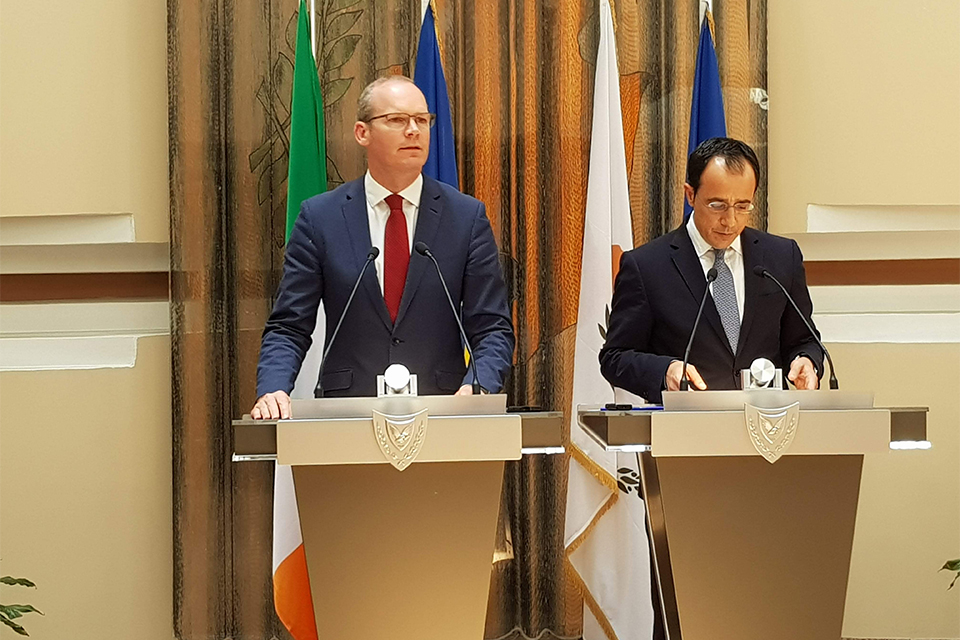 Today, during his first visit to Cyprus as Minister for Foreign Affairs and Trade, Tánaiste Simon Coveney T.D., met with the Cypriot Foreign Minister, Mr. Nikos Christodoulides.
Speaking after the meeting, the Tánaiste said, "I was delighted to hold discussions with Minister Christodoulides on a range of issues, including Brexit and bilateral relations. Cyprus and Ireland enjoy a warm relationship and, despite being situated on opposite sides of the European Union, our two islands have much in common and share similar views on many EU-related issues. We touched on a number of topics during our meeting, including opportunities for increasing trade and tourism between Ireland and Cyprus, the impact of Brexit on both our countries, and the Cyprus Question. I was glad to be able to share the lessons learnt from Ireland's experience of peace-building and conflict resolution with the Minister."
The Tánaiste also met with the Special Representative of the UN Secretary General and Head of UNFICYP (United Nations Peacekeeping Force in Cyprus), Ms. Elizabeth Spehar. In addition, he met with the members of An Garda Síochána serving with the UNFICYP.
Commenting on this visit, the Tánaiste said, "I had an interesting and productive meeting with Ms. Spehar and the members of An Garda Síochána serving in the UN Peacekeeping Force. Ireland is in a unique position to share our perspective on conflict resolution, and I was keen to speak about our own experience in this area with Ms. Spehar."
During the visit the Tánaiste also visited the laboratories of the Committee on Missing Persons in Cyprus (CMP), an organisation to which Ireland has contributed annual funding for the past number of years. The CMP focuses on the exhumation, identification and return of the remains of those who went missing in Cyprus during periods of unrest in the 1960s and 1970s.
Speaking after his visit, the Tánaiste said, "I am very glad to have had the chance to see the invaluable work that is being undertaken at the CMP. To date, Ireland has provided €325,000 in funding to the CMP, and I was happy to announce that this support is to be continued this year with a grant of €25,000. This contribution underlines our solidarity with the Cypriot people and our endorsement of the CMP's aim to bring closure to suffering families, and contribute to the broader reconciliation process between both communities in Cyprus."
During the visit, the Tánaiste also paid a courtesy call on Mr. Demetris Syllouris, President of the Cypriot House of Representatives.
ENDS
Press Office
08 June 2018