Ambassador Mulhall's lecture at Liverpool University Institute of Irish Studies
Ambassador Dan Mulhall delivered a public lecture on Commemorating Ireland 1912-1922 at Liverpool University on 12 May. He also opened a new library – the Mac Lua Library at the University's Institute of Irish Studies.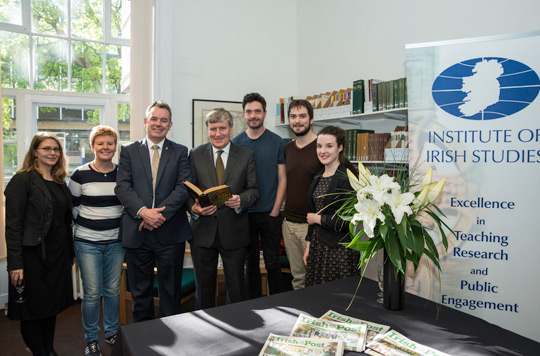 L to R:
Anna Pilz, student of the Institute of Irish Studies, Jane Davison, student of the Institute of Irish Studies, Patrick Hackett, Deputy Vice-Chancellor, University of Liverpool, HE Daniel Mulhall, Ireland's Ambassador, Sean Hewitt, student of the Institute of Irish Studies, Michael Robinson, student of the Institute of Irish Studies, Katherine Parke, student of the Institute of Irish Studies.
History is not to blame: commemorating Ireland 1912-1922
Blame and nightmare?: My topic today is commemorations, with a focus on Ireland in the decade between 1912 and 1922.
Why have I chosen this theme? It stems from a talk I gave in Edinburgh recently on the subject of Ireland's relations with Britain. During my talk, I referred to the current decade of centenaries as an opportunity for reconciliation and enhanced mutual understanding between our two countries. This prompted one historian in the audience to challenge the whole idea of Government involvement in commemorations which, it was argued, inevitably leads to distortions and misuse of history for contemporary political ends.
This encouraged me to think about the whole issue of commemorations and the ramifications of commemorating that crowded, conflict-filled Irish decade whose centenary is now upon us.
It certainly was the key decade in modern Irish history, which has given us lots to look back on including: the Home Rule Acts, 1912-1914; the 1913 Lockout; the emergence of the rival Ulster and Irish Volunteers; the outbreak of the First World War; the Easter Rising; the Battle of the Somme; the establishment of the first Dail in 1919; the war of Independence; the Government of Ireland Act of 1920; the Anglo-Irish Treaty and establishment of the Irish Free State; and the Irish civil war. This was a time of extraordinary achievement for Ireland. There is much to commemorate and there are many competing interpretations in play.
I have taken the title for today's talk from that bottomless well of evocative quotations, James Joyce, who, incidentally, also has a centenary associated with him this year. Indeed, there are further Joycean centenaries in the years ahead, but more of that later.
As an epigraph for my talk, I could equally have used Joyce's phrase about 'history as a nightmare from which I am trying to awake'. I want to argue that the decade ahead need neither be an occasion of blame nor the stuff of nightmares.
'It seems history is to blame'. So says the Englishman, Haines, in the opening chapter of Ulysses, offering a brief commentary on Ireland's dealings with Britain. Haines feels that England has treated Ireland 'rather unfairly'.
Throughout Ulysses, and especially in its Cyclops chapter, Joyce delves into the attitudes that prevailed in nationalist Ireland at the turn of the century and during the decades that followed. Of course, the Cyclops chapter should be read as a comic parody, written with a humorous overdose of hyperbole as blame is tossed around liberally by 'the Citizen' and others.
Haines's comment is, nonetheless, an insightful one, for there is a tendency to blame something called history for present travails and frustrations.
History has, indeed, often been a battleground on which praise and blame are camped in opposition to each other, competing for attention. In Ireland's case, this competition has tended to surround the Easter Rising of 1916, its roots and its implications.
Don't forget to remember: Throughout my childhood and adolescence, the leaders of the Rising were heaped with unbounded praise. Their memory 'stilled my childish play.' I knew all the names and poignant stories of the 1916 leaders. I remember attending an unveiling of a monument in their honour on the banks of the River Suir in Waterford in the mid-1960s, which was topped with a statue of Christ, thus elevating our national heroes to the ranks of the godly.
Reflecting on this period, Declan Kiberd wrote in 1991 that, for decades after independence, 'conservative nationalist parties had encourage the people to become drunk on remembrance'. (Revising the Rising, p. 5).
Diarmaid Ferriter, drawing on a newspaper article from the 1930s, has described this as 'a figurative scramble for the bones of the patriot dead ' (1916 in 1966: commemorating the Easter Rising, pp. 198-218). There was also a good deal of forgetting as inconvenient elements of our national story were edited out, the most obvious of these being Irish participation in World War 1, which was probably the largest mobilisation of Irish military manpower in our history.
We should not regard all of this as unusual or surprising for ours was a small country seeking to assert its independence in a troubled world, having broken away from a leading world power that had just emerged victorious if bruised from World War 1. It would have been amazing for us to have developed a balanced, sophisticated view of our national past in such circumstances. There is no point in judging Ireland against some kind of unattainable gold standard for the treatment of national history. If the past was used for political purposes in post-independence Ireland, it was not grossly abused as happened elsewhere in the 1930s and 1940s.
This remembrance intoxication undoubtedly peaked in 1966, a commemoration that has also been described as 'a bridge into modernity' for the Irish State (1916 in 1966, p. 11), which suggests that there may have been multiple motivations in play.
The 1966 commemoration also bred a revisionist reaction that, in the shadow of violence in Northern Ireland, challenged the very validity of the Easter Rising and its aftermath.
During my years studying history at University, the intellectual horizons of my contemporaries were dominated by this issue. The debate centred around a question W.B. Yeats had, with considerable prescience, asked in the immediate aftermath of the Easter Rising.
Was it needless death after all?
For England may keep faith
For all that is done and said.
In other words, had the 'terrible beauty' been necessary at all?
By the early 1990s, there were those who had come to feel 'that, as a reaction, amnesia – private or communal – is both unhealthy and dangerous.' (Revising the Rising, p. ix). The past 15 years has seen a gradual change in the Irish commemorative landscape with a revival of 1916 commemorations alongside a new willingness to remember Ireland's part in World War 1.
Commemorating Ireland: In Ireland, we had a round of commemorations in the late 1990s with the 200th anniversary of the United Irishmen's Rising of 1798 and the 150th anniversary of the Great Famine. Those anniversaries coincided with some key moments in the evolution of the peace process coming as they did between the declaration of the IRA ceasefire in 1994 and the conclusion of the Good Friday Agreement in 1998.
Commemoration might easily have impinged on the peace process, but, as far as I can detect, this did not happen. Indeed, Prime Minister Blair's apology for the Great Famine probably had positive effect in softening the effect of one potentially divisive locus of blame. A considerable effort was made to ensure that the commemorations were as inclusive and respectful of contemporary differences as possible.
As I wrote at the time: 'the pluralist nature of the (1798) Rising (the men and women of Down and Antrim as well as 'The Boys of Wexford') had been brought more fully into focus. This broadening of perspective and deepening of analysis, to encompass Scullabogue as well as Boolavogue, seems to me to be a desirable process. It helps to unearth complex realities buried under simplified images weathered by the passing of time. If historical commemoration succeeds in resurrecting lost details and reshaping, even temporarily, public perceptions of past events, it represents a worthwhile exercise.' (Commemorating Ireland: history, politics, culture (2004), p.x)
I would stand over those words with reference to the coming period of intensive commemoration. I hope that the centenary of 1916 will enable us to contemplate the 'terrible beauty' of the Easter Rising in all of its rounded complexity.
The Decade of Centenaries: The current wave of anniversaries is different from anything we have experienced in the past. Its context is quite far removed from that which applied in the 1960s or even in the 1990s.
First, the peace process has advanced very considerably since the second half of the 1990s. Recent events, however, have shown that it remains a work in progress and the undoubted advances that have been made ought not be taken for granted. Nonetheless, the political environment in which we now operate is different from either the 1960s or the 1990s.
Second, relations between Ireland and Britain are currently warmer and far more advanced than at any time in our history. As President Higgins put it during the State Visit: 'We have moved on from a past where our relations were often troubled, to a present where ... Ireland and the United Kingdom meet each other in mutual respect, close partnership and sincere friendship. That friendship is informed by the many matters of mutual interest in which we work together and support one another.'
This means that wedges will not easily be driven between Dublin and London on the back of potential sensitivities surrounding coming commemorations.
Third, our Irish commemorations take place against the backdrop of a global commemoration of unprecedented scale, the remembrance of the epoch-making events of the First World War which had profound implications for both Britain and Ireland, North and South.
At a 2010 Conference on Commemorating Shared History, Sir George Quigley, commented that: 'The potential for destabilisation if there is a proliferation of commemorative events in this new decade is obvious.'
It remains possible that difficulties will arise as this decade of centenaries wears on, but a number of things have happened in recent years that ought to give grounds for optimism that, during this coming period, the history being commemorated will no longer be a realm of blame or praise, but one of curiosity that will hopefully result in increased understanding of different perspectives on the past.
The first factor relates to the efforts that have been made in Ireland to recognise the Irish involvement in the First World War. After an extended period of amnesia about World War 1, we have rekindled our memories of that conflict.
Starting in 1998 with the opening of the Ireland Park at Messines, our appreciation of the strand of Irish history that links us with Britain has advanced very considerably. On Remembrance Sunday last year, theTaoiseach laid a wreath in Enniskillen while the Tánaiste was in Belfast for the remembrance ceremony there. On the same day, President Higgins attended a remembrance event at St. Patrick's Cathedral in Dublin.
In December, the Taoiseach visited World War One sites in Flanders accompanied by PM Cameron and our Government recently launched a digital archive with details of 49,000 Irish victims of the War.
This year, a Cross of Sacrifice is being erected at Glasnevin Cemetery in Dublin in cooperation with the Commonwealth War Graves Commission, which will mark the fact that Ireland's national cemetery contains graves of those who fought in the First World War.
There are those who fear that this is pointing to some kind of artificial 'shared history' but I do not see that happening. Britain and Ireland do not have shared histories, and nor should we ever aspire to any such thing.
What we do have are overlapping histories and I see no reason for not recognising this dimension of the Irish past.
The road to 2016: In recent years, we have seen an exchange of State Visits, both rich in symbols of reconciliation. The Queen's visit to the Garden of Remembrance during her State Visit and her recognition of those who had fought for Irish freedom, made a huge impression.
Likewise, President Higgins' visit to the tomb of the unknown warrior at Westminster Abbey expressed respect for those who had died for Britain during the wars of the 20th century. Our Government has expressed a desire to have British Royal representation at our 1916 centenary commemorations and during her speech at the recent State Banquet, Queen Elizabeth reacted positively to this overture.
There are those who have doubts about this approach, fearing that it could compromise remembrance of our distinctive national history. If I thought that this approach to commemoration would result in our past been sanitised, I would also be opposed. I am quite clear, however, that the central narrative of modern Irish history runs through the GPO, the first Dáil and the war of independence. For me, an acknowledgement of the fact that there are tributary Irish narratives that run through the Palace of Westminster and the battlefields of Gallipoli and the Somme serves to enhance understanding of Irish history rather than detracting from it or diluting its distinctiveness.
It seems to me that the Easter Rising is likely to spur a commemorative impulse very different from that which prevailed in 1966. The key distinction is that this will be a centenary commemoration. Centenaries represent the first major opportunity to remember a significant aspect of our past without the hand of survivors on our shoulders.
In 1966, I watched RTE's Insurrection with my grandmother whose late husband and three brothers had been veterans of the War of Independence. Alas, those veterans are no longer with us and there is no need to take a position on 1916. We are inspired to remember it by a realisation that it undoubtedly shaped our subsequent history. Whatever its merits or justification at the time, it remains probably the seminal event in modern Irish history.
Those who come to Dublin in 2016 will not be asked to endorse everything that happened in 1916, just as our attendance at World War 1 commemorations does not mean that we approach those events in the same way as people in Britain or other participating countries do.
An end of history: What can we expect to have transpired by the end of this decade of commemorations? For inspiration on this point, allow me to call up the father of history, Herodotus, who in his Histories explained their purpose: 'so that human achievements may not become forgotten in time and great, and marvellous deeds -some displayed by Greeks and some by barbarians - may not be without their glory.'
I do not in any sense suggest that our two countries are equivalent to Herodotus' Greeks and barbarians, but the key point remains relevant. Herodotus had respect for the deeds of the barbarians as well as his own Greek heroes. He wanted both sets of deeds to be saved from the clutches of oblivion. In our situation today, an effort to understand each other's perspectives on our respective histories can do a service to the past as well as to the present and the future.
Secret scripture: Before I conclude, allow me to return to James Joyce. This year is a Joyce centenary year for Dubliners was published in June 1914. 2015 marks the 150th anniversary of the birth of W.B. Yeats while 2016 will be another Joycean milestone, the centenary of the publication of A Portrait of the Artist as a Young Man. Then there's the biggest literary centenary of all in 2022, which will remind us that Ulysses was published just weeks after the establishment of the Irish Free State. We should not be slow to mark these Irish literary achievements. They were part of an era of conspicuous Irish achievement, political and artistic. Indeed, the imaginations of our great writers were fed by the Irish events that occurred during their lifetimes.
Literature can be an unreliable guide to the past, but if you want a pointer to the complexities of the decade we are now commemorating, I would recommend two literary sources: Tom Kettle and Francis Ledwidge.
Kettle, a contemporary of Joyce's at University, was in Belgium in 1914 when war broke trying to procure arms for the Irish Volunteers. Yet, he committed himself fully to prosecution of war against Germany and died at the Somme in 1916. By that time, he already realised that the course of Irish history had been altered by the events of Easter Week. In a poem he wrote for his daughter explaining his motivation in going to war, he said that he died
Not for flag, nor King nor Emperor
But for a dream born in a herdsman's shed
And for the secret scripture of the poor.
Francis Ledwidge was an advanced nationalist who nevertheless joined the British army in 1914 and fought at Gallipoli and on the Western Front. He was appalled by the execution of the 1916 leaders and wrote laments in their memory. Yet he returned to the front and was killed in Ginchy in 1917. The stories of Kettle and Ledwidge are perfect illustrations of the greyness of history where ambiguity and ambivalence invariably reign over black-and-white certainties.
Commemoration and History: My concluding point is that commemoration is not the same as history. Commemoration happens in the here and now. It is an act of public remembering of aspects of the past that mean something to us as people and as nations. Historians have an obligation to explore the past in a rigorous systematic manner. Their work will inevitably help shape current perceptions of our history and thus form part of the context in which commemorative activity takes place. But no one has a monopoly on truth and we are all children of our own age. We are shaped by its intellectual horizons within which we carry out an indispensable dialogue with, and about, our history, which, by the way, despite what Haines says in Ulysses, is not to blame...
Ambassador Dan Mulhall
12 May 2014