Embassy marks centenary of the 1914 Home Rule Act
***The event will be broadcast on BBC Parliament on Saturday 5 July at 9pm***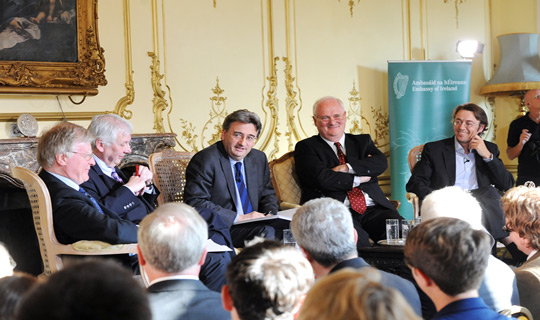 An event to mark the centenary of the Home Rule Act took place in the Embassy with a distinguished audience of parliamentarians, academics, officials, business, community and cultural representatives, and media. The panel of expert guest speakers from Ireland and Britain included former Taoiseach John Bruton, Lord Paul Bew, Professor Michael Laffan and Professor Richard Toye and was chaired by broadcaster Fergal Keane.
Minister for Arts, Heritage and the Gaeltacht, Jimmy Deenihan TD, opened the evening. The Minister said that the Home Rule Act was one of the most significant pieces of legislation relating to Ireland to be passed in Westminster between 1800 and 1921 and that, as part of the decade of commemorations, it was fitting to acknowledge the work of so many Irish parliamentarians for keeping the cause of self-determination alive, and 'staying hopeful throughout some of the darkest periods.' Minister Deenihan said that the Irish Parliamentary Party's central objectives were legislative independence for Ireland, and land reform.
"Ultimately, the Party's constitutional movement was key to laying the groundwork for Irish self-government through three Irish Home Rule bills". The Minister said that the Parliamentary Party progressed the concept of self-governance to the forefront of national politics.
He outlined the series of events taking place in Ireland to commemorate the momentous events between 1912 and 1922 and said that John Redmond's decisive speech at Woodenbridge in September 1914, when he encouraged Irish participation in the World War, will also be remembered.
Guest speakers outlined their individual perspectives on the Home Rule Act in the context of relations between Ireland and Britain, its evolution and its implications for the struggle for Irish independence and subsequent developments. A lively exchange of views ensued, including several questions from the floor, which was expertly moderated by Fergal Keane.
The distinguished audience comprised a range of Westminster parliamentarians including Northern Ireland Minister Andrew Robathan and Shadow Secretary of State for Northern Ireland Ivan Lewis MP, along with MPs and Peers from a range of Westminster parties, academics including Vernon Bogdanor, Ronan Fanning, Sean McConville, Diane Urquhart and Marianne Elliott, officials, Irish community, cultural and business representatives and media. The event will be broadcast on BBC Parliament on Saturday 5 July at 9pm.
The event was part of a series organised by the Irish Embassy in London. Previous events have included a discussion with Professor Ronan Fanning about his book: 'Fatal Path' and a discussion with Professor Sean McConville about political prisoners.