Chef's Irish Beef Club - Bord Bia showcase at the Embassy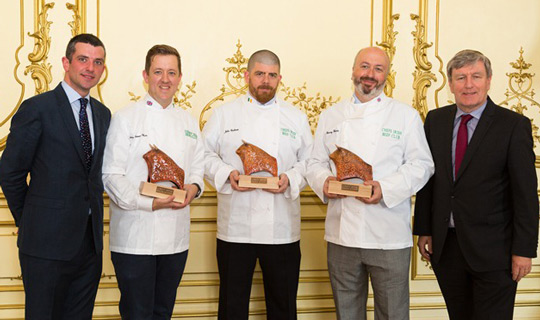 Ambassador Mulhall, in conjunction with the Irish Food Board (Bord Bia), hosted an event in the Embassy to showcase premium Irish beef to members of the Chefs' Irish Beef Club as well as invited top chefs and guests. Attendees witnessed a masterclass demonstration of Irish beef by premium catering butchers Aubrey Allen using Irish Hereford Prime award-winning beef.
Welcoming the members of the Club and guests, Ambassador Mulhall said that the Chefs' Irish Beef Club brought together Europe's leading chefs with a common passion for Irish beef. He highlighted that aside from its wonderful taste, Irish beef was produced from grass fed cattle by farmers who were fully committed to environmentally-sustainable farming practices. So far 32,000 Irish beef farmers had signed up to a Carbon Trust accredited model to reduce their carbon footprint and reduce their overall environmental impact and Ireland was very proud that we were the first country to have such a nationwide plan in place.
Ambassador Mulhall presented three Irish Beef Club members present - Ashley Palmer-Watts, head chef in Dinner by Heston Blumenthal recently voted the fifth best restaurant in the world; Henry Harris, Racine; and, John Cadieux, of Goodmans a bull sculpture by artist Raymond Kinghan, as a token of thanks for their support and use of Irish beef.
Did you know?
· 230,000 jobs in Ireland are linked to the agri-food sector
· In 2013, Ireland exported 470,000 tonnes of beef, valued at €2.1bn
· Ireland is the largest net exporter of beef in the Northern Hemisphere
· The United Kingdom accounts for 42% of total Irish food and drink exports and 52% of Irish beef exports
· Ireland has 4.3m hectares of farmland, nearly 80% of which is devoted to grass production
· There are 130,000 farmers in Ireland, of which 80,000 raise some cattle
· There are 7.2m cattle in Ireland with 2m calves born each year