Embassy hosts panel discussion on Oil and Gas industry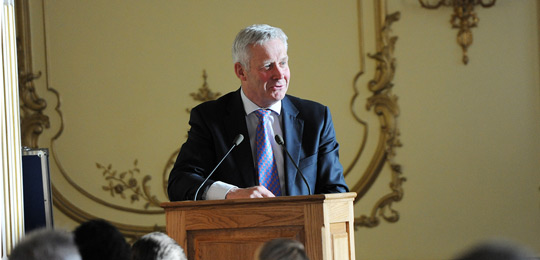 The Embassy, in association with the London Irish Business Society (LIBS) hosted a panel discussion entitled – Ireland's Oil & Gas Potential: Over-hyped or Under Sold? The panel of experts discussed Irelands future prospects in the Oil and Gas sector and looked at the opportunities and challenges that are facing Ireland in these markets. The guest speakers for the event were, Mr Fergus O'Dowd, TD, Minister of State for Natural Resources, Mr Bernard Looney, COO, BP and Mr Tony O'Reilly Jnr., CEO, Providence Resources. The moderator for the evening was Prof. Nick Butler, Kings College London.
Ambassador Dan Mulhall warmly welcomed the guests – it was a full house for this seated event – and particularly thanked Minister Fergus O'Dowd for travelling and participating in the event. The Ambassador paid tribute to the work of LIBS and stated that he greatly valued the constant contact he had with all the business networks in the UK and underlined that these networks play a vital role in Irelands continued economic growth. The Ambassador also spoke of the importance of the trade relationship that exists between Ireland and the UK, noting that a recent HSBC report forecast that Ireland will become the UK's third largest trading partner by 2030.
Minister Fergus O'Dowd, pictured above speaking at the event, said: "Offshore Ireland has a significant potential for oil and gas finds. Recent discoveries and on-going petroleum research indicate a positive resource potential, but how this unfolds will vary depending on the level of exploration activity and its success." The Minister went on to say "It is only through active exploration that the potential of the Irish offshore will be proven. Ireland's offshore area is vast, – 700,000 sq km approximately, but there has been relatively few commercial successes in over forty years exploration. We need increased levels of exploration activity, in particular exploration drilling levels if true potential is to be proven".
Minister O'Dowd underlined the new interest in Ireland, pointing to the significant new entrants to the Irish offshore following the 2011 round and his determination to build on this momentum. The Minister concluded by stressing "Ireland is open for Business, there are good opportunities for accessing exploration acreage and Ireland has modern, open, transparent and effective regulatory processes." A lively Q & A ensued and many thanks for all who came and supported the event.