Bronnadh na fáinní – Irish language students recognised at the Embassy
Ambassador Dan Mulhall hosted a ceremony, in conjunction with St. Mary's University College London, to present fáinne pin badges to students who have successfully completed Irish language courses delivered by the University's Irish Studies programme. The Irish language programme at St. Mary's University College receives funding from the Department of Arts, Heritage and the Gaeltacht. The Ambassador delivered very well-received remarks, as Gaeilge, on the importance of Irish language learning in Britain and made the presentation of fáinní. Guests in attendance included Dr Ivan Gibbons, Irish Studies Programme Director, Mr. Liam Gallagher, Irish language teacher, students and their families.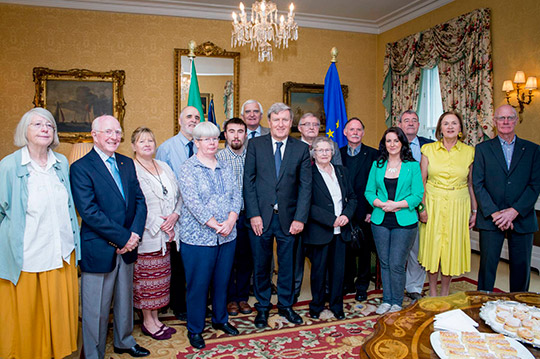 St Mary's offers a very well regarded Irish Studies programme in London, and it is an important component of the University's long association with Ireland and the Irish community in London. Students attending the Irish language classes at St. Mary's comprise of undergraduates attending Irish Studies courses at the university as well as members of the local Irish community. The presentation of fáinní ceremony is an annual event hosted by the Embassy to acknowledge the contribution of the Irish Studies programme to the development and promotion of the Irish language in Britain.
Wearing a fáinne symbolises links to the Irish language. A fáinne is worn to show that you are able to and are willing to speak Irish. Whether you are a fluent speaker or just starting out as a beginner, you can wear a fáinne.