Minister Fitzgerald and UK Home Secretary launch landmark British-Irish Visa Scheme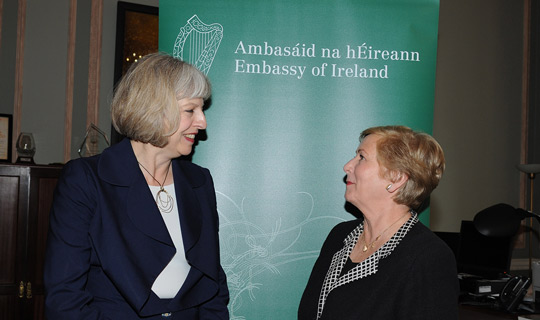 Monday, 6th October 2014
Frances Fitzgerald, T.D., Minister for Justice and Equality, together with the United Kingdom Home Secretary Theresa May, has today formally launched the British-Irish Visa Scheme at an event held at the Irish Embassy in London.
The British-Irish Visa Scheme will facilitate nationals requiring a short-stay visa to travel freely within the Common Travel Area using a single visa issued by either Ireland or the UK.
This will mean that tourists, business visitors and other eligible visitors will be able, for the first time, to visit both the UK and Ireland, including moving freely between north and south of the island of Ireland on a single visa.
Minister Fitzgerald stated: "It is truly remarkable, and a potent symbol of the transformation in British Irish relations, that the Home Secretary and I are today jointly launching an initiative of unprecedented cooperation between our countries – the British-Irish Visa Scheme – something that but a few years ago would have seemed an impossibility.
Our aim is to boost tourism and business travel to our countries and, together, we are sending a clear and powerful message that these islands are open for business. We are saying, 'Visit our beautiful and historic lands, come and experience the best that we both have to offer'.
The agreement to introduce this landmark Scheme is an historic development in the operation of the Common Travel Area which for almost the past one hundred years has been of immense political, social and economic importance to both countries."
Minister Fitzgerald and Home Secretary May have also agreed to review the operation and success of the scheme in China and India in early 2015, and subject to completion of that review, a timetable will be finalised for the rollout of the scheme to all countries by the end of 2015. The Minister thanked all concerned, including officials from both Governments and acknowledged the close cooperation of the Chinese Government in facilitating arrangements for their applicants who wish to visit Ireland.
The Minister said: "From Ireland's perspective, we want to build on the success of the Irish Short-Stay Visa Waiver Programme launched by the Irish Government in 2011. Since then short-term visitors to the UK from countries covered under the scheme have been permitted to visit Ireland on a UK visa. As a result, almost 45,000 additional visitors travelled to Ireland last year compared to 2010 and we want this number to grow even further.
The British-Irish Visa Scheme is a unique opportunity for the tourism promotion bodies on both islands to work together to jointly promote tourism travel to Ireland and the UK. I know Tourism Ireland and Visit Britain have joint plans in this regard and I very much welcome these initiatives."
To underpin the operation of British-Irish Visa Scheme, the Minister and Home Secretary signed a new agreement for the sharing of immigration data between both countries' immigration authorities.
This agreement will underpin the sharing of visa data in tandem with the implementation of new visa arrangements. Ireland will be incorporating the collection of biometrics as part of the Irish visa application process and new systems are being put in place with the UK to facilitate the automated and seamless sharing and cross-checking of information.
The Minister stated: "Removing barriers to ease travel between our jurisdictions means that it is imperative we cooperate closely to align our respective visa processes and to share appropriate information on the visa applicant.
It is by cooperating to the greatest extent possible in protecting our borders from abuse, by preventing persons from entering our countries who have no right to be here, that we lay the foundations on which to extend the benefits of borderless travel between our countries to genuine visitors".
Minister Fitzgerald also indicated that the Irish Naturalisation and Immigration Service of her Department and the UK Home Office have agreed for Ireland to share the UK's worldwide network of Visa Application Centres. These centres, of which there are over 200 around the world, will now also provide services to Irish visa applicants such as lodging of applications, courier services, informational services and online payment of visa fees.
The Minister said: "At a practical level this is aimed at providing a more efficient visa service and an enhanced experience for Irish visa applicants. What is truly significant is that both countries are working side by side on the global stage to have a simple and easy process for our respective applicants to obtain their single visa."
The Home Secretary Theresa May said: "I am delighted to be able to sign this Memorandum of Understanding today. This agreement will make it easier and more attractive for travellers to visit both Ireland and the UK, while at the same time strengthening Common Travel Area borders."