Ireland marks the centenary of World War One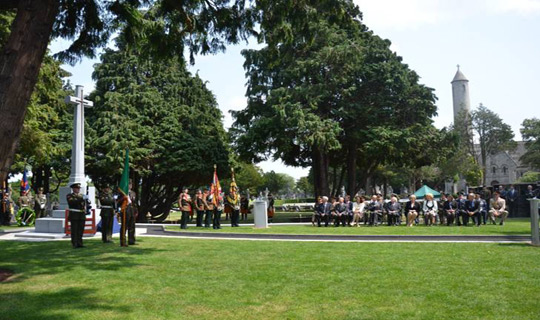 Cross of Sacrifice - Glasnevin Cemetery, Dublin
On Thursday 31 July, President Michael D. Higgins led a ceremony to dedicate the newly installed Cross of Sacrifice in Glasnevin Cemetery, in Dublin. The erection of the cross is a cooperative venture between Glasnevin Trust and the Commonwealth Graves Commission (CWGC). The memorial was unveiled by President Higgins and HRH the Duke of Kent, President of the CWGC, who also addressed the event and laid a memorial wreath alongside President Higgins. The unveiling of the Cross of Sacrifice was attended by colour parties from both the Defence Forces and the British Army. It was also addressed by Heather Humphries TD, Minister for Arts, Heritage and the Gaeltacht, Ms Theresa Villiers MP, Secretary of State for Northern Ireland, and Dr. Edward Madigan (Royal Holloway), formerly resident historian at the CWGC. A minutes silence was observed, and the ceremony concluded with the Irish and British national anthems and the Last Post. Ambassador Mulhall also attended this historic event.
President Higgins' speech at the unveiling of the Cross of Sacrifice.
4 August
On 4 August, President Higgins attended commemorations events in Belgium to honour the war dead. The Minister for Arts, Heritage and the Gaeltacht, Heather Humphreys TD, attended a number of events to mark the centenary of the outbreak of World War One in Glasgow and Belfast. Minister Humphreys participated in the memorial events in Glasgow alongside British Prime Minister David Cameron and Commonwealth representatives. Following the events in Glasgow, Minister Humphreys travelled to Belfast for a number of commemorative ceremonies, including a Service of Solemn Commemoration which will be held at St Anne's Cathedral. Minister Humphreys read at the service, and later laid a wreath at City Hall in memory of those Irish Soldiers who gave their lives in World War One.
Ambassador Dan Mulhall attended a special candlelit vigil marking the hour of the declaration of the first World War in Westminster Abbey. The Embassy's Political Counsellor Barbara Cullinane also attended the unveiling of new memorial arch in Folkestone, Kent.
Read the Ambassador's blog on Ireland and World War One.
Read more about the Ireland's programme of commemorations for the Decade of Centenaries relating to the significant events in Irish history that took place between 1912 and 1922.