Ambassador launches Network Irlandii Alumni Group
The Network Irlandii Alumni Group, bringing together Poles who have studied in Ireland, was launched on 11 July 2017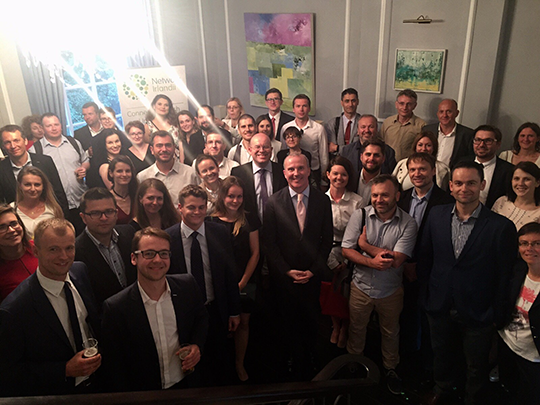 Network Irlandii is an Embassy initiative creating networks of Poles who have lived, studied or worked in Ireland. On 11 July, Ambassador Gerard Keown launched the Network Irlandii Alumni Group, which brings together Poles who have studied in Ireland.
'We value our connection with Polish people who have lived or studied in Ireland. They know Ireland well, and many are playing a role in deepening engagement between Poland and Ireland in all areas - business, culture, the arts, academia and sport.
Network Irlandii aims to build on this, by bringing together Polish people who studied in Ireland for Irish-themed events and networking. We want to hear from you.' Ambassador Keown told alumni at the launch.
Members of the new group are alumni of a large number of third-level institutions across Ireland. Many traveled from all parts of Poland to attend the launch and to share happy memories of their time in Ireland. The Embassy will continue to host regular events for members of the Network Irlandii Alumni Group.
If you would like to join our Network Irlandii Alumni Group, or if you have ideas for future events, please get in touch with us here.