Taoiseach Enda Kenny visits Poland
Taoiseach Enda Kenny T.D. met Prime Minister Beata Szydło in Warsaw on 9 February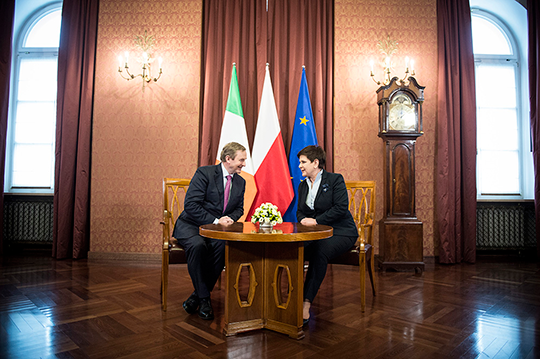 Taoiseach Enda Kenny T.D. met Prime Minister Beata Szydło in Warsaw on 9 February to discuss the excellent bilateral relations between Ireland and Poland, closely linked by the Polish community in Ireland, and increasing trade flows between the two countries.
The meeting provided an opportunity for the Taoiseach and Prime Minister Szydło to discuss the future direction of the European Union in the context of Brexit and the upcoming summit in Rome to mark the 60th anniversary of the Treaties of Rome. The Taoiseach set out Ireland's priorities in the future negotiations on Brexit, including on trade relations, Northern Ireland and the Common Travel Area. The Taoiseach and Prime Minister exchanged views on other key issues facing the EU, including jobs, growth and investment, and external challenges.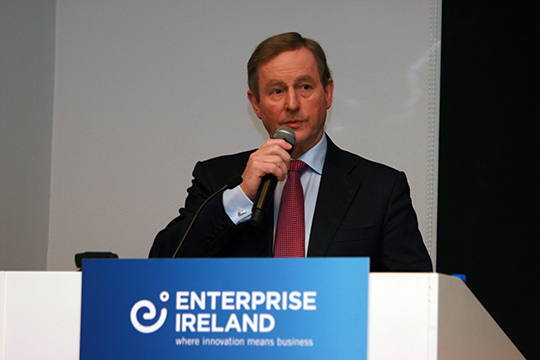 Taoiseach Enda Kenny T.D. addressing the Irish Polish Innovation Forum organised by Enterprise Ireland at Warsaw's Google Campus
There was a strong focus on growing trade with Poland during the visit. The Taoiseach addressed an Irish-Polish Innovation Forum organised by Enterprise Ireland and met with participating Irish and Polish companies. Two-way trade between Ireland and Poland was worth over €3 billion in 2015 and is growing by over 15% every year. Irish business has developed strong economic links with Poland, which is Ireland's 12th-largest exports market. The Taoiseach outlined how Ireland has become one of the most innovative economies in the world and urged cooperation between Irish and Polish entrepreneurs and academics.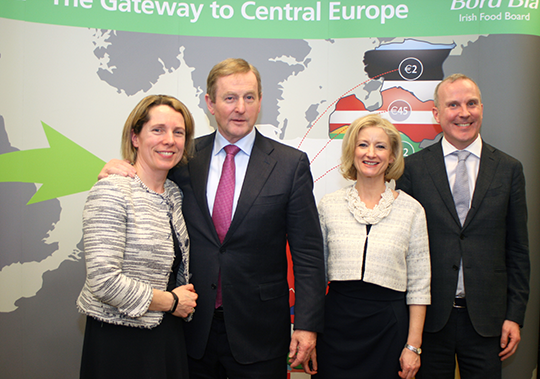 Tara McCarthy, CEO of Bord Bia; Taoiseach Enda Kenny T.D.; Judith Clinton, Bord Bia Regional Manager; and Ambassador Gerard Keown at the opening of the Bord Bia office in Warsaw
The Taoiseach opened the new Bord Bia (Irish Food Board) office co-located with the Embassy and addressed an Origin Green networking lunch at which he met Irish and Polish companies. Irish food exports to Poland were worth €185 million in 2016, an increase of 14%. Poland is Ireland's 8th-largest EU market for food and drink exports and, with the establishment of the new Bord Bia office in Warsaw, is now a gateway to the Central European market of eleven countries with a combined population of 103 million.
During the visit the Taoiseach also met with the Chair and Vice-Chair of the Polish Irish Parliamentary Friendship Group, members of the Irish-Polish business community, and members of the Irish community in Poland.