Minister English launches Irish-Polish Business Directory
Minister Damien English launched the Irish-Polish Business Directory in Wroclaw on 14 March
Minister Damien English launched the Irish Polish Business Directory at the first Irish Innovation Forum in Wroclaw on 14 March. The Directory lists the Irish and Irish-connected companies and entrepreneurs operating in Poland.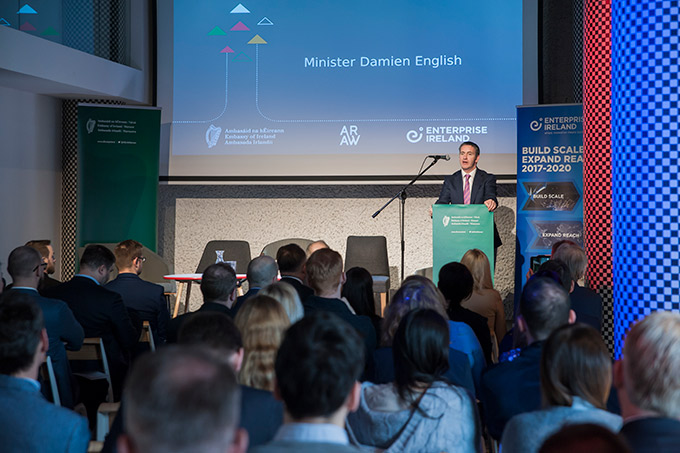 Speaking at the Irish Innovation Forum, Minister English said:
'Poland is an important partner for Ireland. The links between our two countries have never been stronger. There is a vibrant and growing community of Irish business and investment in Poland. At the same time, many Polish companies are looking at the opportunities for trade and growth in Ireland, one of the fastest growing economies in Europe.
I am delighted to launch the Irish-Polish Business Directory. The Directory for the first time provides a full picture of the dynamic Irish-Polish business relationship, with over 100 Irish and Irish-connected businesses and entrepreneurs operating in Poland.
Whether you are an Irish business looking to expand in Poland, or a Polish business looking at opportunities in Ireland, I am confident the Irish-Polish Business Directory will be a useful resource for you.'
Minister English was visiting western Poland for St. Patrick's Day to highlight the strong and growing business relationship between Ireland and Poland. Two-way trade was worth an estimated €3.4 billion in 2017, and is growing by 10-15% annually. Connectivity is excellent, with over 50 flights each week between Ireland and 11 Polish cities.
There are about 130,000 Poles living in Ireland, and Polish is Ireland's most spoken foreign language. Poles are a valued and welcome part of Irish life, and they make a strong contribution to the growing trade relationship.
The Irish-Polish Business Directory was produced by the Embassy of Ireland, Enterprise Ireland, the Irish Food Board (Bord Bia), and the Irish-Polish Chamber of Commerce.
View The Irish-Polish Business Directory.