Irish-Polish Business Directory
The Irish-Polish Business Directory is a resource for Irish business, produced by the Embassy of Ireland, Enterprise Ireland, Bord Bia and the Irish-Polish Chamber of Commerce
The Irish-Polish Business Directory lists the Irish and Irish-connected companies and entrepreneurs operating in Poland. It provides a full picture of the dynamic Irish-Polish business relationship, and serves as a resource for Irish business operating in Poland, or interested in expanding to the Polish market.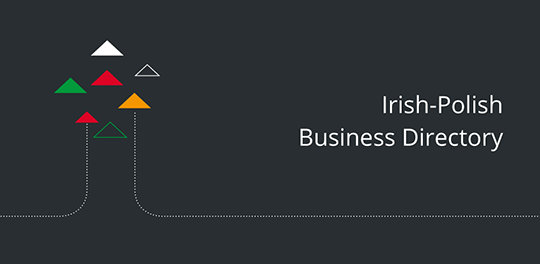 Irish Polish Business Directory
The Irish-Polish business relationship is flourishing. Two-way trade is worth over €3 billion each year, and growing by 10-15% annually. Irish companies increasingly see Poland as an attractive market to export to and to invest, and as a location from which to do business in Central Europe. Connectivity is excellent, with over 50 flights each week between Ireland and 11 Polish cities.
The Embassy works with state agencies to support Irish companies and to promote Ireland's trade and investment objectives. The Embassy shares its office with Enterprise Ireland, the government agency responsible for growing Irish enterprises in world markets, and with Bord Bia, the Irish Food Promotion Board. The Embassy also works closely with the Irish Polish Chamber of Commerce, a dynamic network of companies and individuals working to foster Irish-Polish business relations.
If you are an Irish business in Poland, or interested in expanding to Poland, get in touch with us to add your details to the Irish-Polish Business Directory.