Ireland-Slovak Relations
The Embassy plays an important role in fostering the excellent relationship between Ireland and the Slovak Republic.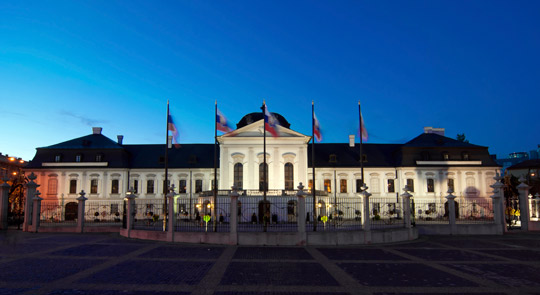 The Slovak and Irish Governments work together on many issues, particularly in the EU context. In May 2013, Deputy Prime Minister and Minister of Foreign and European Affairs of the Slovak Republic, Miroslav Lajčák visited Ireland and was one of the keynote speakers at a conference entitled "10 Years after Thessaloniki: An appraisal of the EU perspective and challenges in the Western Balkans". Deputy Prime Minister Lajčák contributed his considerable knowledge and experience to the conference which was organized by the Department of Foreign Affairs and Trade and the IIEA as part of the programme of the Irish Presidency of the Council of the EU in 2013.
A longstanding historical connection
Links between Slovakia and Ireland stretch back to 1000 BC. Celtic tribes living in Central Europe are known to have migrated westwards to Britain and Ireland. Artefacts and the remains of their settlements can still be seen including at Devín Castle near Bratislava.
There is some evidence to suggest that Irish missionaries were active in Slovakia in the early 9th century.The diocese of Salzburg, then part of Bavaria, was at the forefront of the introduction of Christianity to the Slavs in the principality of Greater Moravia which included parts of modern day Slovakia. The mission was originally initiated in the eighth century under the leadership of an Irish Bishop, Virgilius of Salzburg. Virgiliusnot only introduced learning and Irish manuscripts at Salzburg, but also sent out a number of Irish missionaries to introduce Christianity to the Slavs. The conversion efforts were continued by Virgilius' successors after his death in 784 and paved the way for the arrival of Saints Cyril and Methodius, who came from Greece in the second half of the ninth century.
Modern day relations
Diaspora, trade, tourism and a shared interest in culture are just a few of the areas in which important bonds have been created to link Ireland and Slovakia. Both countries work together within the EU to foster sustainable economic development for the benefit of their citizens and the EU as a whole.