Achievement Towards Building A National Social Protection System - Remarks by Amb. William Carlos
Speech
21 February 2019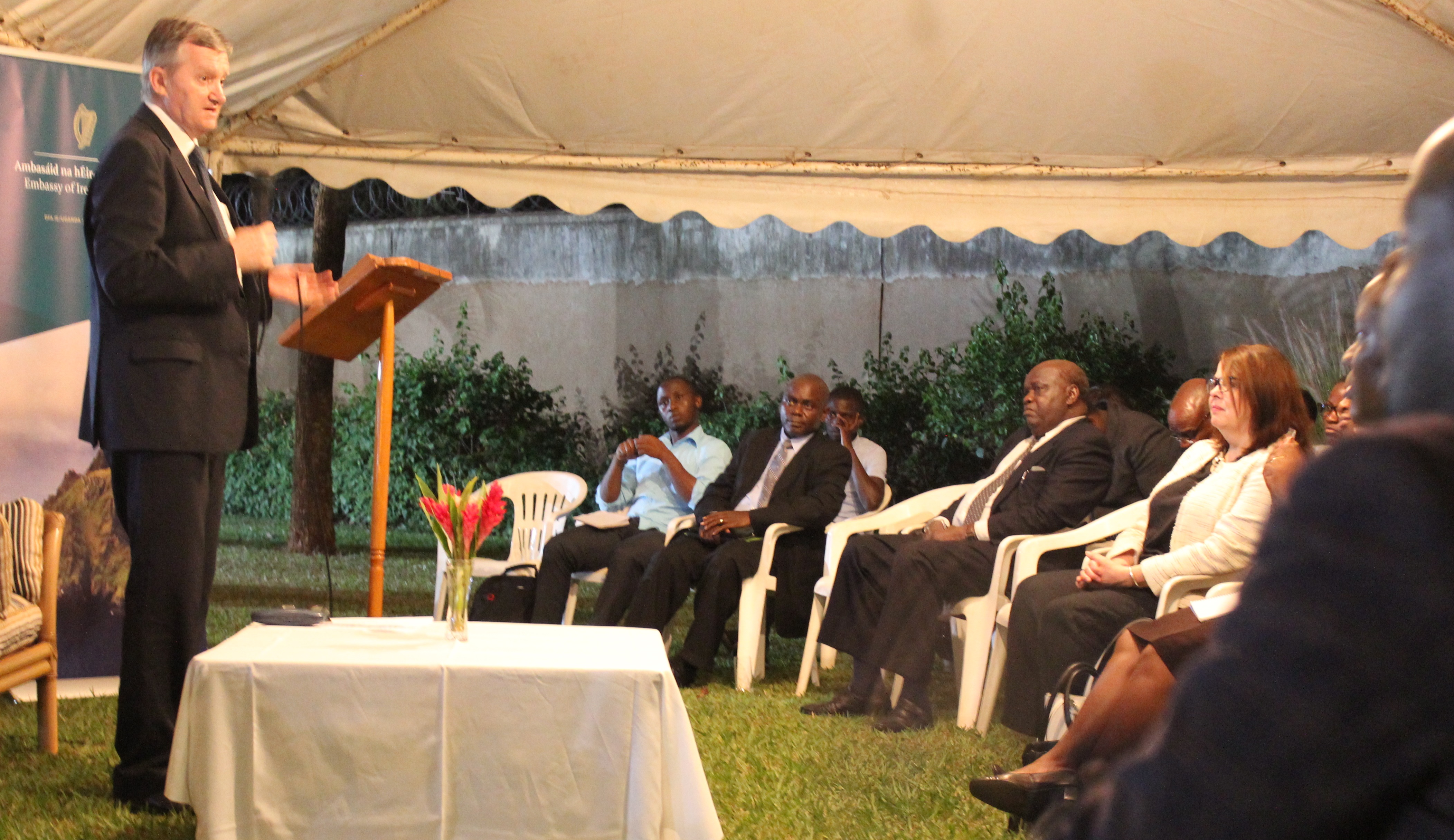 Irish Ambassador to Uganda, H.E, William Carlos, addressing guests who graced the reception to recognise Uganda's social protection progress
Ladies and Gentlemen.
I would like to thank you all for being with us here at the residence this evening We are hosting this reception in order to recognise progress made by the Government of Uganda towards building a national Social Protection System. In particular, I would like to give an especially warm welcome to the Honorable Ministers of State for Finance and Children and Youth Affairs and to the parliamentarians who have joined us.
As well as recognising the progress made, we are hosting this event:-
In order to reaffirm development partners' commitment and partnership in building a national Social Protection System and as well as of course to provide an opportunity for social protection actors and stakeholders to informally interact and network.
As Development Partners we believe that an effective social protection system is a core component of all successful and sustainable economies. The benefits of investing in social protection – combined with investments in other essential sectors such as education, health, energy and infrastructure – are evident in socially cohesive societies. These benefits protect people against crises and poverty while generating long-term and sustainable economic growth.
I would also like to recognise the important work of other development partners on social protection, in particular the World Bank and UNICEF. The World Bank and Ireland are co-chairing the development partners working group this year and we are working together to strengthen co-ordination between all of the development partners so that we can engage effectively and coherently with the Government.
This year Ireland is marking 25 years in Uganda. We are proud of what we have achieved to date, working with the Government of Uganda and our partners. We are particularly proud to support a mechanism such as this, which is piloting and rolling out systems for delivering social protection to vulnerable elderly people across Uganda. Ireland has committed UGX 62 billion to the second five year phase of the Expanding Social Protection Programme, ending in 2020. When combined with the contributions of the Governments of Uganda and the UK, almost UGX 390 billion will be invested in the sector over the coming five year period.
We would like to take this opportunity to reaffirm our commitment to this partnership and would like to see broader social protection investments over the coming years.
A key dimension of the social protection system is the Social Assistance Grants to the Elderly or SAGE payments. We have seen an evolving social protection system in the following areas: the use of government structures at national and local government level in the management of social transfers; the launch of the Social Protection policy and strategy development, increased domestic financing by Ministry of Finance, targeting improvements through the use of National Identification process; and the public private partnership with Postbank including the use of biometric systems for beneficiary payments through Postbank.
In terms of outcomes, two independent evaluations of the first phase and second phase of the programme in 2015 and 2018 have clearly demonstrated the positive influence of this grant on poverty.
There is clear evidence that;
Social Assistance Grant for Empowerment (SAGE) improved food security in households with an older person; has significantly improved nutrition in households with young children; has caused an attributable 14.2% increase in primary and secondary school attendance, in addition overall employment grew more rapidly in Social Assistance Grant for Empowerment (SAGE) districts compared to non-SAGE districts.
The decision taken to begin a national roll out of the SAGE grants is due in no small part to the strong political support which Ugandan MPs have demonstrated, and in particular the work of the Committee on Gender, Labour and Social Development, the budget committee and the Social Protection Parliamentary Forum. Of course the commitment to the roll out of SAGE must be seen in the context of the development of a long term sustainable financing plan for overall social protection. It is also important that that the roll out does not compromise the quality, as well as the results achieved in the early stages.
As I conclude, I would like to emphasize the fact that the uptake and thus expansion of social protection in Uganda is a critical step that the country needs to take as it transits to middle income status. We look forward to our continued cooperation with the Government of Uganda and with you all as we work together to support sustainable and equitable growth in Uganda.
Thank you
I would like to now invite Fred Muhumuza our guest speaker to say a few words on whether we are on the right track in terms of social protection?