Blog by Ambassador Mulhall on Ulysses, Episode 3, Proteus
Blog
31 January 2019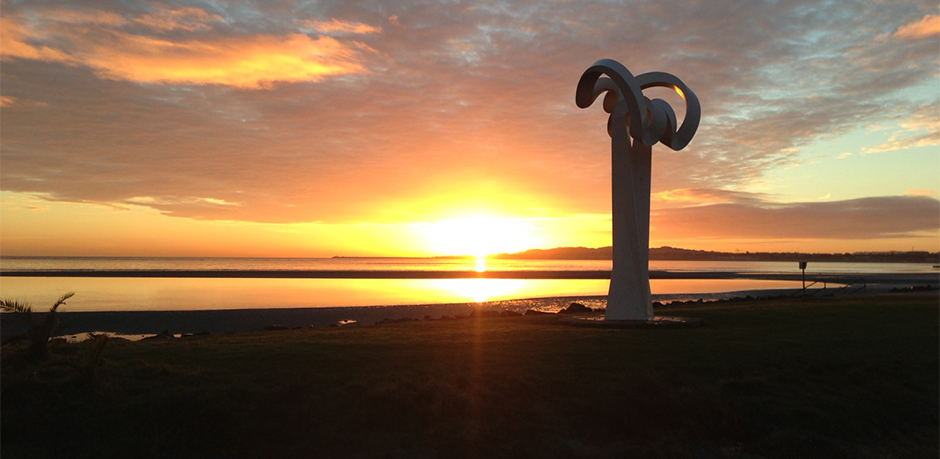 I bought my first copy of James Joyce's Ulysses in a bookshop at the University of Missouri Kansas City (UMKC). It was the summer of 1974 and I was in America on a J-1 visa. That summer, during what was my first significant absence from Ireland, I lived at Rockhurst College (now Rockhurst University), a Jesuit institution located near UMKC.
At that time, I had finished my first two years of study at University College Cork, where the literature courses I had taken included the study of Joyce's A Portrait of the Artist as a Young Man, but not Ulysses. It may be that Ulysses was judged to be too daunting for Irish undergraduate students in the early 1970s! I had of course heard of Joyce's famous novel and, when I saw a copy at the UMKC bookshop, I picked it up. That evening I sat down to read it.
I galloped through the first two chapters which I enjoyed, even if it was difficult to see what the book's notoriety was all about. It was when I encountered the first sentence of chapter 3,
"Ineluctable modality of the visible: at least that if no more, thought through my eyes. Signatures of all things I am here to read, seaspawn and seawrack, the nearing tide"
that my first stab at reading Ulysses began to go off the rails.
This was a bit too dense for summer reading and, although I persisted with the book for a few more chapters, I eventually put it aside unfinished. But I didn't discard it and I still have that American edition of Ulysses, which was first published in 1934 after the ban on Joyce's novel had been lifted by Judge John M. Woolsey of the Court of Southern District of New York.
My edition contains the text of Judge Woolsey's judicial opinion that Ulysses was "a sincere and serious attempt to devise a new literary method for the observation and description of mankind."
I returned to Ulysses years later and read it from cover to cover with admiration and enthusiasm. It has become a mainstay of my lifelong engagement with Irish history and literature in the age of Yeats and Joyce.
I suspect that many readers of Ulysses will have come unstuck when they encountered this 'Proteus' episode, so called because of the links Joyce sought to make with Book 4 of Homer's Odyssey. It features Proteus, "the Old Man of the Sea", who "knows all the depths of the sea" and resides by the seashore. Homer writes of Proteus:
"If somehow you could lie in ambush and catch hold of him,
he could tell you the way to go, the stages of your journey,
and tell you how to make your way home on the sea where the fish swarm".
This makes sense, for Joyce's Proteus episode is all about the sea and its shore. In Homer, Proteus is also "difficult to access, and when consulted he refused to give answers, by immediately assuming different shapes." (Lemprière's Classical Dictionary, 3 Edition, p. 523) With Joyce's protean tendency rapidly to shift focus and topic in full cry in these pages, Proteus, the shape-changing sea deity, strikes me as a suitable presiding spirit!
There is a sense in which the first three episodes of Ulysses with their concentration on the character of Stephen Dedalus, are a kind of an appetiser, ahead of the main course centred on the novel's meatiest character, Leopold Bloom. Despite being based on Joyce himself, Dedalus is a far less alluring character than the Blooms who will dominate the remainder of the novel. From episode 4 onwards, Stephen will flit in and out of the novel whereas Leopold Bloom will be ever-present.
In the opening episode of Ulysses, set at breakfast time in the Martello Tower at Sandycove, Stephen is revealed through his relationship with Buck Mulligan, while episode 2 sees him through his encounters with his pupils and Mr Deasy, the Principal of the school where Stephen is employed. Here in episode 3, Stephen has moved on from the school in Dalkey, travelling along the southern shore of Dublin Bay to Sandymount Strand. Everything in this episode happens inside Stephen's head. And it's a chaotic realm, full of strange words, some fairly obscure literary, philosophical and historical references, and vividly-expressed impressions of the world around him as Stephen walks along the strand at around 11 am on the morning of 16 June 1904. Unlike the first two episodes, here there is no dialogue, except some snatches in Stephen's memory and imagination. What we get instead is a free flow of Stephen's kaleidoscopic, spur-of-the-moment thoughts.
Not everyone has been intimidated by this intensely literary beach walk. Margaret Anderson, the Chicago-based co-publisher of the avant-garde literary magazine, the Little Review, received this episode from Ezra Pound in February 1918 and was smitten by it. "This", she wrote later, "is the most beautiful thing we'll ever have. We'll print it if it's the last effort of our lives." And print it she did, a move that eventually landed her and her fellow publisher, Jane Heap, in court.
I recommend those who find this chapter unduly difficult to skip it and move on to the following one which is decidedly more engaging. Although this episode is worth persisting with, in fact nothing happens here that is essential to an appreciation of Joyce's masterwork. Ulysses is not like a regular novel where the story gradually builds up and requires that it be read sequentially. I confess, however, that I am now far less perplexed by this episode than I was when I first encountered it 45 years ago. Margaret Anderson was right. It contains some fine writing, poetic in tone, experimental in nature.
"Airs romped around him nipping and eager airs. They are coming, waves. The whitemained seahorses, champing, brightwindbridled, the steeds of Mananaan.
Paris rawly waking, crude sunlight on her lemon streets. Moist pith on farls of bread, the froggeeen wormwood, her matin incense, court the air".
Not a lot happens on Stephen's stroll along the beach. He tries walking with his eyes closed and wonders if he is "walking into eternity along Sandymount strand?" When he opens his eyes he sees unsurprisingly that the world was:- "There all the time without you: and ever shall be, world without end."
He considers visiting his aunt, but does not do so. We get a glimpse into Stephen's dysfunctional family, including his father's derogatory attitude towards his in-laws, which reflects the mind-set of Joyce's father, John Stanislaus Joyce.
Stephen sees two women on the beach and imagines them to be midwives come down to dispose of an afterbirth. He comes across some cocklepickers, the remains of a dog and a living canine sniffing around the carcass. He relieves himself and writes some lines of verse, using for paper the letter Deasy had given him in Episode 2 for publication in one of Dublin's newspapers.
Dedalus also reflects on his time in Paris and his encounters with the exiled and embittered Fenian, Kevin Egan, based on Joseph Casey, who had been jailed for his involvement in the rescue of two Fenian prisoners in Manchester in 1867, and was himself the subject of a failed escape from London's Clerkensell Prison. Here Joyce seems to be contrasting the frustrations of Egan's political exile with the necessities of his own artistic one.
And Stephen imagines the Vikings arriving in Dublin:
Galleys of Lochlanns ran here to beach, in quest of prey, their bloodbeaked prows riding low on a molten pewter surf.
And he muses at length about the sea:
A tide westering, moondrawn, in her wake. Tides, myriadislanded, within her, blood not mine, oinapa ponton, a winedark sea. Behold the handmaid of the moon. In sleep the wet sign calls her hour, bids her rise".
The poet, John Montague, writing many years after Joyce made great use of the Homeric phrase, 'winedark sea'.
"there is no sea
except in the tangle
of our minds
the wine dark
sea of history
on which we all turn
turn and thresh
and disappear."
Montague, who taught me English literature in Cork in the mid-1970s may have been thinking of the Proteus episode of Ulysses when he composed his poem. Joyce finishes his sea shanty with their image of
a drowned man "sunk beneath the watery floor" and a boat "moving through the air high spars of a threemaster, her sails brailed up on the crosstrees, homing, upstream, silently moving, a silent ship."
Thus ends the book's prologue of three chapters devoted to Stephen Dedalus, his mind full of ideas, snatches of foreign languages, literary and classical allusions. We now set sail for Eccles Street, home of Leopold and Molly Bloom, a couple with minds of their own, but with far more down-to-earth preoccupations. Our first introduction to them, over breakfast at their home, will be the subject of my next Ulysses blog.
Daniel Mulhall is Ireland's Ambassador to the United States.