Visiting Kansas City in 2019: in the footsteps of my 19 year-old self!
News
21 May 2019
When you're 19 years old it's impossible to imagine how your life will pan out over the next four decades. It's not something I thought much about at the time as I concentrated on completing my undergraduate studies at University College Cork. Looking back along the corridor of years behind me, the memory of the summer I spent in Kansas City when I was 19 has stayed with me. I recently retraced my steps there with an official visit to Kansas City, Topeka and Lawrence.

During this visit, I met with the Governor of Kansas, Laura Kelly, three of whose grandparents were born in Ireland and the fourth was of Irish descent. I also saw the fabulous Irish collection of Kansas University (much of it from the extensive archive of P.S. O'Hegarty who was active during the Irish literary revival and went on to become Secretary of Ireland's Department of Posts and Telegraphs), briefed members of the Kansas Economic Development Corporation, met with two US companies of interest to IDA Ireland as potential investors in Ireland, and addressed an audience of local businesspeople at Kansas City's International Trade Day.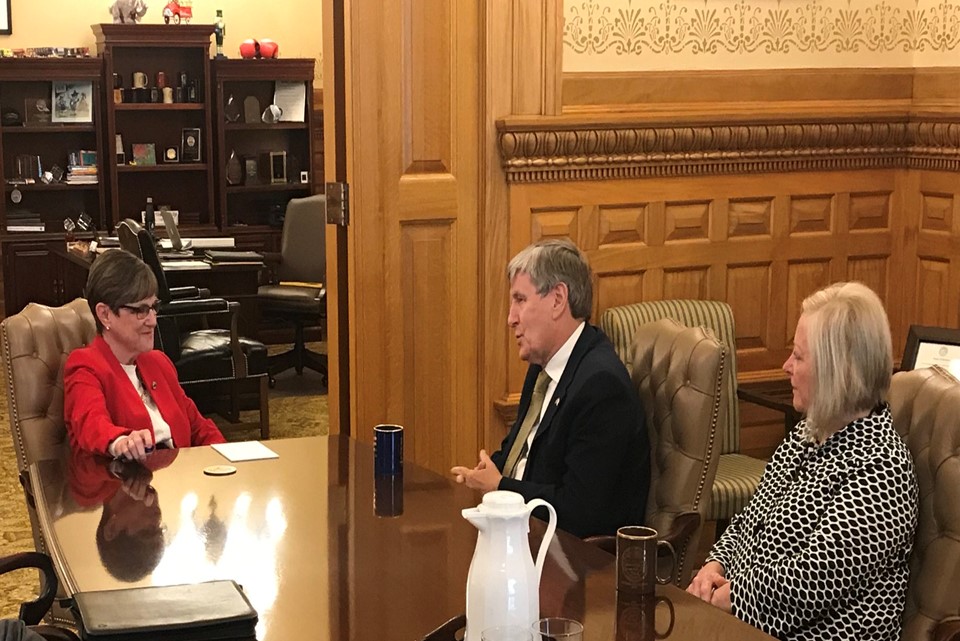 A highlight of my visit was attending a function at the impressive Kansas City Irish Center where it was heartwarming to meet so many Irish Americans with such a deep affection for Ireland. Kansas City's Irish community is one of the most proactive in the region; I was delighted to meet with Nancy Wormington who runs the Irish Center, with Kelli O'Neill who organises the huge KC Irish Fest every year (and her father Pat whose book 'From the Bottom Up – the Irish in KC' traces the story of how the Irish built the city) and with Melissa Rohr who successfully runs one of the largest St Patrick's Day parades in the Midwest.

While meeting the Kansas City Irish, I encountered real concern there (as I have done wherever I have met Irish Americans this past 20 months) about the potential implications of Brexit for Ireland. There was also very vocal support for the Irish Government in its determination not to countenance a hard border between North and South in Ireland.

I first came to Kansas City in 1974 on a J1 student visa (now known as the Summer Work Travel Programme). That was my first time out of Ireland and when I flew from Shannon to Chicago and on to Kansas City, I had my first taste of air travel!

I still recall the air of excitement at Shannon as so many of my student contemporaries embarked on what was in most cases their first overseas venture. They were destined for various parts of the US, but mainly the Northeast and the Mid-West. My fellow UCC student, Liam Fennelly, and I were unusual in having Kansas City as our destination.

We had chosen Kansas City because we were able to get sponsors there, two wonderful Irish Americans, Eddie Aylward and John J. Sullivan Jr, with Waterford and Kerry roots respectively. On this return visit, I was delighted to be able to meet some of their relatives. John Sullivan's cousin, John Houlihan, and his niece, Susan Henke, turned up to meet me as did, Eddie Aylward's sister, Rose (Aylward) Ferguson and his niece, Ann Aylward.

My summer in Kansas City as a 19 year old away from Ireland for the first time, was a formative experience. I got to know America in ways that would not have been possible as a tourist.

Liam and I found a job at a local diner, Winstead's, where we got to know many Americans of all ages and backgrounds. I was impressed with their work ethic and a willingness to take on more than one job in order to advance themselves.

One fellow worker told me in a strong southern drawl how she loved the way I spoke. When I returned the compliment by expressing admiration for her accent, she replied that she didn't have an accent! This taught me that we are all unique in our different ways and that we tend to think of our own experience as the norm.

I was delighted to be able to visit Winstead's and meet some of the staff there. They invited me into the kitchen where I had worked, which looked largely unchanged. It is a remarkable tribute to this diner that it is still in a business 45 years after I had worked there. Having lunch there brought back many memories and it was very good of Sly James, the Mayor of Kansas City, to join me for a Double Winstead Steak Sandwich and a milk shake (another thing I sampled for the first time in KC).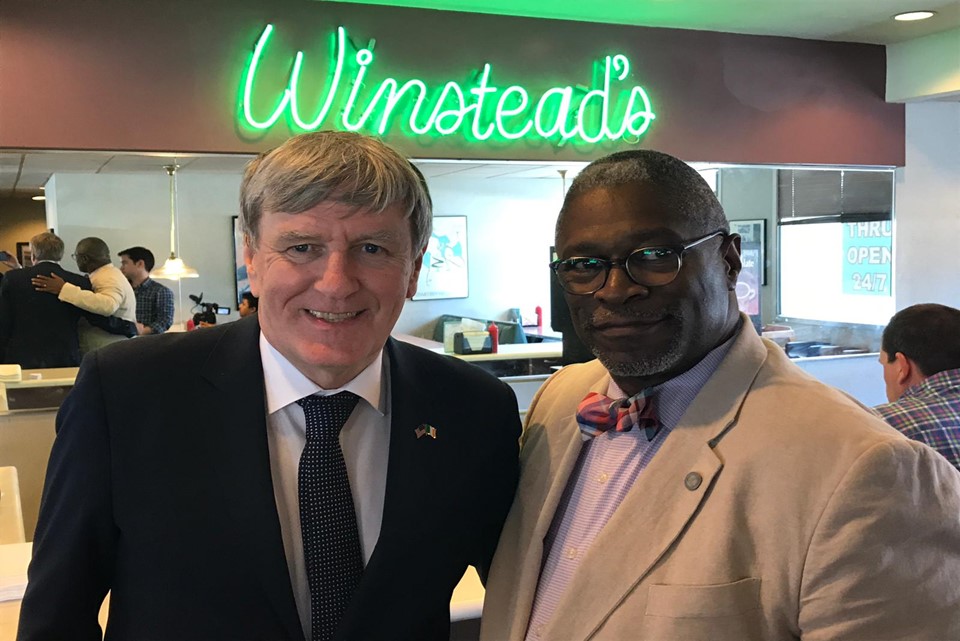 The kindness of Eddie Aylward and John Sullivan gave me my first experience of Irish American hospitality and their enduring interest of Ireland. Two successful professional men at the peak of their careers in the law and banking, they did not need to give us more than passing attention. Instead they took us in hand and made sure we had a memorable time in Kansas City. Through their great generosity, it was in Kansas City that I attended my first baseball game and my first American football game. During the intervening years, I have kept a friendly eye on the progress of the Royals and the Chiefs!

It was in 1974 that I took my first American road trip when John Sullivan gave us a car he was gifting to an Irish priest in New Mexico. We travelled all the way from Kansas City to Denver where we rendezvoused with the priest and swapped this newer car for his older model in which we returned to our home base 600 miles to the east.

I spent that summer staying at Rockhurst College, now Rockhurst University, a fine Jesuit institution in the centre of Kansas City. I attended a few lectures there, but did not take any courses. Most students were away for the summer, but we befriended a number of young men from Guam who had rooms adjacent to ours. Needless to say, it was fascinating for two UCC students to meet contemporaries from such different backgrounds and a part of the world about which we knew very little.

In those days before the advent of RTE's 2FM, one of the things I enjoyed most about my time in Kansas City was listening to FM radio stations. Such simple pleasures! The Common Room at Rockhurst had the local FM station on speaker for most of the day and at night my pocket radio kept me entertained. The American band I discovered there was Steely Dan for whose music I have retained a lifelong enthusiasm. Hearing 'Rikki don't lose that number' still has the capacity to transport me back to my J1 summer in America.

I was delighted to meet the University's Irish staff, including Professor John Kerrigan who runs a book club at the Irish Center book club. During my visit, I joined their reading of Joyce's Ulysses, a copy of which I bought at the University of Missouri's bookshop in 1974, and which I still have in my possession! Another Rockhurst academic, Dublin-born Professor Brendan Sweetman, holds the John J. Sullivan Chair in Philosophy, endowed by my generous mentor from 1974.

Perhaps the most moving moment of my return visit to Kansas City was when I visited 'Browne's Irish Marketplace', a remarkable shop in Kansas City which carries an amazing range of Irish products. It has the distinction of being the oldest Irish business in America. Its current proprietor, Kerry Browne, carries on her family tradition with flair and dedication. I happened to mention to her that in 1974 I had been mentored by John Sullivan, to which she replied, 'O, Uncle John'. It turned out that her father was a close friend of John Sullivan's and that her aunt, Patti Browne, of whom I had fond memories from 1974, later married John Sullivan. What an extraordinary and happy coincidence.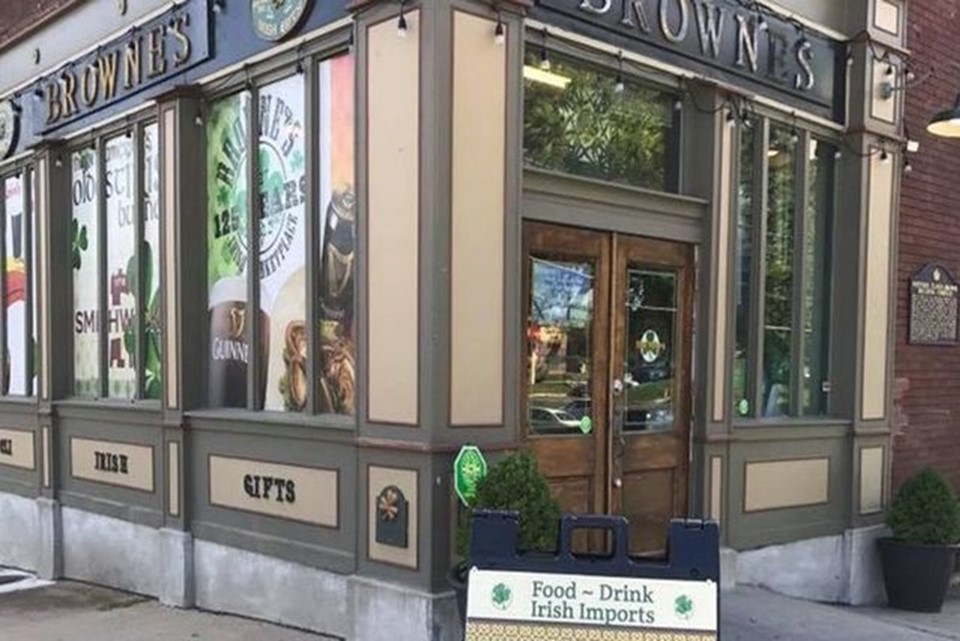 This walk down memory lane in Kansas City was enjoyable and moving. People I met frequently asked if I thought Kansas City had changed much in 45 years. I am sure that it has, but I know that I certainly have changed. A lot!

My time in Kansas City left me with a lifelong interest in America and all things American. As the years passed, I began to think that I would never again live in America, but in August 2017 I began my assignment as Ambassador and have enjoyed every moment of what is a challenging and exciting posting. I have travelled around America a lot this past 20 months meeting Irish communities and engaging with political, cultural and business organisations in order to deepen and diversify Ireland's already close ties with the USA.

I am just one of 150,000 Irish people who have participated in this programme since its inception in 1966. Like me, these young Irishmen and women at the start of their adult lives have been able to get a close up knowledge of America. I hope that current and future participants in the Summer Work Travel Programme will gain the kind of experience I had in Kansas City in 1974, and that it will have a positive, lasting impact on them as it has had on me.

Daniel Mulhall is Ireland's Ambassador in Washington