Ulysses Blog by Ambassador Mulhall, Episode 5, Lotus Eaters
Blog
08 May 2019
"I am now writing a book based on the wanderings of Ulysses. The Odyssey, that is to say, serves me as a ground plan. Only my time is recent time and all my hero's wanderings take no more than eighteen hours". - James Joyce talking to his friend, Frank Budgen, in 1918

In this episode of the novel, Joyce's 20th century Ulysses, Leopold Bloom, begins his wanderings around Dublin, which will continue late into this June night in 1904. Known as 'Lotus Eaters', it occupies just 22 pages in the edition I am using. This is a thoroughly readable and accessible piece of writing. There is little here that will befuddle the attentive reader.

When we parted with Bloom at the end of the 'Calypso' episode, he was about to leave his home in Eccles Street. By the time we meet him again an hour or so later, he has bought a copy of the Freeman's Journal newspaper, crossed to the south side of the River Liffey and is walking along Sir John Rogerson's Quay past Windmill Lane, and up towards Great Brunswick Street (now Pearse Street) and Westland Row. In these pages, we are able to trace Bloom's journey through Dublin. This is because Joyce gives us plenty of information about his hero's whereabouts, mentioning street names and individual landmarks. This is the first episode of Ulysses where it pays to consult a map of Dublin.
The unusual warmth of the day, and his perusal of the teas on display in the window of the Belfast and Oriental Tea Company, prompts in Bloom an oriental rhapsody reminiscent of what we got from him in the previous episode during his walk to Dlugacz's to buy a kidney.
"The Far East. Lovely spot it must be: the garden of the world, big lazy leaves to float about on, cactuses, flowery meads, snaky lianas they call them. Wonder is it like that. Those Cinghalese lobbing about in the sun, in Dolce far niente. Not doing a hand's turn all day. Sleep six months out of twelve. Too hot to quarrel. Influence of the climate. Lethargy. Flowers of idleness."

In Homer, Odysseus and his ships arrive in the land of the Lotus Eaters where they are treated kindly and offered lotus leaves to eat. Odysseus's sailors who ate "the honey-sweet fruit of lotus .. wanted to stay there with the lotus-eating people, feeding on lotus and forget the way home." Odysseus had to force his sailors back to their ships and keep them away from the taste of the lotus. Joyce is clearly suggesting that Dublin is a lethargic place from whose effects Bloom will have to struggle to escape, just as Joyce did when he left Ireland for Trieste in 1904.
We accompany Bloom to a post office where he picks up a letter from Martha Clifford, with whom, under the pen name of Henry Flower, he is conducting a flirtatious, clandestine correspondence, thus going some way towards matching Molly's looming infidelity with Blazes Boylan, which is never far from Bloom's thoughts. "Queen was in her bedroom eating bread and . . . Dark lady and fair man."
Bloom is exceptionally furtive about his dalliance with Martha, and insists on finding an out-of-the-way place near the railway station where he can quietly read her letter, whose comparatively innocent contents ("So now you know what I will do to you, you naughty boy, if you do not write") clearly titillate him.
"Then, walking slowly forward, he read the letter again, murmuring here and there a word . . . Weak joy opened his lips."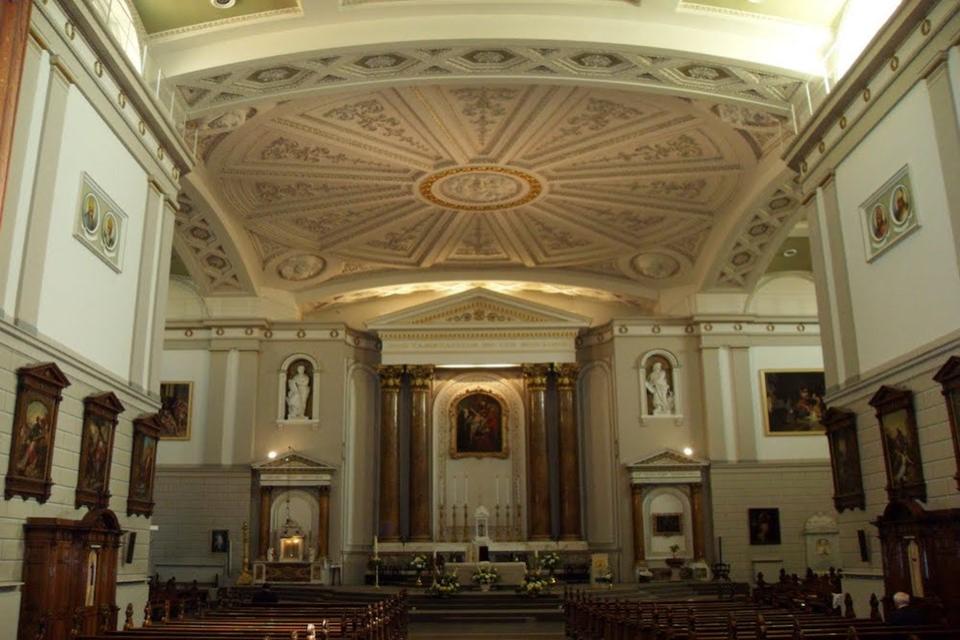 Bloom visits a church on Westland Row where we are treated to our first really extended interior monologue as Bloom muses about religion and the Catholic Church. Called All Hallows in the novel, this is actually St. Andrew's Church where Joyce himself was baptised as were two other significant Irish writers, the 19th century poet and songwriter, Thomas Moore and the garrulous 20th century playwright and novelist, Brendan Behan.
I have walked past this fine building hundreds of times on my way to and from the nearby railway station. I visited it recently and found that the church's connection with Ulysses is highlighted there. This might seem strange given Joyce's religious scepticism, a quality shared with Bloom, but it reflects the manner in which Ulysses has come to be seen as a treasured part of Dublin's cultural patrimony.

Observing the congregation receiving communion, Bloom, who is a baptised Catholic but evidently a completely disconnected one, is intrigued.

"Good idea the Latin. Stupefies them first. Hospice for the dying. They don't seem to chew it; only swallow it down. Rum idea: eating bits of a corpse . . ."

Bloom also expresses his admiration for the church's institutional ingenuity and its financial acumen.
"Squareheaded chaps those must be in Rome: they work the whole show. And don't they rake in the money too?"

As a not very successful advertisement salesman, Bloom often shows a keen interest in money-making, as in this episode when he marvels about the earning power of the Guinness family.
"Shows you the money to be made out of porter . . . A million pounds, wait a moment. Twopence a pint, fourpence a quart, eightpence a gallon of porter, no, one and fourpence a gallon of porter. One and four into twenty: fifteen about. Yes, exactly. Fifteen millions of gallons of porter."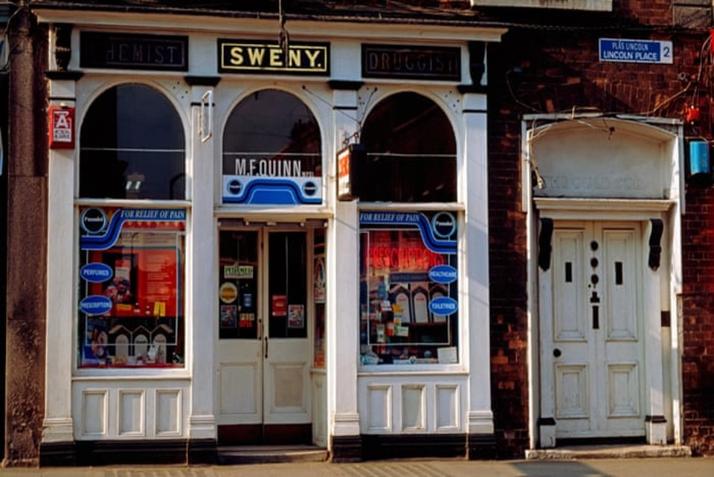 Bloom's visit to Sweny's pharmacy on Lincoln Place to order a skincare preparation for Molly has left a delightful legacy in today's Dublin. On a recent visit, I popped into Sweny's and met the people there who have turned it into a living shrine to James Joyce. It still has the look of an early 20th century pharmacy, but it is filled with books and Joyce memorabilia. They host regular readings of Joyce's work and I was able to buy a bar of the same soap Bloom picked up there in the novel.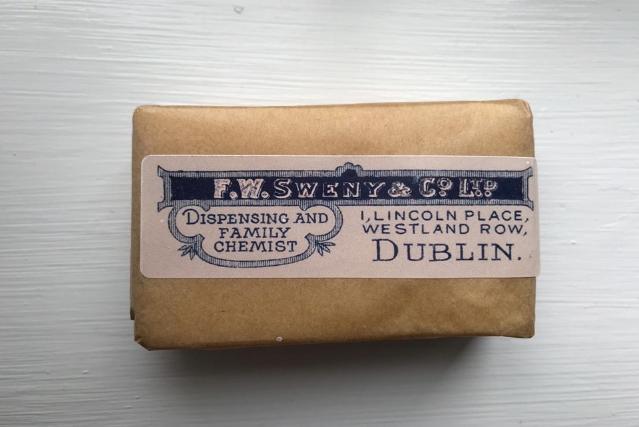 In this episode, Bloom has encounters with two typical Dubliners, C.P. McCoy and Bantam Lyons before heading for the Turkish baths. His conversations with McCoy and Lyons highlight how out of sync Bloom is with many of those he encounters during his wanderings around Dublin. He has no time for either man. McCoy irritates him when he tries to compare his wife's singing career with Molly's. Bloom is having none of it. He dismisses Fanny McCoy as a "reedy soprano. Cheeseparing nose. Nice enough in its way: for a little ballad. No guts in it." Bloom has even less patience with Lyons. "He sped off towards Conway's corner. God speed scut."
As Bloom engages in an inconsequential exchange with McCoy, his attention is stirred by a woman boarding a carriage across the street.
"Off to the country: Broadstone probably. High brown boots with laces dangling. Wellturned foot. .. Sees me looking. Eye for other fellow always. Good fallback. Two strings to her bow."

Bloom's conversation with Bantam Lyons is more consequential. This has nothing to do with the substance of their conversation, but with its resonance later in the book. Lyons wants to consult Bloom's newspaper for information about that day's Ascot Gold Cup. When Bloom offers to give him the paper and says that he was about to throw it away, Lyons takes this to be a cryptic tip for a horse, Throwaway, which went on to win the Gold Cup. The mistaken notion that he had chosen the winner of the race but had not shared his insight more widely earns Bloom the animosity of those who will gather in Barney Kiernan's pub later in the day as captured in the Cyclops episode of the novel.

The Lotus Eaters episode concludes with one of Bloom's characteristic raptures, this time at the prospect of taking a Turkish bath.

"He foresaw his pale body reclined in it at full, naked, in a womb of warmth, oiled by scented melting soap, softly laved. He saw his trunk and limbs riprippled over and sustained, buoyed lightly upward, lemonyellow: his navel, bud of flesh: and saw the dark tangled curls of his bush floating, floating hair of the stream around the limp father of thousands, a languid floating flower."
In this episode, we see Bloom out and about on the streets of Dublin doing everyday things, collecting mail, talking to acquaintances, visiting a church and buying some soap. We learn about his secretive nature and his aloofness from the daily life of the city in which he lives. Most of all, we extend our knowledge of the intriguing life of Bloom's mind with its combination of workaday preoccupations, quirkiness and flights of fancy.
Daniel Mulhall is Ireland's Ambassador to the United States