Ulysses Blog by Ambassador Mulhall, Episode 6, Hades
News
11 July 2019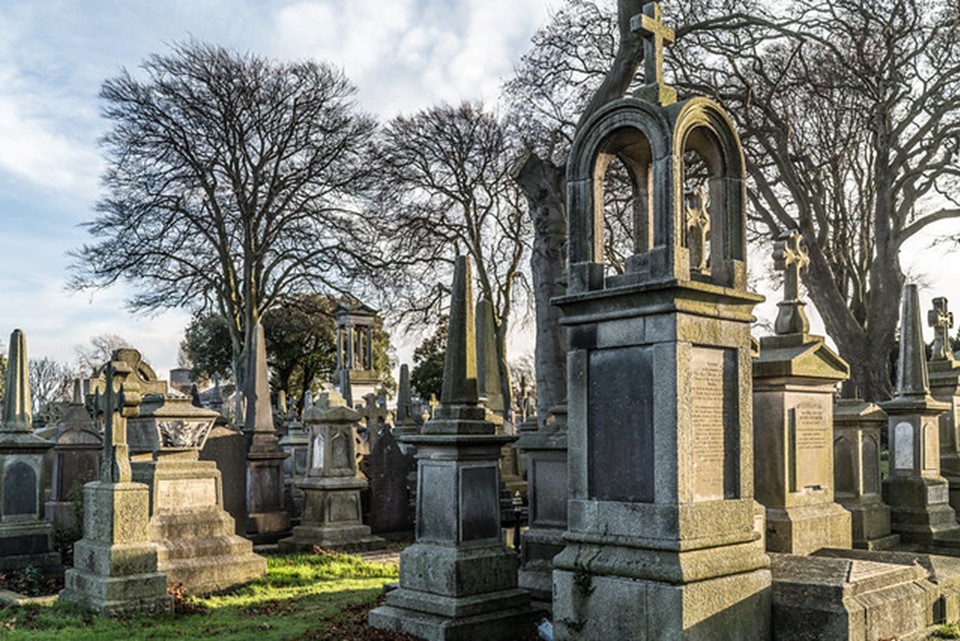 "I understand that you may begin to regard the various styles of the episodes with dismay and prefer the initial style much as the wanderer did who longed for the rock of Ithaca. But in the compass of one day to compress all these wanderings and clothe them in the form of this day is for me possible only by such variation which, I beg you to believe, is not capricious." - James Joyce in a letter to Harriet Weaver, 20 July 1919
In Episode 6 of Ulysses, the method Joyce uses is in no way intimidating and should cause the average reader no dismay. In fact, it's a lively, entertaining piece of writing, whose style is descriptive and conversational.
Joyce's decision to devote an entire chapter of his novel to a funeral was a daring one. It reflects his determination to engage with the world around him in all of its dimensions. In this Hades episode he looks life and death in the face with unflinching candour.
These pages dwell on Leopold Bloom's attendance at the funeral of Paddy Dignam ("as decent a little man as ever wore a hat") in Glasnevin Cemetery. This episode sparkles with lively conversation as we accompany Bloom and three fellow mourners, Martin Cunningham, Jack Power, and the inimitable Simon Dedalus from Sandymount to Glasnevin.
On this journey, we learn more about the death in infancy of Bloom's son, Rudy, and how heavily this still weighs on him. We also hear about the suicide of Bloom's father in a hotel in County Clare and get a glimpse of how Molly is seen by others, in this instance John Henry Menton.
"She was a finelooking woman. I danced with her, wait, fifteen seventeen golden years ago, at Mat Dillon's in Roundtown. And a good armful she was."
And we learn about how Bloom is resented by some of his fellow Dubliners on account of his Jewish heritage, a theme that Joyce will come back to in subsequent episodes of Ulysses.
Bloom's three companions are all quick-witted Dubliners, well able to turn out a sharp, idiomatic phrase ("he's dead nuts on that" - Power, "the devil break the hasp of your back" - Dedalus, "Reuben and son were piking it down the quay" - Cunningham) while Bloom is more reserved and long-winded. He botches a story he tries to tell about the moneylender, Reuben J. Dodd, whose son jumps into the Liffey and has to be fished out by a boatman for which his father paid him a Florin (two shillings). This was one and eight pence too much in Dedalus's acidic opinion! Martin Cunningham steps in to tell the tale more pithily.
The mourners' passage through Dublin is vividly described: "The carriage, passing the open drains and mounds of rippedup roadway before the tenement houses, lurched round the corner and, swerving back to the tramtrack, rolled on noisily with chattering wheels." There is the usual Joycean attention to detail as various roads and landmarks are noted.
The carriage passes the house "where Childs was murdered". This refers to a notorious Dublin murder case from 1899 in which the 17 year old Joyce had taken an active interest, attending all three days of the trial of Samuel Childs for the brutal murder of his brother, Thomas for which Childs was acquitted. The late Justice Adrian Hardiman, a former member of Ireland's Supreme Court, has written about the Childs case in his book, Joyce in Court: James Joyce and the Law, in which he makes the point that 32 legal cases are featured in Ulysses, none more often than the Childs case which, he says, is referred to more than twenty times.
Simon Dedalus, Stephen's father in the novel, is based on Joyce's father John Stanislaus Joyce. His biographers describe the elder Joyce as "a good companion, a relisher and raconteur of life, a font of humour, a blasphemer, a drinker of mythological stature", while his own son saw him as "a praiser of his own past." Yet, after his father's death, Joyce told Harriet Weaver that: "I was fond of him always, being a sinner myself and even liked his faults". As Colm Tóibín puts it, in his study of the fathers of Wilde, Yeats and Joyce: "In his work, James Joyce sought to recreate his father, reimagine him, fully invoke him, live in his world, while making sure that from the age of twenty-two . . . he did not see him much." (Mad, Bad, Dangerous, p. 135)
And in this episode, we get a good glimpse of Simon Dedalus and his biting tongue. By Leopold Bloom's reckoning, he is "a noisy selfwilled man." Dedalus sees Buck Mulligan as a bad influence on Stephen. "That Mulligan is a contaminated bloody doubledyed ruffian by all accounts. His name stinks all over Dublin . . . I'll tickle his catastrophe believe you me." (Joyce took this latter phrase from Shakespeare's Henry the 4th, part 1).
As the uncomfortable carriage ("Corny might have given us a more commodious yoke") makes its way through the streets of Dublin, various people are spotted on the street, including Blazes Boylan, who is out "airing his quiff". We know from earlier episodes that Boylan is Molly Bloom's concert promoter and her lover. Bloom obsesses all day about Molly's impending tryst with Boylan which he knows is due to take place at 4 pm.
Bloom wonders what Molly sees in Boylan.
"Is there anything more in him that she sees? Fascination. Worst man in Dublin. That keeps him alive. They sometimes feel what a person is. Instinct. But a type like that."
The conversation continues in this lively vein when the mourners reach Glasnevin.
"How are you, Simon? Ned Lambert said softly, clasping hands. Haven't seen you for a month of Sundays.
— Never better. How are all in Cork's own town?
— I was down there for the Cork park races on Easter Monday, Ned Lambert said. Same old six and eightpence. Stopped with Dick Tivy.
— And how is Dick, the solid man?
— Nothing between himself and heaven, Ned Lambert answered.
— By the holy Paul! Mr Dedalus said in subdued wonder. Dick Tivy bald?"
In this episode, we get our most extended look yet into the recesses of Bloom's mind where we are treated to some grimly humorous graveyard musings. As his carriage arrives at the cemetery, this is what runs through his head.
"Coffin now. Got here before us, dead as he is. Horse looking round at it with his plume skeowways . . Do they know what they cart out here every day? Must be twenty or thirty funerals every day. Then Mount Jerome for the protestants. Funerals all over the world everywhere every minute. Shovelling them under by the cartload doublequick. Thousands every hour. Too many in the world."
Bloom has no time for the consoling sentiments expressed at funerals that are designed to touch our hearts.
"Your heart perhaps but what price the fellow in the six feet by two with his toes to the daisies? No touching that. Seat of the affections. Broken heart. A pump after all, pumping thousands of gallons of blood every day. One fine day it gets bunged up: and there you are. Lots of them lying around here: lungs, hearts, livers. "
As in the 'Lotus Eaters', Bloom shows a careless disdain for the Catholic Church of which he is nominally a member.
"Father Coffey. I knew his name was like a coffin. Domine-namine. Bully about the muzzle he looks. Bosses the show. Muscular christian. Woe betide anyone that looks crooked at him: priest. Thou art Peter. Burst sideways like a sheep in clover Dedalus says he will. With a belly on him like a poisoned pup. Most amusing expressions that man finds. Hhhn: burst sideways. "
After Paddy Dignam is laid to rest, the mourners take note of the graves of two prominent 19th century Irishmen, Daniel O'Connell (1775-1847) and Charles Stewart Parnell (1845-1891). For anyone who visits Glasnevin, and it is well worth doing so, O'Connell's resting place is unmissable, for this titan of 19th century Irish politics is entombed inside an Irish round tower. O'Connell, who brought about the first great reform of the British Parliament when he secured Catholic Emancipation in 1829, helped to found the cemetery where he is interred.
While O'Connell does not feature very heavily in Joyce's work, the same cannot be said of Parnell, who is alluded to in A Portrait of the Artist as a Young Man, in Dubliners and in Ulysses. John Stanislaus Joyce was a big supporter of Parnell and passed this enthusiasm on to his son. Parnell also makes several appearances in the work of W.B. Yeats. Parnell's extraordinary political ascent and the circumstances of his fall from grace when he was named in a divorce case, clothed him in mystique.
The Bishops and the Party
That tragic story made
…
But stories that live longest
Are sung above the glass,
And Parnell loved his country
And Parnell loved his lass. - Yeats
Ulysses is set in 1904 about halfway between the death of Parnell in 1891 and the upheavals of Ireland's revolutionary era in the years after 1916. James Joyce belonged to the generation that engineered Ireland's political transformation during the years (1916-1921) when he was busy writing his great novel. Joyce was born just three years after 1916 leader, Patrick Pearse, who tried in vain to teach him Irish, and in the same year as Eamon de Valera who became the dominant figure in 20th century Irish politics. But, in 1904, when Ulysses is set, Parnell's legacy still loomed large as we can see from Joe Hynes's devotion to him in this Hades episode and in Joyce's short story, 'Ivy Day at the Committee Room' in which Hynes also appears.
All you need to know about the Homeric parallels in this instance is that Hades is the abode of the dead which Odysseus visits during his journey back to his home in Ithaca. Here Bloom visits Dublin's realm of the dead at Glasnevin. Hades has four rivers and these are paralleled by the Grand Canal, the Liffey, the Dodder and the Royal Canal, all of which the funeral cortege crosses on its way to Glasnevin.
After Bloom's prolonged meditation on death, this episode of Ulysses ends on a positive note as he expresses his continued lust for life: "Back to the world again. Enough of this place. Brings you a bit nearer every time . . . Plenty to see and hear and feel yet. Feel live warm beings near you. Let them sleep in their maggoty beds. They are not going to get me this innings. Warm beds: warm fullblooded life."
Despite all the adversities that beset him - his son's death, his father's suicide, his wife's infidelity, his lack of commercial success, and the resentment directed at him by his fellow Dubliners - Leopold Bloom is ultimately a life-affirming character - and Ulysses a life-affirming novel.
Daniel Mulhall is Ireland's Ambassador to the United States