EU Jobs for Irish People
Ireland has a proud history of being well-represented at all levels in European Union institutions and agencies. These Irish EU officials have made a real and lasting impact on peoples' lives. For this to continue, the EU needs more Irish people to apply for jobs.
Why work for the EU?
Whatever your background, the EU Institutions offer the chance to pursue a unique career where you can make a meaningful difference to 500 million citizens from across the Union. The scope of work is exceptional, as are the opportunities for career development and progression.
Who are the Irish in the EU?
A great way to learn more about working as an EU official is to look at what the Irish are doing in the EU today. You can watch video testimonials on the 'Irish Voices – EU Careers' portal or read the profiles of the 'International Irish' on the GradPublicJobs.ie website.
Where to apply?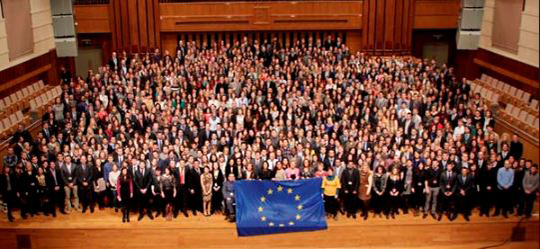 The European Personnel Selection Office (EPSO) is the central recruitment authority for the EU institutions. EPSO organises competitions to select both permanent and temporary EU officials. All information pertaining to specific competitions is provided on the EPSO website.
Recent graduates or early career professionals should consider one of the many excellent traineeship opportunities on offer across the EU institutions.Taking a traineeship, or 'stage', with one of the EU Institutions is a great way to gain experience of working for an EU institution and can act as the launch pad to an EU career.
Now that Irish language translation is being brought onto an equal footing with other official EU languages, the opportunities for Irish language experts to work for the EU institutions have grown. The institutions are reinforcing their teams of linguistic assistants and translators to help them implement a full Irish language regime.
Finding Support?
The number and variety of opportunities on offer, can make it difficult to know where to start. The www.dfa.ie/eujobs and GradPublicJobs.ie websites have been designed with just this in mind and have a wealth of information about EU careers.
The EU Jobs campaign is there to support Irish candidates and provides direct assistance for specific competitions. For example, candidates registered for the main EU generalist 'concours' can avail of dedicated information and training services ahead of the assessment centre stage of the competition. Please send an email to EUJobsBrussels for further information.
Irish Public Officials with questions about secondment opportunities with the EU (including the Seconded National Expert and National Expert in Professional Training schemes) should first contact the Human Resources Division of their employer. Following this, if further information of a technical nature is required from the EU Institutions, please contact EUJobsBrussels.
The www.dfa.ie/EUjobs webpage is dedicated to supporting Irish citizens interested in pursuing a career in the EU institutions by providing a range of information services.