Symposium to mark 60 years of Ireland's membership of the UN
On the afternoon of Thursday 17 December, the Minister for Foreign Affairs and Trade of Ireland, Charles Flanagan T.D. hosted a Symposium to mark the 60th Anniversary of Ireland's membership of the United Nations. This flagship event was the culmination of a special commemorative programme celebrating this anniversary.
The Anniversary programme was launched in May 2015 by United Nations Secretary General Ban Ki-moon during his visit to Ireland, and has involved a series of events, reflecting on the contribution that Ireland has historically made, and continues to make, to the United Nations.
The Symposium, opened by Minister for Foreign Affairs and Trade, Mr. Charles Flanagan T.D., included former President of Ireland Mary Robinson, UN Special Representative for International Migration Peter Sutherland, and former UN Secretary General Kofi Annan.
Scheduled the same week as the 60th anniversary of the day that Ireland joined the United Nations (December 14, 1955), the theme of the event was "Learning from the Past, Preparing for the Future".
‌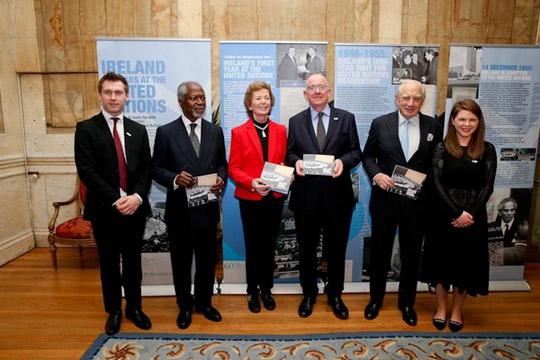 Dr Kate O'Malley, Royal Irish Academy, introduced a specially commissioned Anniversary Exhibition. Launched at the UN Headquarters, New York in September 2015, the Exhibition focuses on Ireland's first years at the United Nations (December 1955 to March 1957), with original photographs and texts from the time. It concentrates on the 10th and 11th Sessions of the United Nations General Assembly but also links to Ireland's achievements since 1955 and current priorities at the UN. A commemorative booklet on the exhibition was published by the Royal Irish Academy.
‌Dr. David McCullagh moderated a panel discussion with United Nations Special Envoy of the Secretary General on Climate Change, Mary Robinson, United Nations Special Representative of the Secretary General for International Migration, Peter Sutherland and former United Nations Secretary General, Kofi Annan reflected on the key issues facing the United Nations over the next 10 years.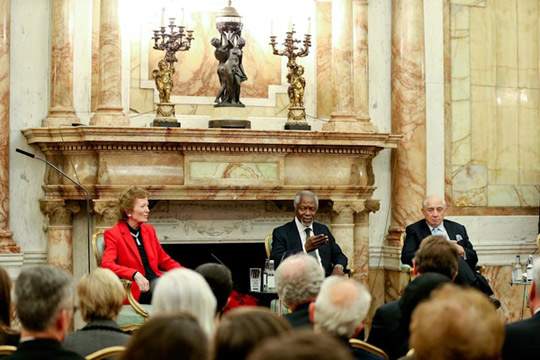 The panel discussion closed with the moderator giving the last word to young people. Ireland's first UN Youth Delegates, Eoin O'Liatháin from Dublin and Orla Murphy from Cork, (who were part of Ireland's official delegation at the 70th General Assembly of the United Nations) were part of the audience and invited to make a brief closing reflection from the floor on the role of young people in the future of Ireland at the United Nations.
The Symposium was attended by diplomatic representatives of 8 other states that joined the UN on the same day as Ireland along with academics, civil society organisations, youth representatives, and serving and retired officials.
The full video of the proceedings can be viewed on our YouTube Channel.