Ireland America Science Forum – Founding Women in STEM
Event
04 February 2020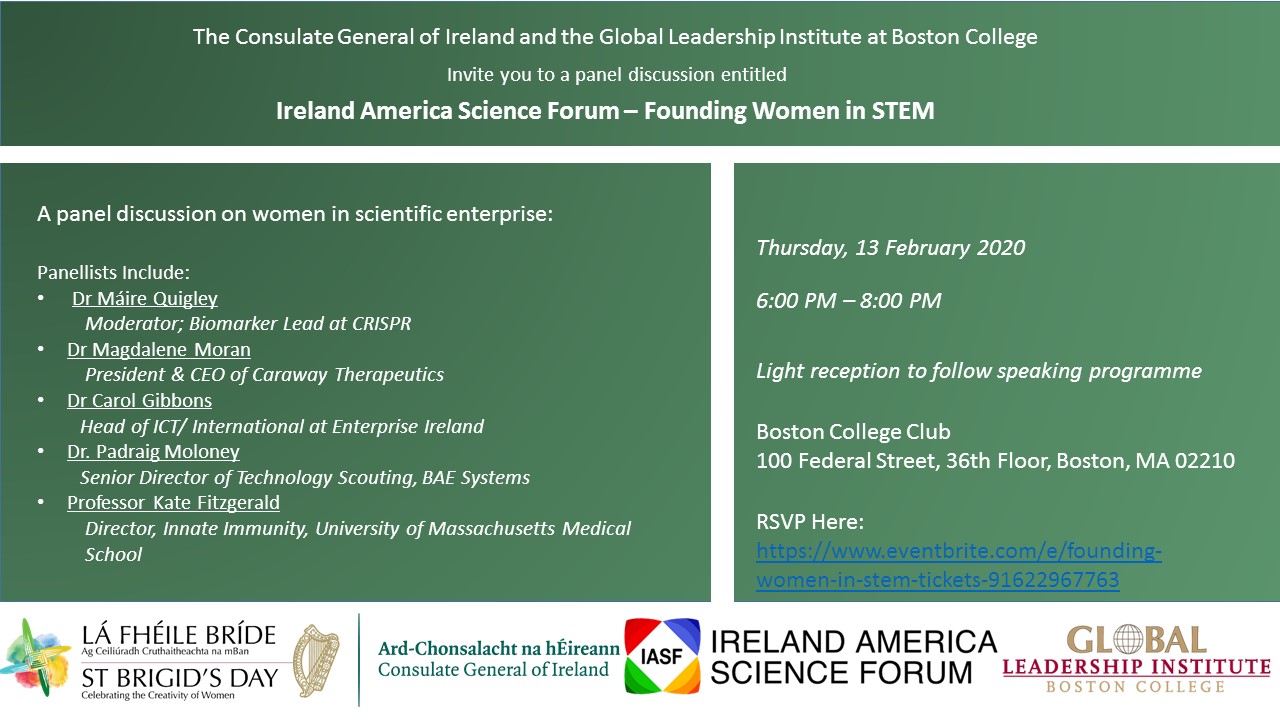 In partnership with the Ireland America Science Forum and the Global Leadership Institute at Boston College, please join us at on 13 February for a panel discussion and networking reception entitled:
Ireland America Science Forum – Founding Women in STEM.
An excellent chance to hear an expert panel discuss the opportunities available to, and challenges that confront, women in scientific enterprise. The event will also feature a discussion about Ireland's "Action Plan for Women".
Panellists include:
Dr Máire Quigley, Director, CRISPR Therapeutics
Dr Magdalene Moran, President & CEO of Caraway Therapeutics
Dr Carol Gibbons, Head of ICT/ International at Enterprise Ireland
Dr. Padraig Moloney, Senior Director of Technology Scouting, BAE Systems
Professor Kate Fitzgerald, Director, Innate Immunity, University of Massachusetts Medical School
This event will also highlight discussions on the leadership that women have shown in scientific enterprise in Ireland and the United States, as well as emerging opportunities created in Ireland to support women in STEM.
This event will be held at Boston College Club (100 Federal St., 36th Floor, Boston, MA 02210), on 13 February from 6:00 – 8:00 PM.
Registration is free and open to the public, however, space is limited and registration is mandatory.
Please register your attendance via this link: https://www.eventbrite.com/e/founding-women-in-stem-tickets-91622967763