Minister Michael McGrath visits Bay Area
News
21 March 2022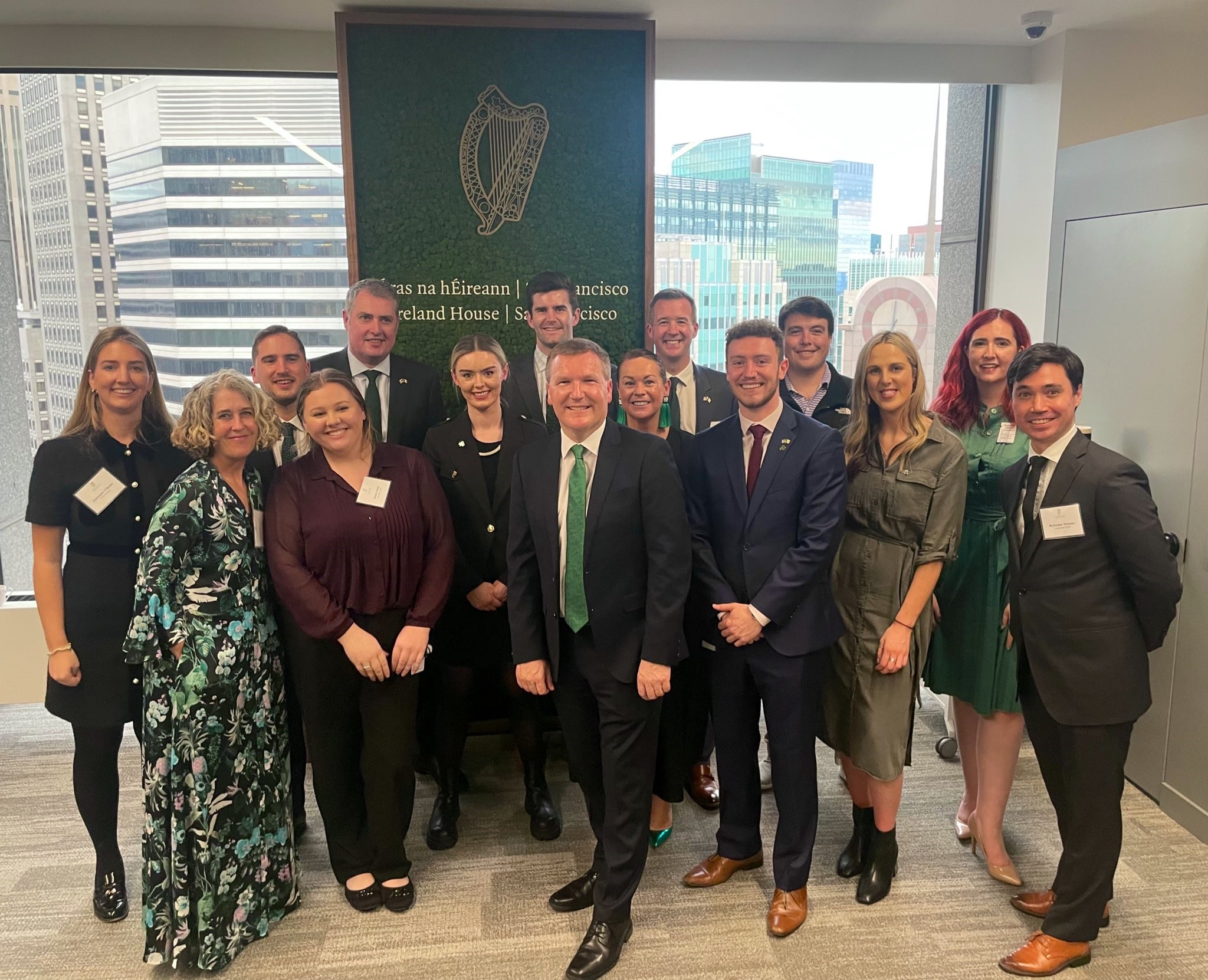 Minister Michael McGrath and team members from Enterprise Ireland, Tourism Ireland and the Consulate General of Ireland at Ireland House San Francisco.
Ireland's Minister for Public Expenditure and Reform Michael McGrath T.D. travelled to the San Francisco Bay Area from March 14 to 16 for a programme packed with community events and political and economic meetings. The Minister was also the keynote speaker at the official opening of Ireland House San Francisco, which houses offices for Enterprise Ireland, Tourism Ireland and the Consulate General of Ireland as well as shared event space on the same floor.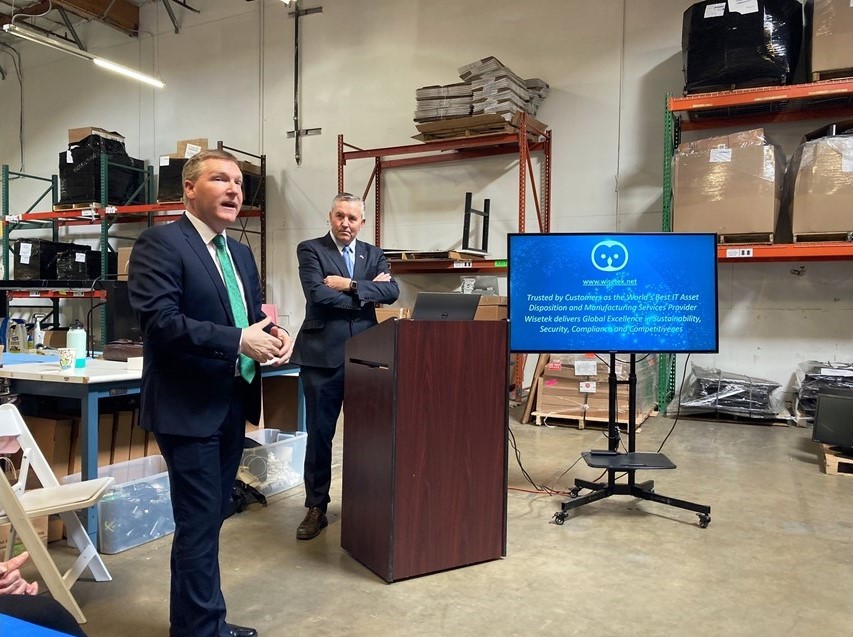 The visit kicked off early on Monday in Sacramento, the State Capitol of California, with a visit to Cork-headquartered company, Wisetek. Wisetek, an Enterprise Ireland client company, supports businesses that adhere to e-waste management best practices and embrace a more circular economy model for sustainable IT re-use. Wisetek have scaled their operations in California over the last two years with fifty people now employed at their Sacramento facility.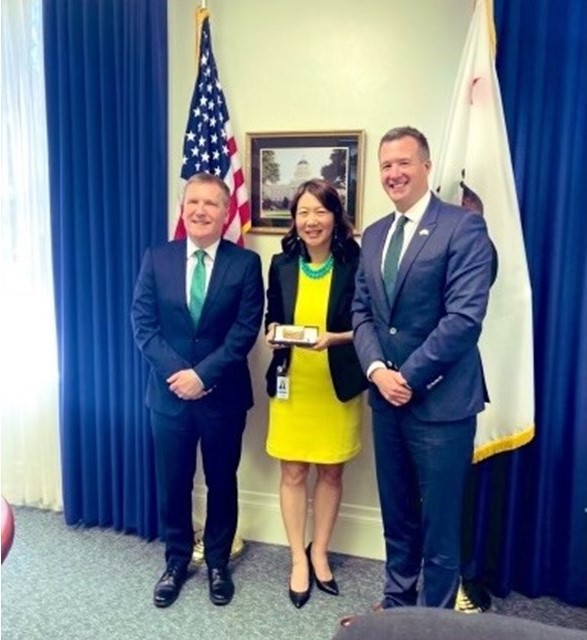 There is a long history of legislators of Irish heritage in Sacramento and Roscommon-native John Downey remains one of only two non-U.S. born Governors of the Golden State (Governor Schwarzenegger being the other). The Minister's visit included a meeting with Amy Tong, the California Secretary of the Government Operations Agency and her team for an exchange on technology and delivery of public services. The Minister also met with the Minority Leader of the State Assembly, Assemblymember James Gallagher, after which he visited the impressive State Capitol building and was welcomed on the floor of the State Assembly for the Irish Proclamation (01:32:00) read out by Speaker Pro Tempore Assemblymember Kevin Mullin. The Minister had an opportunity later in the day to meet with other members of California's Irish Legislative Caucus where he thanked them for their on-going interest in and support for Ireland and Irish issues.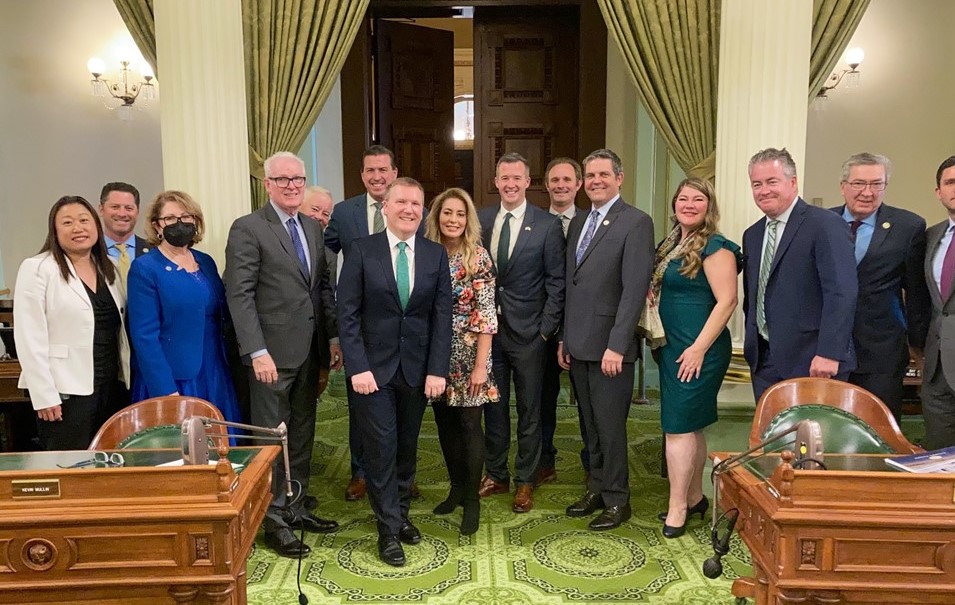 The Minister arrived back in San Francisco for the official opening of Ireland House San Francisco which included a ribbon cutting ceremony and reception with musical performances by Amelia Hogan and Michael Black. Minister McGrath, along with Barbara Wood from Tourism Ireland, Tom Cusack from Enterprise Ireland, Consul General Robert O'Driscoll, Vice Consul Doireann O'Brien and Joanne Hayes-White cut the ribbon officially opening Ireland House! The Ireland House opening also showcased over twenty Irish whiskeys that guests were able to sample and learn about Irish whiskey and food pairings courtesy of Drinks Ireland. The Minister spoke of Ireland House San Francisco as a deliberate and strategic investment, under Global Ireland 2025, that contributes to the Irish Government doubling the impact of Ireland's diplomatic footprint overseas.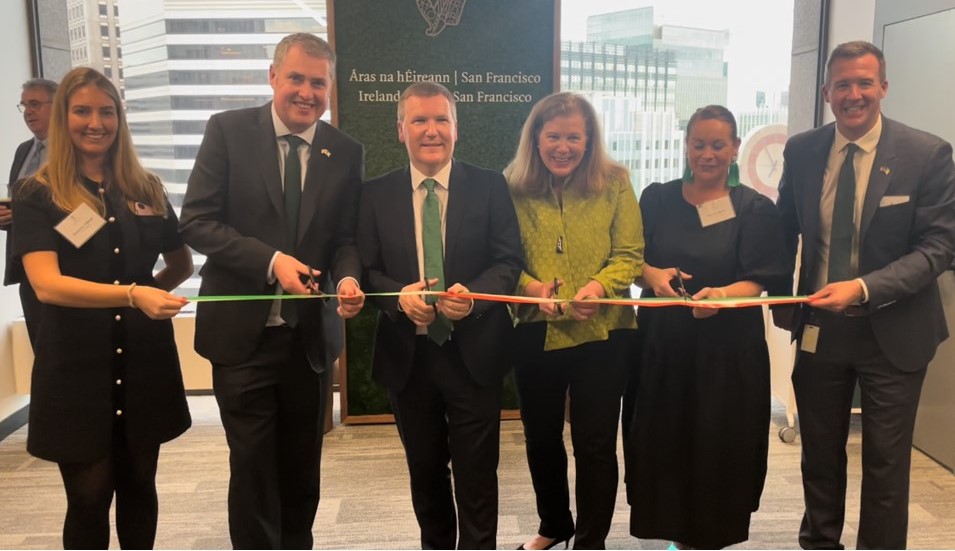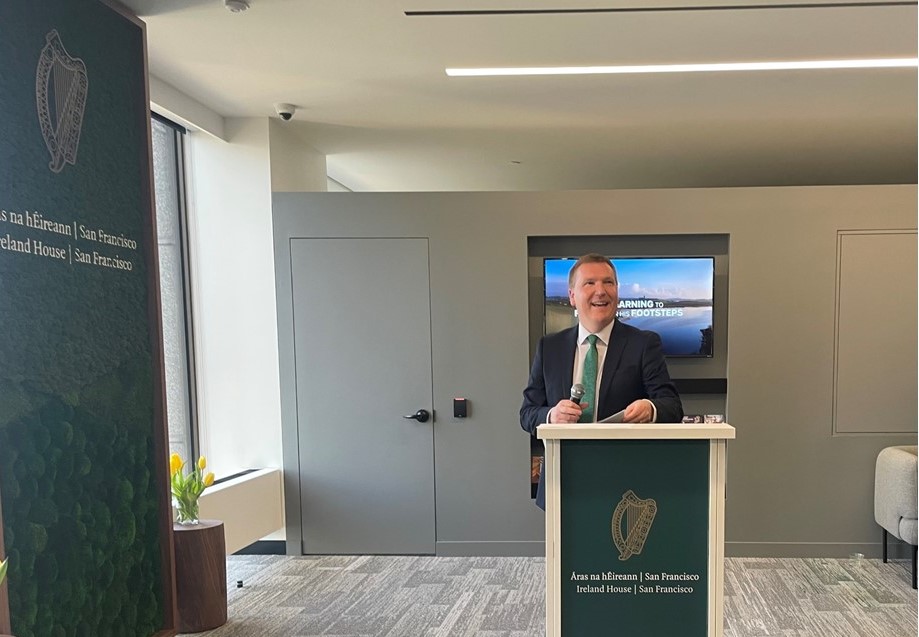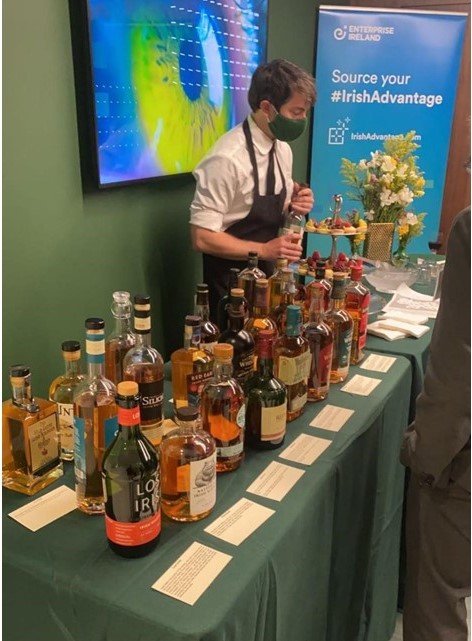 The Tuesday programme had a strong economic focus beginning with a fintech Breakfast forum hosted by Enterprise Ireland, where Minister McGrath heard from leaders in the fintech and Financial Services sector about their experiences and business growth throughout the pandemic. The Minister then met with executives from Enterprise Ireland client companies Altada and Daon. Both companies highlight Ireland's leadership in technology with Altada having a strong and varied artificial intelligence (AI) platform and Daon's innovation in developing and implementing biometric authentication worldwide.
‌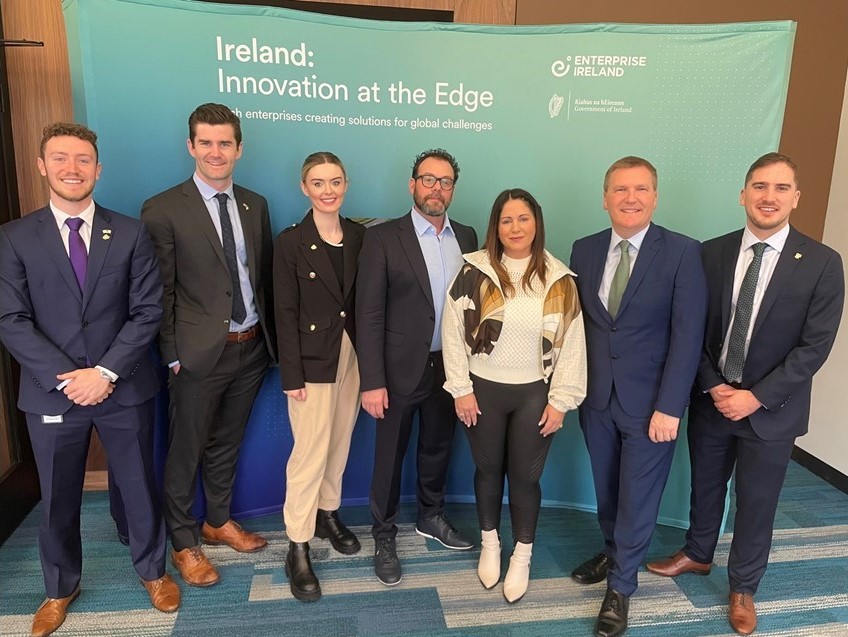 Next up was a Roundtable with the Bay Area Economic Council where the Minister spoke on the theme, Ireland & the Bay Area- Tech, Trade and Transatlantic Ties. Matt Regan, President of the Bay Area Economic Council was in attendance who had previously hosted our Brexit Discussion with Secretary General Joe Hackett. The Minister spoke on the mutually beneficial two-way relationship between Ireland and California, and the European Union and the United States, and the potential to grow this relationship still further.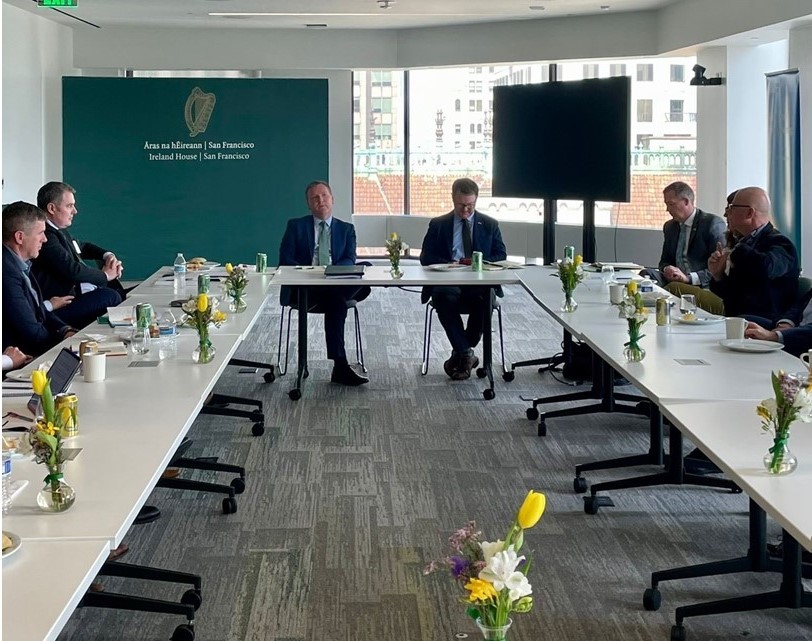 Following the Roundtable the Minister and delegation departed for Silicon Valley where they visited the Apple Campus in Cupertino. Closing out the day, Minister McGrath was the guest of honour at a reception hosted by IDA Ireland attended by members of the Irish diaspora in Silicon Valley. IDA Ireland have had a presence on the US West Coast for over 40 years. In recent years investment and jobs have increased significantly with a new West Coast company establishing an operation in Ireland on average every 2 weeks.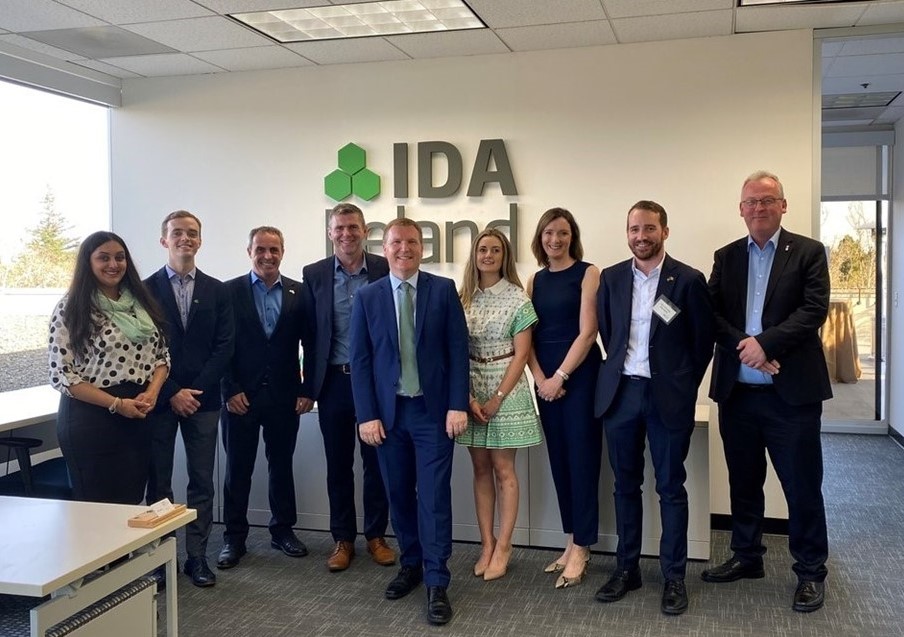 On Wednesday, the delegation was up early for the annual Team Ireland St. Patrick's Day Business Breakfast and West Coast Launch of the AMCHAM Ireland 2022 US-Ireland Economic Report. AMCHAM Ireland Vice President Seamus Fives introduced the report which is the definitive guide to the two-way trade and investment relationship between Ireland and the United States. Minister McGrath also met with Jeff Wright, Director of Sales North America of Aer Lingus and Barbara Wood, Manager Western USA of Tourism Ireland to celebrate the resumption of direct Aer Lingus flights along the West Coast.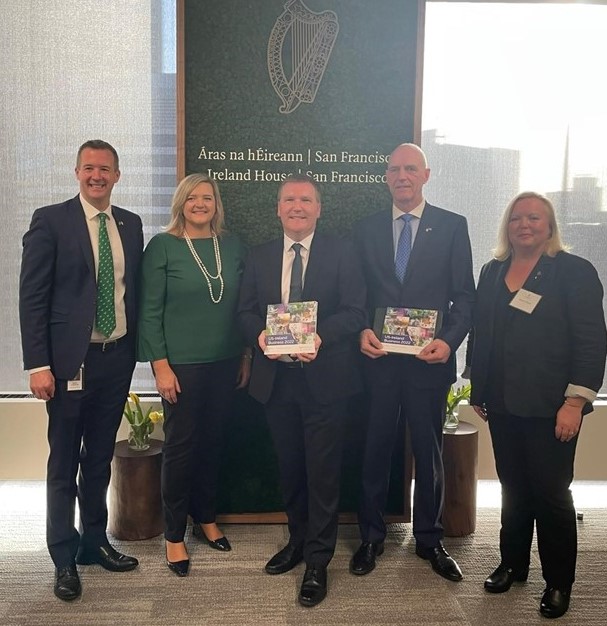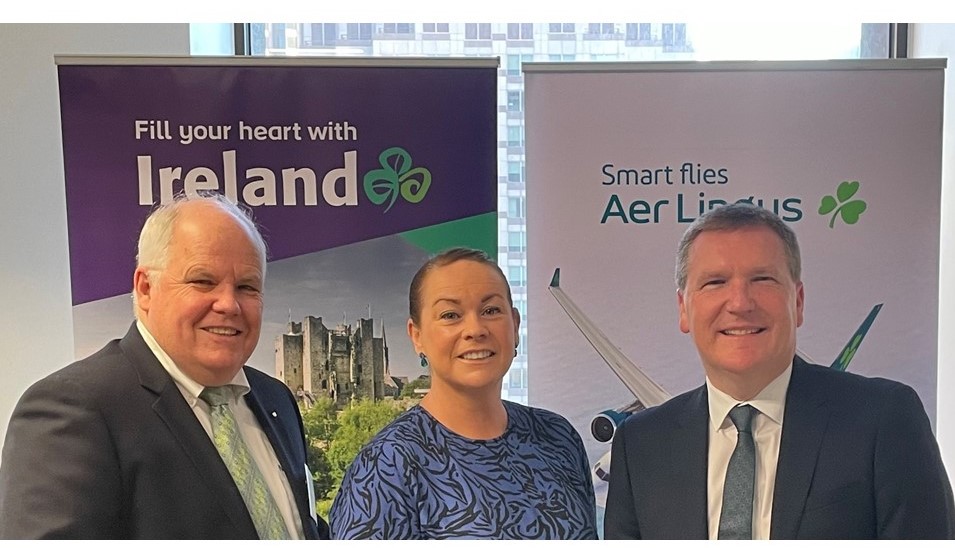 This event concluded a busy programme for Minister McGrath and his delegation who then departed for Vancouver to participate in St. Patrick's Day celebrations in British Colombia.