Ambassador Nolan visits the Aarschot Peace Carillon
News
03 June 2019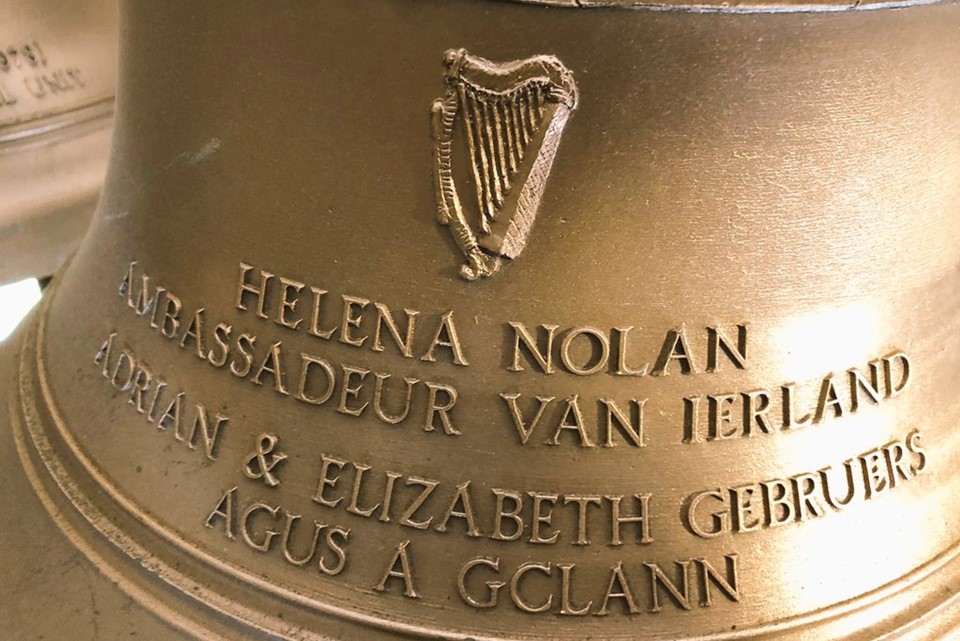 On May 24, Ambassador of Ireland Helena Nolan visited the Peace Carillon in the Church of Our Lady in Aarschot, Belgium.
The carillon was inaugurated in 2018 as part of the Centenary of the end of World War 1. It consists of 51 bronze bells – one for each country that had troops in Flanders during WW1. Artillery shells from WW1 were melted into the bronze used for the construction of the bells.
An honour to visit the new peace carillon at Aarschot today, to meet wonderful municipal & church authorities & committee who created this beautiful project of culture & reconciliation, privilege to be godmother to 2 bells & to learn about the local history, such a warm welcome! pic.twitter.com/ItjNg21FN8

— Helena Nolan (@helenajuly) May 24, 2019
The sound of bells has long been associated with peace and reconciliation and the Embassy sponsored the Peace Carillon project as part of our engagement with the centenary of the Armistice. As a godmother of the largest bronze bell, Ambassador Nolan was honoured to visit the bell which bears an inscription of her name alongside the message "deireadh le cogaíocht" or "no more war".
One of the great honours of my role so far, seeing the name of Ireland, & my own name, inscribed for posterity on these glorious bells in the new Aarschot Peace Carillon with the message in Irish, "no more war". Ireland & Belgium - part of each other's history for centuries pic.twitter.com/hk0z6w1EU7

— Helena Nolan (@helenajuly) May 24, 2019
Read more about Ambassador Nolan's visit to the Aarschot Peace Carillion in Het Laatste Nieuws (NL).
You can also read more about our participation in Belgium's World War 1 commemorations in our Commemorations Newsletter.