Frequently Asked Questions: Embassy Services
News
25 April 2022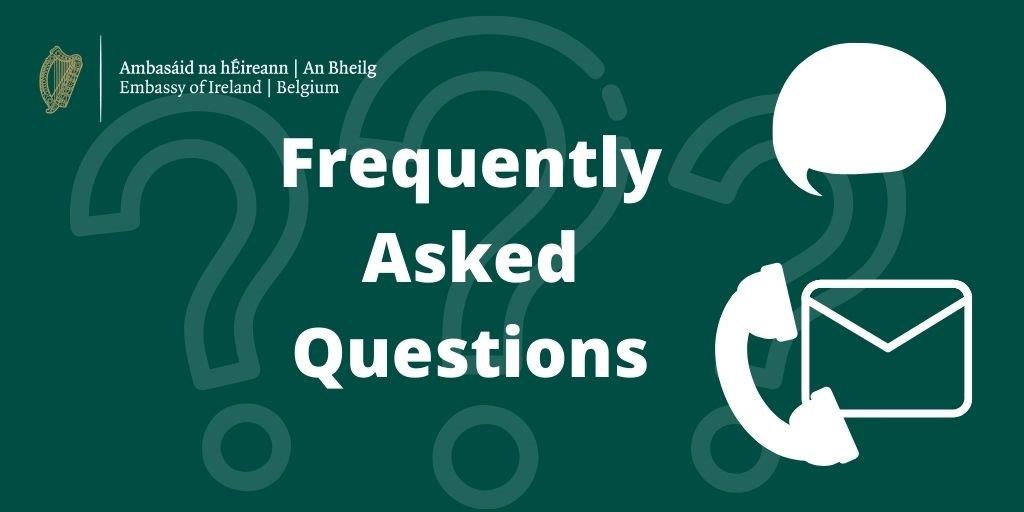 LAST UPDATED: 23 October 2023
This page has answers to some of our most frequently asked questions at the Embassy of Ireland in Brussels.
The Embassy is currently operating under hybrid working. We continue to provide consular services to Irish citizens by appointment only. Appointments are available for Irish citizens needing assistance by contacting us.
Frequently Asked Questions
Passport Online is open to all applicants renewing their Irish passports and those applying for their first passport who are resident in Belgium.
Look before you book. Always check your passport validity (and the kids passports) prior to making travel plans. To avoid disappointment, we strongly advise applicants not to make travel arrangements until receiving your new passport.
The estimated processing time for applications can be found here. Please be aware that the estimated processing time does not include postage. Details of how to track your passport in the postal system can be found below.
Application updates are also available via Passport Tracking.

If you have a query regarding your online passport application, please contact the Passport Service Customer Support Hub via WebChat or phone and have your tracking number ready.
Please note, the Embassy in Brussels cannot provide status updates on your application.
If you need a travel document for a genuine emergency (death or serious illness of a family member, or emergency medical treatment), please contact us. Please note holiday travel is not considered an emergency.
Q: How can I apply for my Irish passport?
A: All applications from Belgium should be submitted using Passport Online.
Passport Online can be accessed 24/7 from anywhere in the world. Passport Online can be used for first time applications and renewals for adults and children.
Please do not make travel arrangements without a valid passport.
Q: What is the status of my passport application, and when will my passport be delivered?
A: You can track the progress of your passport application on the Passport Tracker by entering your application number. Please note the issue date of your passport on the tracker is an estimated issue date and not a guaranteed date or date of delivery.
Delivery
Passports are sent directly to the applicant from Ireland by registered post.
When your new passport has been dispatched by the Passport Office, a postal tracking number will appear on the Passport Tracking website. The postal tracking number can be used to follow the delivery status of your passport. The tracking number can be used on the An Post website, and following arrival in Belgium on the B Post Track Your Shipment website. There can be a delay of several days in the tracking number working on the B Post Tracker.
Your new passport and/or passport card will be sent via registered post to the address you provide in the online application form. The online application allows you to enter a home address AND a different dispatch address (if you are not at home to sign for it during the day).
Passport books and passport cards are dispatched seperately and have separate tracking codes.
Please do not use the Embassy address as a dispatch address in your online application. We cannot guarantee that staff will be available to sign in order to receive the delivery. This could result in the passport being returned to Ireland and in a very lengthy delay in receiving of your passport.
Q. Where can I find out more about Passport Online and the documents I need to submit in order to apply for an Irish passport?
Answers to the most frequently asked questions about Passport Online can be found here.
Details of the documents required for first time passport applications can be found here.
Q. The link I received by email from the Passport Office to resubmit a photo, print the parental consent form or witnessing form has expired. How do I request a new one?
You can request a new link here. Please have your application number to hand (this number can be found the email receipt sent after submitting your application).
Q. Can I come to the Embassy to have my passport application witnessed?
It is not possible to have a passport application witnessed by Embassy officials. Applications must be witnessed by one of the professional listed here.
Adult renewal applications submitted online do not need to be witnessed.
---
Visas for Ireland
If you require a visa for Ireland, please allow at least 6-8 weeks for your application to be processed. In-person appointments are not available for visa services.
Q: How do I submit my application for a visa for Ireland?
A: We accept visa applications by registered post / courier only.
It is not possible to submit your application at the Embassy. Please see our visa section for the latest updates on services.
If you have further questions that are not answered in our visa section or the Immigration Service Delivery (ISD) website, please contact us by email using our contact form. Please note we can only respond to visa queries by email.
Q. How long is the processing time for visas?
A: The estimated processing time for applications for correctly completed applications with all the required supporting documents is approximately 6-8 weeks. We do not have an express service.
Q. Do I need a visa for Ireland?
A: A list of visa required / non-visa required nationalities is available here.‌
Q. I have a Belgian residence card. Do I need a visa for Ireland?
A: Whether or not you need a visa depends on your nationality or the country which issued your travel document (if you are a refugee).
A Belgian residence card cannot be used to travel to Ireland. Non-EU / non-EEA / non-Swiss nationals always need a passport to travel to Ireland.
Check if your nationality is visa required here.
Q. How do I pay for my visa?
A: We only accept payment made by bank transfer. Details of visa fees and the postage fee are available in the 'Fees and payment information' tab in the visa section. Please do not send cash in the post.
Please include a printout of your proof of payment with your application.
Q: I have submitted a visa application. How do I track the progress of my application?
A: There is no online tracking facility for visa applications. If we have any queries regarding your application, you will be contacted directly. In order to ensure that resources can be used to best effect, we ask that you do not contact the Embassy to seek updates on your application by phone or email.
Q. My visa application was refused. How do I appeal this decision?
A. Information on appealing a negative decision is available from Immigration Service Delivery. Appeals are not processed at the Embassy and must be made directly to ISD.
Q. I am a Ukrainian citizen. Do I need a visa to travel to Ireland?
A. Ukrainian citizens do not require a visa to travel to Ireland (see here).
If you are a Ukrainian national or if you are fleeing Ukraine, the Department of Justice has published information on Temporary Protection and a Frequently Asked Questions page. Details of the supports available from the Irish Government are available on gov.ie (Information is also available in Ukrainian and Russian).
---
Other Services (certified copy of passport, witnessing, driving licences)
Q. I have been asked to provide a certified copy of my Irish passport. Can this be done at the Embassy?
A. This service is available from the Embassy by appointment only. The fee for a certified copy of an Irish pasport is €40. Please contact us via email to arrange a time to come to the Embassy with your passport.
This service may also be available from the offices of a Notary Public or Lawyer in Belgium. Details of how to find an English speaking notary or lawyer in Belgium can be found on our Living in Belgium page.
Q. I need to have the statutory declaration witnessed (e.g. Irish pension declaration). Can this be done at the Embassy?
Please note that, other than in genuine, documented emergencies, the Embassy of Ireland in Brussels no longer witnesses statutory declarations or affidavits.
This service is readily available at the offices of a notary public or lawyer in Belgium. Details of how to find an English speaking notary or lawyer in Belgium can be found on our Living in Belgium page.
Q. Is is possible to obtain an Irish driving licence at the Embassy? Is it possible to exchange a UK / NI driving licence at the Embassy?
Driving licences should be renewed in the EU country you are resident in.
If you live in Belgium and need to renew or replace your Irish licence, you should contact your local town hall where it will be swopped for a Belgian one.
If your Irish driving licence has been lost/stolen, you may need to a Letter of Entitlement in order to get a replacement Belgian Licence. In this instance, you will need to contact the National Driver Licence Service (NDLS) in Ireland.
The Embassy has no role in the renewal or replacement of driving licences and cannot provide letters of entitlement.
Foreign Birth Registration
Please note that since February 2020 new applications for Foreign Birth Registration are submitted directly to the Passport Office in Ireland. Contact details for the FBR Unit can be found here.
You are automatically an Irish citizen if one of your parents was an Irish citizen at the time of your birth, and was born on the island of Ireland. You don't need to apply to become an Irish citizen via Foreign Birth Registration in this case and you can apply for a passport using Passport Online.