Frequently Asked Travel Questions
Publication
13 July 2020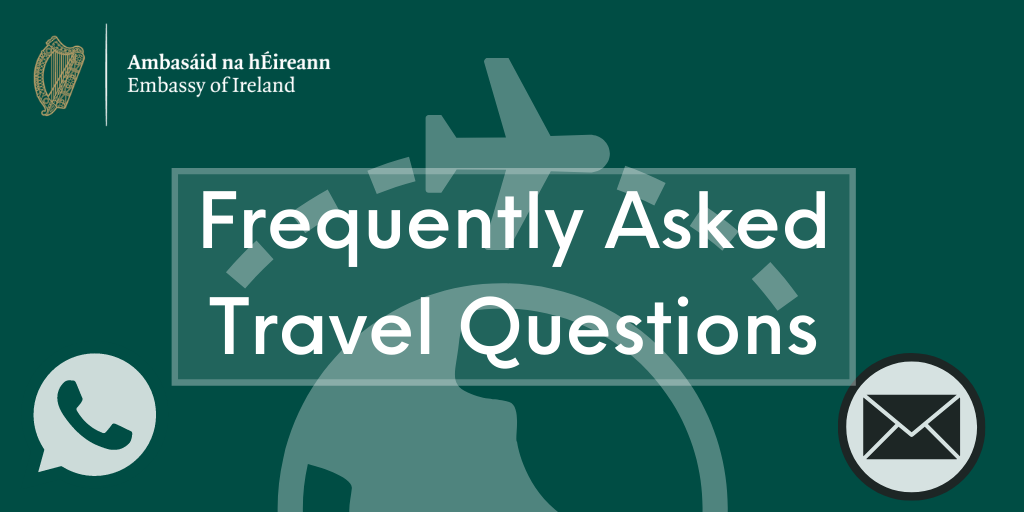 Last Updated: 23 October 2020
Below are some of the most frequently asked questions on travel received by the Embassy of Ireland in Brussels in the context of COVID-19.
Information for Belgian citizens seeking travel advice for Ireland is available from the Belgian Foreign Ministry "Travellers Online" website (NL | FR).
Travel to Ireland
Q: What are the requirements for travel into Ireland from Belgium?
A: By law, if you arrive in Ireland from any other country you will need to fill in a form called the Covid-19 Passenger Locator Form and to submit it to the relevant authority at the port of entry.
Details of the steps to follow on arrival in Ireland are available here.
Q: Are there flights to Ireland from Belgium at present?
A: There are flights operating between Belgium and Ireland for those needing to travel.
Q: I will be travelling on to Northern Ireland. What are the guidelines for those travelling to Northern Ireland?
A: If you are arriving in Ireland and travelling onwards to Northern Ireland you will have to fill out a portion of the COVID-19 Passenger Locator Form and submit it at your port of entry.
If you are travelling onwards from Ireland into Northern Ireland, check this guidance on public health guidelines in place for travel to Northern Ireland.
Q: Can I move back to Ireland?
A: If you wish to or need to return to Ireland, it is possible to do so. Be aware that all travellers to Ireland, including Irish citizens, are required by law to complete a COVID-19 Passenger Locator Form and are expected to restrict their movements for 14 days on arrival.
If you require assistance on your return to Ireland, organisations such as CrossCare Migrant Project can provide you with advice. Comprehensive information on supports available if you are returning to Ireland during the Covid-19 crisis are also available on Citizens Information.
Q: Where can I find more information on travel to Ireland?
A: More information is available on the Government of Ireland Travel Page.
Q: When will the restrictions on travel to Ireland end?
A: We do not know how long the current travel restrictions will be in place.
These measures are regularly reviewed and based on the latest public health guidelines.
Travel to Belgium
Irish citizens travelling to Belgium are strongly encouraged to register their contact details so that we can contact you or your family in case of emergency.
Q: Where can I find the latest travel advice for Belgium?
A: Our latest travel advice for Belgium is available here. Further information is available on the Re-Open Europa website.
Follow @IrishEmbBelgium and @DFATravelWise on Twitter for our latest updates.
Q: Are there special entry requirements for Belgium? Do I need to quarantine or self-isolate?
A: Information about restrictions on passengers entering Belgium from green, orange and red regions, under the Belgian travel 'traffic lights' system, is available from the Belgian Foreign Ministry (click on the region you are travelling from).
For passengers travelling from countries outside the EU/EEA, further information is available from Belgian Immigration.
Passenger Locator Form
Anyone traveling to Belgium from abroad (including Ireland) is required to submit a Public Health Passenger Locator Form. The form should be completed no more than 48 hours in advance of travel. The form is obligatory for anyone travelling to Belgium or prior to return by anyone who leaves Belgium for a period of more than 48 hours.
All passengers arriving by plane or boat must submit a Passenger Locator Form, regardless of their length of stay in Belgium.
More information on how the Belgian Passenger Locator Form works is available here.
If you do not have a mobile phone or have difficulty with the electronic Passenger Locator Form, a PDF version of the form can be completed.
Quarantine & testing on arrival in Belgium
If arriving in Belgium from a region that with high transmission of the virus, quarantine and testing may be necessary. These regions are listed on a colour coded map on the Belgian Foreign Ministry website. These are subject to change and this should be considered prior to making travel plans.
Quarantine means staying indoors and avoiding contact with other people. Further details of what quarantine involves is available from the Belgian Health Ministry (see under the heading 'Transport and International' – What does 'Quarantine' mean?)
More details on what is required if travelling from a red, orange or green zone is available from the Belgian Health Ministry.
---
Note:
We make every effort to ensure this information is accurate and up-to-date, but you shouldn't regard it as definitive or comprehensive in all respects. Situations can change quickly from one day to the next and from one part of a country to another. You are wholly responsible for making decisions about your own travel.
Useful Links