Friday Letter, 3 April 2020
Blog
03 April 2020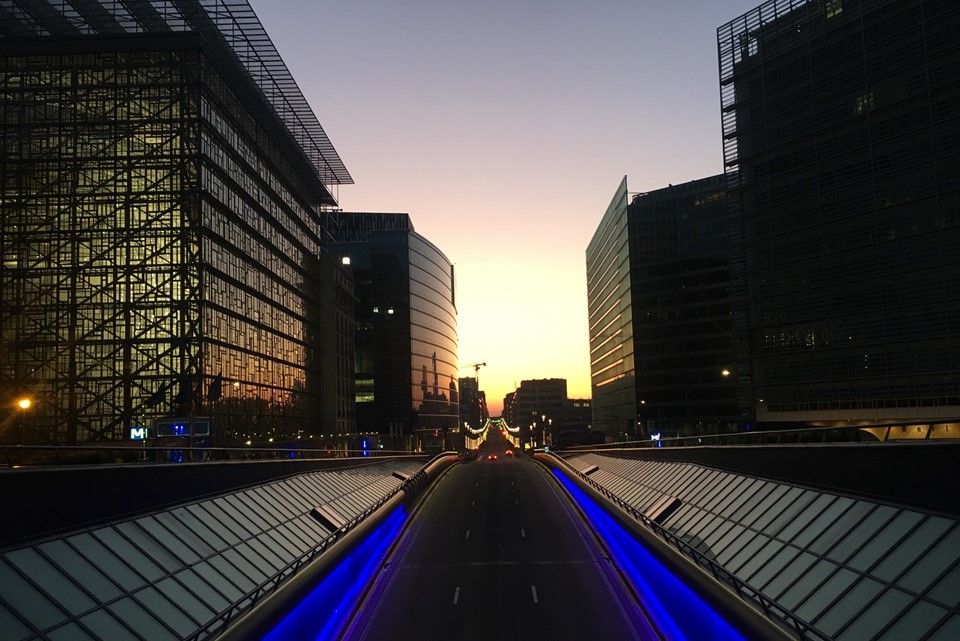 Dear Friends,
So, how are we all doing? Thank you to those who have been getting in touch, many to share your own thoughts, tips and ideas. It's been heartening to know that you enjoy receiving a letter – it got me thinking that perhaps this will turn out to be one of the positive impacts of the current situation, that we will all become better correspondents again.
You may have noted that An Post are sending free pre-paid postcards to every household in Ireland, so that people can send some love and friendship to one another while apart. And I see that the Postal Service here in Belgium are offering the same, another example of our two countries being on the same wavelength; we are both creative, generous and innovative countries, sharing the values of community, good humour and friendship which I have experienced since I first arrived here, and this seems to be standing us in very good stead at this time of challenge. Belgium and Ireland have also been collaborating on helping to bring home our anxious citizens from overseas, including from Argentina and Peru, a great example of European solidarity in action.
What a lovely idea these postcards are – helping us to connect, as we respect the physical distancing requirements which are so essential and important. Irish writer, Jan Carson, is also continuing with her own inspirational Postcard Stories series, this time illustrated by young children and you can follow her adventures on social media. Jan won the European Prize for Literature Ireland last year and was a guest at Bozar and at a joint event we co-hosted with our good friends at the Northern Ireland Executive Office Brussels to launch the anthology "The Danger and The Glory" (still available to purchase online from great bookshops such as Kennys). She was also recently interviewed on Rick O'Shea's new "Shelf Analysis" chat show on Facebook, well worth checking this out, as is his famous online Book Club. There are still many ways to be social, while distancing and writers are leading the way, for example, those of you who enjoyed our visiting author event with Nessa O'Mahony last year might like to check out her micro-interview on the Fill Your Books Blog.
I'm glad to see that many of us have started using the term physical rather than social distancing – it seems to me that we are all finding more and more ways to be social, whether it's a return to the lost art of letter-writing or using the latest technology. Just yesterday, someone was telling me that they are hearing more from old friends all over the world these days than ever before. This is lovely to hear and perhaps this is because now we have a bit more time to reflect, remember and we have an added push to reach out to those who have been on our minds.
In my own job, I have colleagues all over the world, as so many of us do these days and again because of the nature of our work, many of those colleagues are also friends, some going back over thirty years at this stage. Since the crisis began, I have found myself thinking of them more often, as we all try to do our best to adjust to new ways to working, to serving our citizens, supporting our teams and keeping in touch with our own families, many of whom are also in different locations round the world. I'm fortunate to work with a wonderful team here in Brussels and to have their strong support. This week, I have been making the effort to reach out more to my colleagues around the globe, and also to my old friends, just checking in and sending a cheerful thought or a funny video clip, and in return, I have also been grateful for the many colleagues and friends who reach out to brighten my day, whether it's a quick message to check in, a kind word of appreciation or a link to something hilarious they have come across. The belly laugh is great medicine!
How wonderful if, by all of this necessary distancing, somehow, as humans, we are finding better ways to be even more connected than before. We want to be connected. We can see that happening surely in the massive rise in online video platforms, and not just for work video conferencing (some of which is unintentionally hilarious, right?). People are meeting up online for after work cocktails on a Friday evening, complete with fancy outfits, family members are having dinner and chatting together online while they are living apart, and many writers, including many brilliant Irish writers bringing out new books in these strange days, are having online book launches, with lots of other writer friends joining in the online fun, most recently I joined a twitter book launch for Maggie O'Farrell's "Hamnet" and we had a glimpse of John Boyne's back garden as well as Bob from The Gutter Book Shop sipping sherry in a tuxedo, all great fun and Maggie even shared a video of the amazing cake decorated to resemble the stunning book cover – so, do keep an eye out for these bookish events and join in and support when you can. They are very enjoyable, as well as supporting the creative industry and local bookshops, which, like so many, are currently having a challenging time.
Writers are also so innovative, and so generous, that many of them are offering online interviews, tutorials, competitions and readings to anyone who might enjoy them and I hope that this brings them lots of new audiences. There is still so much empathy and kindness out there and that is another heartening revelation – for most of us, the natural instinct is to be kind.
So, check out the Irish writers who are appearing on a new platform called The Holding Cell on YouTube most recently Catherine Dunne, whom so many of you enjoyed meeting here in January. Follow the British author David Nicholls on twitter, where every day he is listing the new books coming out and the virtual book launches that are happening, many of them Irish. Martin Doyle, the Culture Editor of the Irish Times is doing constant work on twitter and in the newspaper to promote Irish writing and writers and the new books that are coming out, as well as the many literary festivals that are also moving online. There are some real, rare treats emerging including former US poet laureate, Billy Collins, a regular visitor to West Cork and the Beara peninsula, whom I met in Kilkenny some years ago, who is reading a poetry prescription of two of his poems every night on his Facebook channel which is soothing and often wryly humorous recipe for sleep. The Jurassic Park actor, Sam Neill, has been a revelation on his twitter account, taking up a ukulele and serenading us all – I kid you not, it is a tonic. And there are many, many more lovely examples of creativity and generosity, which I try to share on my twitter account as soon as I come across them. Poetry Ireland have started sharing a poem daily on their twitter account and this makes for an inspirational start to the day, before checking the news. Now is the time for poetry. A new weekly podcast called Unlaunched Books will focus on poetry, talking to poets, critics and curators about the books they would have been launching from March to June and Poetry Day Ireland will take place this year online on 30 April – the theme is "There will be time" and everyone is invited to join in and celebrate.
Irish writer and journalist, Martina Devlin, whom many of you enjoyed hearing from at our St Brigid's Day event in Bozar last year, has launched a #CityofBooks online interview series, in collaboration with Dublin UNESCO City of Books and the 1City1Book initiative – you can download and subscribe for free here. Children's author Sarah Webb is still running her daily Creative Bursts series online for young folk and the young at heart, an energising resource for children and families.
Many of you will have read also about the children's writing competition run by Irish author John Boyne, another embassy book club favourite, and many of the wonderful stories with which he was deluged are available online to read thanks to the Irish Times. These young people's imaginations are amazing and so impressive - the future of Irish writing is clearly in safe hands! Communication has always been such a vital part of human life, from the earliest oral story-telling traditions and cave paintings, right up to the latest interactive art exhibition or slam poetry. Whatever the temporary challenges, it is great to see people and artists continuing to find a way to reach out and everyone becoming more creative and drawing closer together as a result.
I have been really missing our lovely Embassy Book Club and our author events so this week it was an absolute delight, with the help and support of my colleague Anna, to take the Embassy Book Club online and host our very first Book Club meeting on Zoom. We had about 14 very lively, engaged and articulate participants who seemed to enjoy it all as much as I did and it was really lovely to see everyone looking so well and hearing how much they enjoyed reading The Guest List by Lucy Foley, which seemed to work as a book that drew us in and really gripped our attention – not an easy feat these days. It was great to see you all smile!
And that's one final point I'd like to make – these are unprecedented times. No one knows from day to day or even from hour to hour how we are going to feel. Initially, there was a wave of advice suggesting that now we could read War and Peace or learn another language or take up furniture restoration. A couple of weeks in, I think it's becoming clearer that, while maintaining a healthy routine, what we should not do is over-burden ourselves with expectations. Recognise that it is all a bit of a rollercoaster. There will be days when getting up, taking a shower, cooking a meal and going for a short walk will be the measure of a very good day and that too is absolutely fine. We are human, not machines, no one is perfect and no one has all the answers.
So, let's take it easy on ourselves, let's try to do the things that are important and good for us, which includes fun things and those belly laughs and then everything else is a bonus. We could take a lead from children here and from our younger selves, our capacity to be continually enthralled and to find joy in the little things, like a ladybird climbing up the stem of a blade of grass – I have been thinking lately that all the things I enjoyed as a child are the same things that are drawing me in these days – watching the bees harvesting pollen, writing letters, reading books, listening to bedtime stories (on audible these days), appreciating the smell of freshly cut grass; others are enjoying baking cookies and cakes, taking up again old talents for knitting, doing jigsaws, painting, one of my lovely ambassador colleagues is playing the accordion, another is cycling everywhere, some of us have rediscovered the hula hoop. I was even thinking about picking up a crochet hook again; I used to crochet blankets for my dolls. I see some others are making dolls houses or having fun with Lego and Fuzzy Felt, remember that? So, let's embrace the curiosity and creativity of our inner child. And remember too the good advice, we are not stuck at home, we are safe at home. The language we use around all this is important, as it always is. Perception is so important and as someone said recently, these empty streets around us are not deserted places, they are symbols of love.
There's a phrase that seems appropriate to end on this week; I am not sure where it comes from but it is the title of a collection of short stories published by The Stinging Fly, (a renowned Irish literary magazine and press which last week put all of their past content online for free), and the line is "Let's Be Alone, Together". It's not easy. But it is necessary. And it is working. We will find our way through this and we will celebrate again together, in one another's company, on the other side. In the meantime, as the song says, "there's a crack in everything, that's how the light get's in", let's keep finding those ways to connect and support one another, as I know you all are, let's keep enjoying the light that we can bring into our own lives and into one another's lives, and let's continue to be grateful for these clear, blue Spring mornings; the bright birdsong, the blossoming flowers, the clear air, the resurgence of nature reminding us of all that is still beautiful and present in the world.
Take care of yourselves and take care of one another. Please remember to take all your news from official sources and follow our official accounts and apps for updates, including on travel advice. Don't forget to keep in touch, let us know if you need the embassy to help promote any of your own online events and community activities and continue to share with us your thoughts and tips for these times. We are all in this together.
Ní neart go cur le chéile.
Helena and the team #working4IRL