Bloomsday 2020
Event
16 June 2020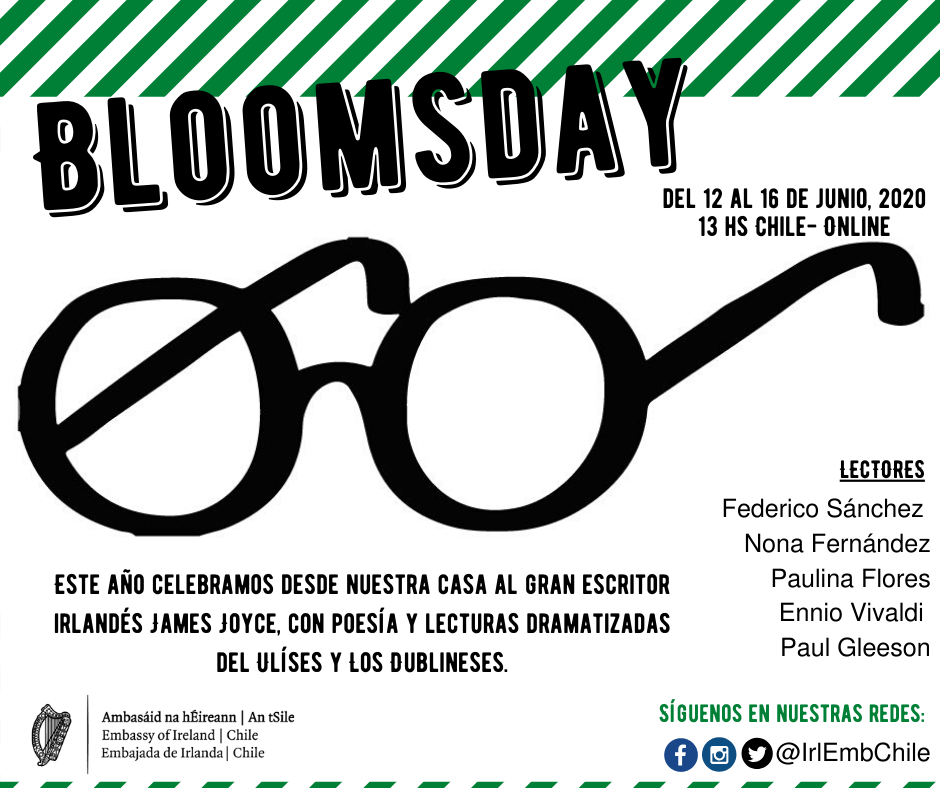 Due to social distancing restrictions because of Covid-19, Embassy Santiago this year hosted a 'virtual' celebration of Bloomsday. Chilean public figures were invited to participate by reading parts of Ulysses and The Dubliners, and a poem about James Joyce. The readers were the TV presenter Federico Sánchez, the actress Nona Fernández, the writer Paulina Flores, the Dean of the University of Chile, Ennio Vivaldi and the Ambassador. The videos present the readings in Spanish with English subtitles.
Debido a las restricciones de distanciamiento social con respecto a Covid-19, la Embajada en Santiago este año organizó una celebración 'virtual' de Bloomsday. Referentes culturales chilenos fueron invitados a participar leyendo partes del Ulises y los Dublineses. Los lectores fueron el presentador de televisión Federico Sánchez, la actriz Nona Fernández, la escritora Paulina Flores, el Rector de la Universidad de Chile, Ennio Vivaldi y el Embajador, Paul Gleeson. Los videos contienen las lecturas en español con sustítulos en inglés.
Nona Fernandez. Episode 1/Telemachus; opening of the novel Ulysses. Episodio 1/Telémaco; apertura de la novela Ulises. Video.
Ennio Vivaldi. The Dead. The Dubliners. Los muertos. Los dublineses. Video.
Federico Sánchez. Poem The Dinner by Brendan Kennelly. First reading in Spanish of this poem (courtesy of the Bloomsday Society of Madrid). Poema La Cena de Brendan Kennelly. Primera lectura en español del poema (cortesía de la Sociedad Bloomsday de Madrid). Video.
Paul Gleeson. The Citizen's episode. Ulysses. El episodio de El ciudadano. Video.
Paulina Flores. Molly Bloom's soliloquy; final episode of the novel Ulysses. El soliloquio de Molly Bloom; episodio final de la novela Ulises. Video.